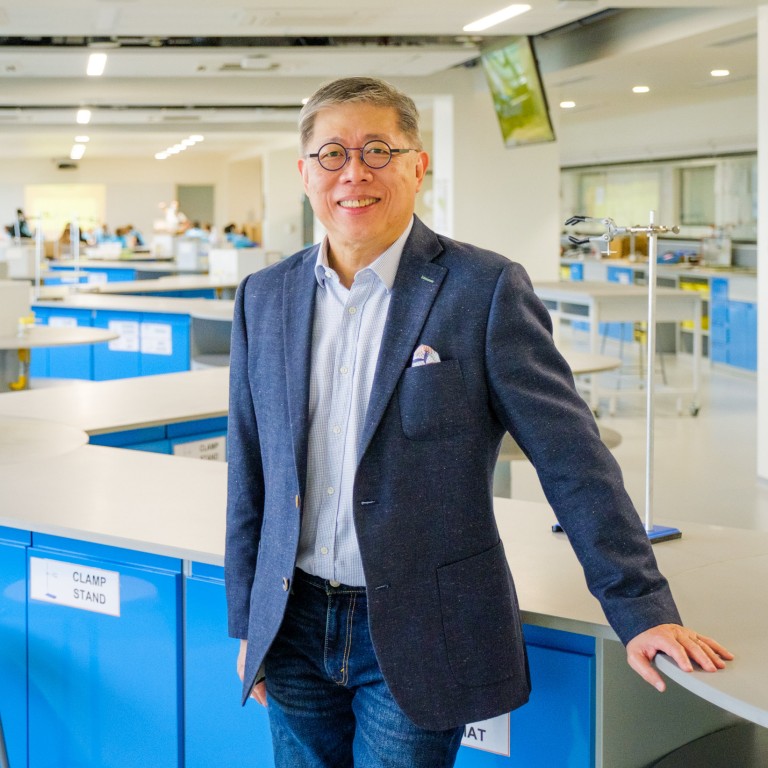 Nexus International School nurtures relevant, responsible and resilient learners for the 22nd century
Asking learners not the traditional question of what they want to be when they grow up but what problems they want to solve is the Nexus philosophy
Supported by:
Discovery Reports
Country Business Reports interviews and articles by Discovery Reports
Traversing the Pan Island Expressway coming from the Changi Airport, one cannot help but notice an impressive 12-storey building on the right along Aljunied Road. It is the tallest international school in Singapore, as well as one of the world's most modern in its approach to learning.
Nexus International School (Singapore) defies norms with its open learning spaces complemented by the latest technologies. There is a good mixture of traditional classrooms, with plenty of flexible, open-plan areas where learners are able to explore and collaborate with others. They can read a book in the forest-themed Learning Resource Centre with its intricate pods, access various breakout spaces, or study outside in age-appropriate and engaging areas. For younger learners, these include a spiral staircase wrapped around a huge tree from where they can slide down to the ground.
At the core of the school's philosophy is the "Nexus Way", which sets it apart from its peers in Singapore. By inspiring resilient learners who embrace diversity and are fearless of change, Nexus creates confident individuals who think, respond, evaluate and take responsibility for their learning. The school has thus created a stir in education, asking learners not the traditional question of what they want to be when they grow up, but what problems they want to solve. As the new flagship campus of the Taylor's Schools group, Nexus drives its credo with a superior International Baccalaureate (IB) curriculum, genuine care for the community, and purposeful innovation to prepare its learners for the demands of university life and beyond.
"When we started Nexus, it was with the intention of making sure that what we do here is different from all the other international schools. We have the learners' outcome in mind and wanted a school that has a very open and entrepreneurial way, allowing students to explore their passions and develop a real love of learning," says BK Gan, president of Taylor's Schools. "When a child has autonomy under the right guidance of teachers, it makes learning a lot more fun. We want to make sure that learners are the centre of all our initiatives and provide them a flexible space to learn and enjoy themselves."
The Nexus Difference
Gan recalls how the government unanimously chose Nexus from among other international schools when it bid for the piece of land that the campus sits upon today.
"I think our approach to learning is very modern – it is based off extensive and expert educational research and encompasses a distinct forward-looking, growth mindset," Gan says. "The idea is to have a very innovative and entrepreneurial perspective to start with, and the environment you are in drives that."
Instead of being assigned their own desks and chairs, learners are free to move around the learning spaces. They find themselves in a more collaborative learning environment where they can easily reach out to their peers to discuss a problem or move to a suitable area to work out an assignment. As they take ownership of the learning process through this distinct environment, learners are more interested and engaged, leading to better outcomes.
"What I love about our learners here is that they have a good sense of change. We adults tend to be a little bit fearful of what change brings, but Nexus' learners do not fear it," says principal Lachlan MacKinnon. "We understand that knowledge and understanding are important, but it is how they apply it that makes the difference. Our curriculum and approach to learning give them the opportunity to analyse and evaluate problems."
Gan attests to this level of creativity being nurtured at Nexus. In one of the Nexus' conferences on global warming, a kindergarten learner from Nexus International School Malaysia suggested that a building be made of a giant sponge to siphon off floodwaters. Others may find the idea funny, but it is actually the out-of-the-box thinking that Nexus tries to cultivate in its learners.
"They can mix and match their ideas, and that is where we want to challenge them," Gan says. "Nexus believes in the freedom to think and express oneself without the fear of mistakes. As such, every opportunity can be a learning experience, so creativity is limitless. This learning philosophy generates great entrepreneurial ideas and it is one of the things that differentiates Nexus from other schools."
Importance of the Journey
Nexus believes that if learners are enjoying their learning journey, they will naturally excel in their academic performance as well. In fact, creativity and self-directed learning are driving factors that promote good grades. Gan gives the analogy of playing a football game.
"Scoring a goal is important, and all parents look forward to their children getting their A's. However, if one just focuses on scoring the goal instead of playing a good game, it would be difficult to score at all," Gan says. "As such, Nexus' job is to make sure it provides an environment that is fun and enjoyable while teaching kids the necessary skills so that they may become academically successful."
At the core of Nexus' curriculum is the IB programme. Its IB Primary Years Programme commences from the time children are around four years old up to year six. Learners subsequently move into the secondary school in year seven, studying the IB Middle Years Programme until year nine. After a two-year International General Certificate of Secondary Education programme in years 10 and 11, learners take the IB Diploma Programme in years 12 and 13, fully preparing them for university studies.
"You could argue the IB programme to be the most rigorous curriculum in the world. It certainly sets students up to be university ready," says MacKinnon, who has worked with several variations of the IB programme in Australia, the United Arab Emirates and Britain. "The IB curriculum is truly one that goes deeper than just knowledge
and understanding. It is the application and inquiry that challenge kids to think and respond in an innovative way.
Spaces for Connection
Nexus recognises that all learners have distinct characteristics and possess different interests. Hence, it provides avenues for its learners to explore various activities such as sports, music and arts. To better help its learners discover unfound potential, Nexus is fully equipped with state-of-the-art facilities to provide excellent experiences. These include a 50-metre Olympic-size swimming pool, a Fifa- and World Rugby-specified AstroTurf field and two air-conditioned sports halls catering to a large number of sporting activities. All these facilities are equipped with the latest multi-use LED screens for complete flexibility.
Nexus also boasts an auditorium that can seat more than 500 people, in addition to two black box theatres for performing arts. Furthermore, there are multiple spaces for various engagements ranging from sewing and Lego robotics to 3D printing in its Maker Spaces. The school also plans to upgrade its app development projects into regular hackathons where learners compete with other schools in the field of software development.
Meanwhile, Nexus aims to make the campus an environment where parents and guardians can feel very much at home. It has co-working spaces where parents can conduct meetings and other professional undertakings. There is also the parents' lounge, complete with a kitchen where parents can come together as a community. Excellent food and beverage options are available at the various outlets within the campus.
Care Movement
Nothing captures Nexus' high regard for family and concern for others more than the school's Care Movement. Nexus teaches its learners to take responsibility in three particular areas – the self, others and the world. The school educates its learners on how to physically and emotionally care for themselves and others around them, and finally, develop sustainable practices in caring for the welfare of our planet. Driven by this passion, Nexus plans to hold regular in-campus conferences on pressing global issues such as global warming and the UN Sustainable Development Goals.
"A lot of times we talk about global issues such as climate change, and everyone thinks that big companies or the government should take care of such problems," Gan says. "If each one of us do our little part, we can make a huge difference in the world around us. This is the essence of Taylor's Schools Care Movement."
Looking Forward
As Nexus moves forward, it welcomes corporate partners who will work with learners on real-life projects. The initiative is expected to bring in collaborations, especially those involving immersive technologies, as the school strengthens its connection with industries. Also on the drawing board are plans to expand the Nexus brand across Asia beyond Malaysia and Singapore. This has been inspired by the success of the flagship campus in Singapore, which is home to learners from more than 50 countries, speaking about 25 different languages•.
"Before, schools were all about the three R's comprising reading, writing and arithmetic. Today, Nexus has transformed the concept of the three R's into learners being relevant, responsible and resilient," Gan says. "Being relevant is having digital literacy, agility and innovation, while being responsible is all about caring for self, others and the world. We also want our learners to be resilient through our entrepreneurial exercises. In sum, Nexus is a learning community that will prepare your child for the demands of the ever-changing environments that they will face in the days and years ahead."