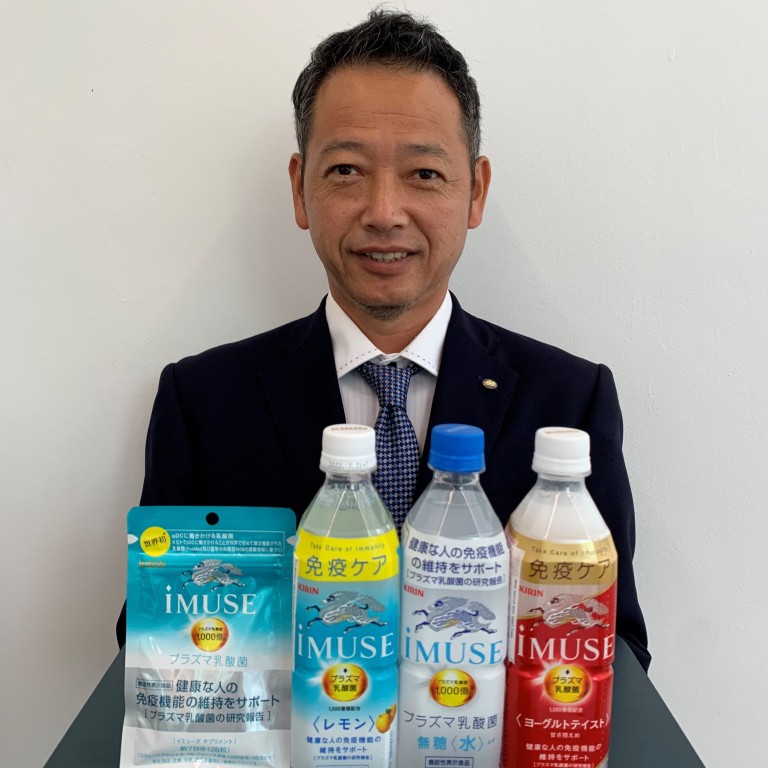 Kirin fuels functional foods with immunity-boosting LC-Plasma
Starting as a beer company over a century ago, Kirin has diversified into the pharmaceutical and health science sectors to help improve the quality of life
Supported by:
Discovery Reports
Country Business Reports interviews and articles by Discovery Reports
In the late 1970s, Japanese beverage producer Kirin Holdings had reached the apex of success, controlling two-thirds of the Japanese beer market. Today, Kirin takes on a health-conscious approach through its functional food line iMUSE, which utilises an immunity-boosting, fatigue-fighting lactic acid bacterium, Lactococcus lactis strain Plasma (LC-Plasma), in its products. LC-Plasma is an ingredient supported by abundant scientific evidence that consists of 30 scientific publications, including 15 human clinical trials. The level of science involved in researching this ingredient is highly evaluated in medical societies and markets. LC-Plasma has swept various academic and association awards in Japan and abroad.
"Kirin is serious in its endeavour as a creating shared value [CSV] company," says Hiromasa Honda, managing director of Kirin Holdings Singapore. "This is one of the strongest reasons why we have diversified into the health science industry. It is just as crucial to create products that address societal health needs as it is to make a profit."
Throughout a portion of its more than 100-year history, Kirin dominated Japan's beer and soft drinks industry, then later diversified into the pharmaceutical and health science sectors. It also expanded globally, with subsidiaries in Australia, Europe, the United States and Asia. Kirin is eager to gain more traction in Southeast Asia via its Singaporean headquarters as it continues to leverage on its worldwide success.
"We started as a beer company, but we became successful because of our seriousness in keeping the integrity of brewing beer. We also place a strong importance on putting customers and quality first – that has always been the promise of our management," Honda says.
That promise was made evident when Kirin won the Product of the Year award for Immune Support at the Nutralngredients-Asia Awards last year for its iMUSE brand. iMUSE carries a multitude of products consisting of beverages, food products and supplements that contain LC-Plasma.
Kirin sells iMUSE brand products in the form of supplements in addition to its own beverages and yogurts. These beverages, yogurts and dietary supplements may be used to possibly improve one's immune system and quality of life in a variety of scenarios, if combined with a proper diet and exercise.
Furthermore, Kirin is proceeding with out-licensing to other companies without enclosing the technology in-house. For example, products are being sold one after another in various forms such as confectionery, jelly, protein, and powdered beverages in collaboration with many representative Japanese manufacturers.
"Due to differing environments, cultures and lifestyles, food and drink choices have changed," Honda says. "People are conscious about their health now more than ever, so we are constantly innovating, developing and launching functional food products."
Unlike many health problems that are unique to each country, immunity issues and infections are a common social issue across countries, especially under the ongoing Covid-19 situation. As a CSV company, Kirin is keen to spread its technology overseas, including Southeast Asia, to contribute to societies. Kirin is also keen to not only bolster its health science product presence but also to seek collaborations with manufacturers that can use Kirin's LC-Plasma as an ingredient in their own brand's products along with marketing and distributing Kirin's LC-Plasma in their respective regions. These partnerships, however, come with a CSV philosophy.
"Even if we were to work with an excellent business partner on a profitable opportunity, I don't think that partnership would last very long if they don't share our CSV mindset," Honda says. "We are looking for potential partners in Southeast Asia who can understand and join in our business vision."