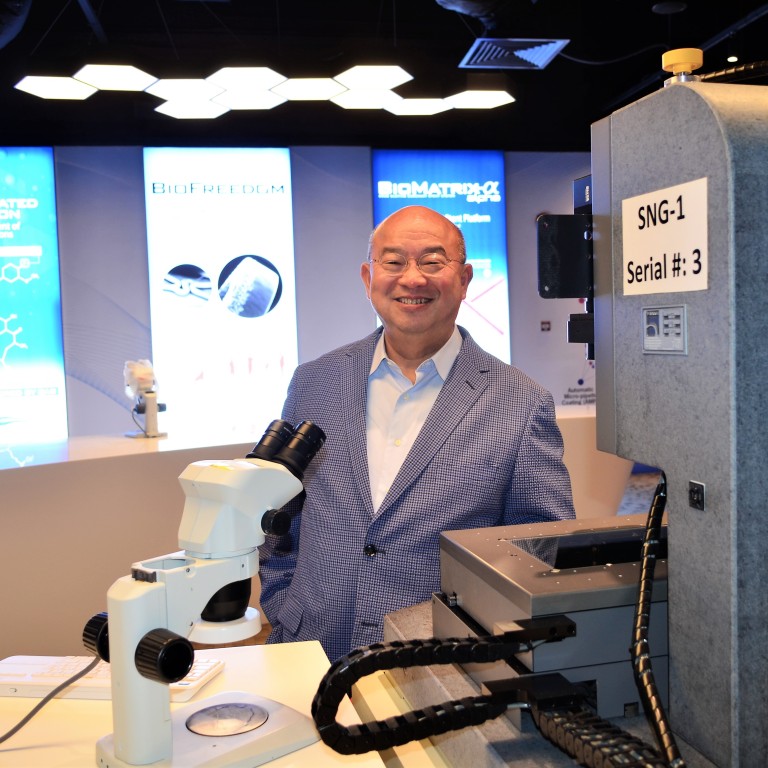 Biosensors widens medical technology influence to save lives
Biosensors offers breakthrough medical devices, stent technologies and robust clinical data that push the boundaries of innovation
Supported by:
Discovery Reports
Serving one patient every minute is a remarkable achievement, but critical care catheter systems developer Biosensors Interventional Technologies seeks to accelerate this further in the next two years by aiming to serve a patient every 20 seconds. Touching patients' lives and helping surgeons and hospitals improve vitality worldwide, Biosensors offers breakthrough medical devices, stent technologies and robust clinical data that push the boundaries of innovation.
"We foster global health care and standards by pioneering advanced medical technologies to save lives," says Simon Li, group CEO of Biosensors International. "Saving lives is our call, and this is our driving force to innovate and work harder to empower more doctors and biotechnology experts."
The company is diversifying its products to include structural and peripheral valves that will strengthen its cardiovascular segment as it enters the surgical, orthopaedic and diabetes treatment fields. Its pioneering spirit led to the development of its own proprietary technology Biolimus A9 (BA9) – the only limus-based drug designed specifically for coronary stent applications.
Seeking to optimise local drug delivery for vascular stent technologies, Biosensors designed BA9 by bridging science and practical know-how. Quickly absorbed into tissues, BA9 is 10 times more fat-soluble than the industry standard sirolimus, which reduces the effects of drugs circulating in a patient's bloodstream. It promotes slower drug metabolism allowing for a prolonged anti-restenosis and anti-proliferative effect. BA9 is used within the company's BioMatrix drug-eluting stent (DES) family and BioFreedom drug-coated stents (DCS).
When it comes to biodegradable polymer technology, Biosensors is known for delivering the best results in terms of safety and efficacy. Its stainless-steel DES BioMatrix NeoFlex comes with an enhanced stent delivery system that supports complex lesions and challenging anatomies.
"The enhanced deliverability of BioMatrix NeoFlex does not compromise longitudinal or radial strength, allowing BA9 drug delivery even to the most difficult-to-reach injuries," Li says.
The BioMatrix product family also influences local wound healing processes. Through the proven safety of a DES with a biodegradable polymer surface, the delivery of the block-clearing BA9 drug is highly localised for at least six months, resulting in faster wound healing.
"Not all polymers are the same, and our own-designed, pro-healing polylactic acid (PLA) polymer degrades to naturally manifesting lactic acid and lactate," Li says. "Studies have shown that lactate plays a key role in arterial wound healing processes through the production of enhanced vascular endothelial growth factor, so the localised presence of PLA-derived lactate actually supports arterial wound healing and tissue growth."
Biosensors also offers an endovascular line comprising two drug-eluting balloon products – BioStream for coronary artery diseases and BioPath for peripheral artery diseases, delivering solutions for below-the-knee and superficial femoral artery interventions.
The BioStream percutaneous transluminal coronary angioplasty (PTCA) balloon catheter is especially developed to support angioplasty or bypass patients. Increasing vessel diameter by up to 4mm, BioStream PTCA catheters address the issue of narrowing arteries after surgery and help ease blood flow to the patient's heart.
Intended to establish vessel in-line flow from the limbs to the foot and above the knee, the drug-eluting balloon dilatation catheters BioPath 014 and BioPath 035 were designed and optimised to treat patients with peripheral arterial disease. BioPath 014 and 035 feature excellent abilities to push, track and cross due to its soluble coating and low balloon and tip entry profiles. Other products in the Biosensors portfolio are the Chroma advanced bare-metal stents and Powerline balloon catheters featuring the MultiPleat folding technology for the treatment of multiple lesions.
Following its merger with China-based manufacturer of protective gloves Blue Sail Medical last year, Biosensors is upgrading its research and development facilities in China and the United States to pursue developments that apply ultrasound and robotics.
Through the valuable groundwork created by the Singapore Economic Development Board (EDB), Biosensors remains a competitive medium-sized player in the global biotechnology field. Aligning its international partnership programmes with the EDB's growth plans, Biosensors is behind the first large-scale clinical trial in Singapore with at least 1,000 participants for its BioFreedom DCS.
A polymer- and carrier-free DCS, BioFreedom is a distinct product because it combines a selectively micro-structured surface with BA9. Biosensors is the first stent company to develop and launch a biodegradable polymer stent with only the outer side coated with polymer and drug to reduce systemic exposure. This feature makes BioFreedom a more appropriate treatment strategy for angioplasty patients with high bleeding risks.
"The rapid 28-day transfer of BA9 to the coronary artery and rapid re-endothelialisation of the stented vessel make BioFreedom the most relevant choice of stent for patients who are unable to tolerate long antiplatelet therapy," Li says. "The clinical trial in Singapore showcases the proven superior safety and efficacy of BioFreedom DCS compared to bare-metal stents in high-bleeding-risk patients."
The company has also brought together specialists from Spain and Xi'an, China for technical collaborations. These activities bolster the company's commitment to the values of an evidence-based medicine approach. Apart from international collaborations, Biosensors supports various clinical and physician-initiated trials for its BioMatrix family of stents across Europe and parts of Latin America and Asia.
"As a Singaporean company with a global business, we aim to be a comprehensive solution provider for patients with different kinds of diseases; and to be within the top 50 biotech firms globally by acquiring new solutions and serving markets in Asia and globally," Li says. "More than underscoring technology, we also emphasise the human side through our values, heritage and our clients' experiences."