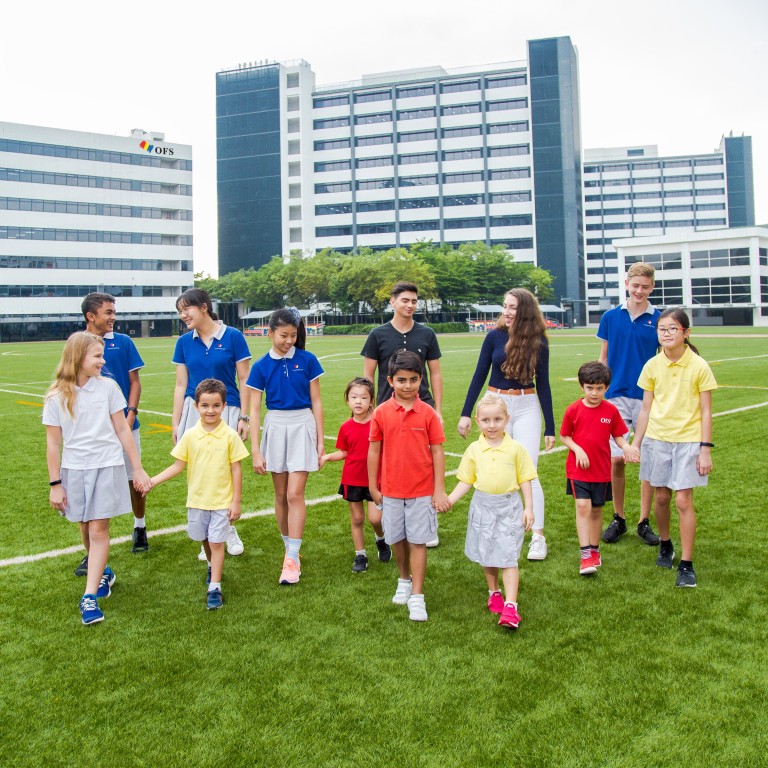 At OFS, even K-12 students learn to be responsible global citizens
A 'worldwide family approach' permeates the school system, promoting diversity, critical thinking and lifelong learning
Supported by:
Discovery Reports
Children of expatriates often travel from one country to another with their parents before settling down as adults in their country of choice. Transferring schools is as much a part of their lives as learning a different language with every move.
In Singapore, Overseas Family School (OFS) eases the transition for children aged two to 18 years old through an open entry policy that allows admission at any K-12 level without pre-entry tests. Students are encouraged to flourish at their own pace in an environment that fosters growth through self-discipline and self-respect. A "worldwide family approach" permeates the school system, promoting diversity, critical thinking and lifelong learning so that students can function well in a globalised economy and a culturally diverse society.
OFS prides itself as a family-oriented school that greatly values its bonds with parents and students. This vibrant school provides a well-rounded education to students of expatriate families from more than 60 countries, and supported by staff members from some 30 countries.
A leading foreign system school in Singapore, OFS maintains cultural diversity in its very own campus and strives to raise responsible world citizens. Its Model United Nations programme develops students' skills in communication, research, collaboration, negotiation and presentation, promoting international mindedness and global citizenship from a relatively young age. This programme has even attracted the attention of the Department of Public Information – Outreach Division of the United Nations headquarters in New York.
Intellectual development in such a multicultural environment harnesses the natural curiosity of children during the kindergarten years, their sense of self and community from ages six to 10, and international competencies during high school. OFS offers fully integrated curricula across its early years, primary, international baccalaureate middle years and diploma programmes. Upon earning their high school diploma, students are admissible to top universities worldwide especially in North America and Britain. OFS is accredited by California-based Western Association of Schools and Colleges and gives students access to the International General Certificate of Secondary Education qualifying examinations, which validate the OFS diploma in English-speaking nations.
Aiming to preserve the joy of learning while preparing students for an eventual return to their respective national education systems or for entry into universities worldwide, OFS also offers classes in 14 foreign languages so that students can retain the ability to communicate in their mother tongue. The Mother Tongue Programme is conducted by native speakers of the mother tongue and regular classes are run in the Danish, Dutch, Finnish, French, German, Hebrew, Italian, Japanese, Korean, Mandarin, Norwegian, Russian, Spanish and Swedish languages. Complementing this is the Foreign Language Programme and OFS Study Preparation Program, an intensive, highly successful and widely acclaimed programme designed for students without English communication skills to learn academic English at a faster pace.
OFS gives parents ample opportunities to participate in their children's academic life. A school-wide online assessment system allows regular monitoring of student achievements, providing views of school activities down to daily classes. The school's extensive information technology resources and infrastructure make the online assessment system readily available to parents, teachers and the students themselves.
About 5,000 students can be accommodated at OFS' sprawling campus in Pasir Ris, located east of Singapore. The five-hectare campus with state-of-the-art facilities has been described as the school design of the future. OFS' campus boasts two 11-storey academic blocks, 241 air-conditioned and carpeted classrooms, 49 learning labs and four modern libraries. Its sports complex has five shaded basketball courts, an Olympic-sized swimming pool and a full-sized football field. The school also has dedicated facilities for big events, including an auditorium and four large multipurpose studios.