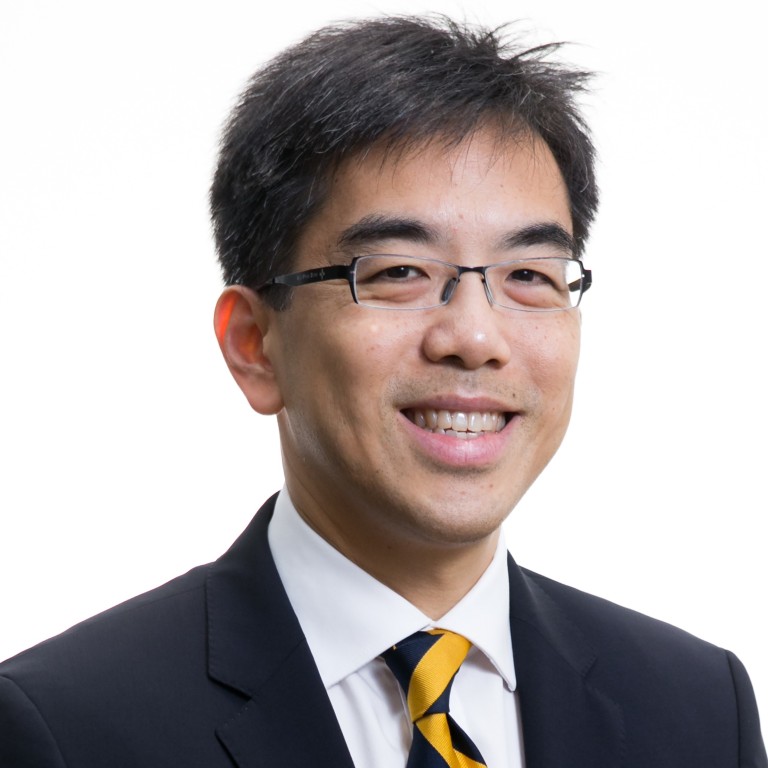 SNEC takes eye care into rapid trajectory of breakthroughs
The company has become a global leader in specialised ophthalmological services, thrusting Singapore to international prominence in ophthalmology
Supported by:
Discovery Reports
Counting patients and beneficiaries in the millions as it approaches its 30th anniversary, the Singapore National Eye Centre (SNEC) has exceeded expectations of restoring vision to hundreds of thousands in Asia. It has become a global leader in specialised ophthalmological services, thrusting Singapore to international prominence in ophthalmology and helping carve out the nation's fourth economic pillar in biomedical sciences.
"We provide what we hope is the best-in-class eye care for children all the way to adults and covering all major sub-specialities for 50 per cent of patients in Singapore's public health care system," says Professor Wong Tien Yin, medical director of SNEC. "We have three inter-linked missions, and we place emphasis on each of these missions interchangeably."
The primary mission is clinical care. Focusing on 10 sub-specialities, this covers cataract and comprehensive ophthalmology; corneal and external eye disease; glaucoma; neuro-ophthalmology; ocular inflammation and immunology; oculoplastics; paediatric ophthalmology and adult strabismus or squint; refractive surgery; and medical and surgical retina treatment.
Every year, SNEC attends to nearly 400,000 outpatient visits and performs 40,000 surgeries – including close to 17,000 cataract surgeries – and more than 20,000 laser procedures and intravitreal injections. In 2009, SNEC became the first eye institution in Singapore to acquire Joint Commission International accreditation.
The first in Asia-Pacific to perform excimer laser refractive surgery procedures in 1992, SNEC also launched the minimally invasive ReLEx SMILE laser eye surgery in 2013 ahead of other centres globally.
As a national referral centre, about 80 per cent of corneal transplants in Singapore are performed at SNEC. Complex retinal surgeries are performed daily for patients seeking tertiary-level care in Singapore and from across the region. For glaucoma, SNEC pioneered cutting-edge, minimally invasive glaucoma surgeries in Asia.
Such credentials in clinical care help support SNEC's second and third missions, which are education and research, respectively.
"We train almost one in two of all eye doctors in Singapore, along with a significant number more in the region and internationally at various stages of their careers," Wong says.
SNEC functions as Singapore's teaching centre for complex surgeries, such as tooth-in-eye surgery for those who are not suitable for conventional corneal or stem cell transplants. With its teaching courses and annual international meetings attracting thousands of ophthalmologists across Asia and beyond, SNEC spearheads professional interactions and collaboration leveraged upon strategic links with leading eye institutions globally.
SNEC conducts its third mission of high-impact, patient-oriented eye research through the Singapore Eye Research Institute (SERI), a national-level research organisation set up in 1996. SERI seeks to discover causes of eye diseases, develop new treatments, advance clinical studies and clinical trials of new drugs or surgical innovations, generate population studies on disease burdens, and create business opportunities for industry.
"We have numerous partnerships all over the world where we collaborate with academia and industries so that we can help address clinical gaps. Often, we plan and lead major studies, but sometimes it's as simple as testing a drug in a clinical trial or being part of a multicentred trial and the co-development of compounds," says Wong, who is also the chairman of SERI and previously its executive director.
SERI is already one of the largest research institutes locally and the largest focused on eye research across Asia-Pacific. SERI is responsible for about 95 per cent of ophthalmic research done in Singapore and has competitively secured more than US$308 million in grant funds.
Groundbreaking research
Last year was especially fruitful in the fields of retinal diseases and myopia. Collaborating with the National University of Singapore's School of Computing, SNEC and SERI co-developed an artificial intelligence (AI) system to screen some of the rapidly rising disorders causing vision impairment and loss in Asia. SERI's research team started exploring automation to improve the laborious and time-consuming process involved in retinal photography. Using the largest data set of Asian eyes in the world, the team developed superior AI-based algorithms that detect major retinal diseases. The technology, called Singapore Eye Lesion Analyser (SELENA), is undergoing a phased clinical validation and has been licensed to a multinational firm in a deal covering major global markets.
"The initial set of clinical studies of the AI system has been very positive," Wong says. "If we are able to implement this in our clinical care pathway within two years, we'd be the first in the world to have an AI-based tele-ophthalmology screening."
SELENA is now being incorporated into the Singapore Integrated Diabetic Retinopathy Programme (SiDRP), a showcase of SNEC's regional eye care plan where satellite clinics handle common ailments in order to free the main facility to manage complex conditions.
"SiDRP is based on a telemedicine concept," Wong says. "Patients have their photos taken in primary care settings across Singapore and these photographs are sent using a tele-ophthalmology framework into a reading centre manned by trained technicians. Every year, around 100,000 diabetes patients are screened without having to come into an eye clinic."
This caseload of diabetes patients will initially benefit from SELENA. For maximum impact, the AI-based screening system will eventually be fielded to highly populated countries in which there are few ophthalmologists such as China, Indonesia and Vietnam.
Yet another breakthrough has been achieved through the US$24.6 million collaboration among SNEC, SERI and Johnson & Johnson Vision to halt the global myopia epidemic. Through the SNEC Myopia Centre, a first-of-its-kind in Singapore, they will conduct market-leading clinical and product trials. Expected to afflict half of the world's population or about 5 billion people by 2050, myopia is notable among young people living in the urban areas of Singapore and East Asia, making the initiative doubly significant in the region.
"Over the past three decades, myopia has been increasing among younger kids alongside the education intensity in Asia," Wong says. "The shift from outdoor-focused to indoor-based lifestyles in urban settings is another culprit. Our studies show that myopia is more prevalent in many rapidly emerging Asian locations including Hong Kong, Singapore, Taiwan, Shanghai and Beijing, and less so in rural China."
SNEC and SERI have also monitored the increasing use of smart devices as a trigger for myopia, which could give rise to chronic cognitive disorders. Tracking children with myopia is included in the collaboration with Johnson & Johnson Vision.
A similar strategic alliance with Santen Pharmaceutical seeks to commercialise internally developed technologies. SNEC has succeeded in commercialising Myopine, a breakthrough atropine eye drop treatment for childhood myopia. It has also set up PLANO, a digital health care company with a mobile application enabling better parental management of children's smart device usage.
Referral centre in Asia
As the region's most advanced in specialised ophthalmological services, SNEC has evolved as the referral centre in Asia for complex conditions. These include displaced cataracts and intraocular lenses, secondary and tertiary management of glaucoma, complex inherited and acquired paediatric eye conditions, and complicated and difficult laser refractive surgeries across Singapore and the rest of Asia.
For age-related macular degeneration (AMD), which is a growing problem with ageing populations requiring frequent anti-vascular endothelial growth factor (VEGF) injections, SNEC introduced a major health care innovation last year that allowed nurses to give the shots.
"We are the first in Asia to do this widely and on a routine basis," Wong says. "It's been quite a major enhancement for us because it frees up a lot of doctors to do more of the difficult work of diagnosis and counselling patients, and allows the nurses to be upskilled to perform this treatment."
Anti-VEGF injections have replaced cataract surgery as the single most common procedure required in the entire public health system of Singapore. The need for the procedure is highly likely to zoom globally because of ageing populations worldwide.
To tackle this, SNEC and SERI are also at the forefront of research and development into Asian-specific forms of AMD. It is developing AMD treatments that are tailor-made to Asian populations, which have been noted to bleed more easily and require a different approach than Western populations.
Similarly, an innovative pathway to address narrow-angle glaucoma is under way.
Rapid trajectory
"We see ourselves as needing to provide eye care for the wider community irrespective of where they are, and I think Southeast Asia is where we have the best value to add," Wong says.
Although prioritising the local population, SNEC regularly sends teams on medical missions to perform screenings and surgeries across disadvantaged countries in Asia. In 2017, SNEC and SERI launched the VisionSave Mobile Eye Bus that brings eye screenings to underprivileged communities. Over the past five years, the institution has been raising funds through gala events where companies, foundations and high-net-worth individuals pledge their support.
"There is a cultural shift across the region, which has become more developed and richer over the past 30 years. Individuals who have benefited from this development are keen to give back to communities that are still underserved," Wong says. "We offer that opportunity to foundations, corporations and individuals if they're passionate about our cause: the prevention of blindness."
SNEC funds scholarships for nurses and young doctors to learn new techniques and provides seed money for innovative research and community initiatives such as local and regional screening programmes.
"SNEC has developed in parallel with Singapore," Wong says. "SNEC is almost 30 years; Singapore is just past 50 years. Both have had that rapid trajectory of development – contributing at the highest global level, moving towards the cutting edge, pushing the boundaries and challenging paradigms. SNEC, like Singapore, is in this space because we do not compete on market size, but rather on speed, quality and innovation."