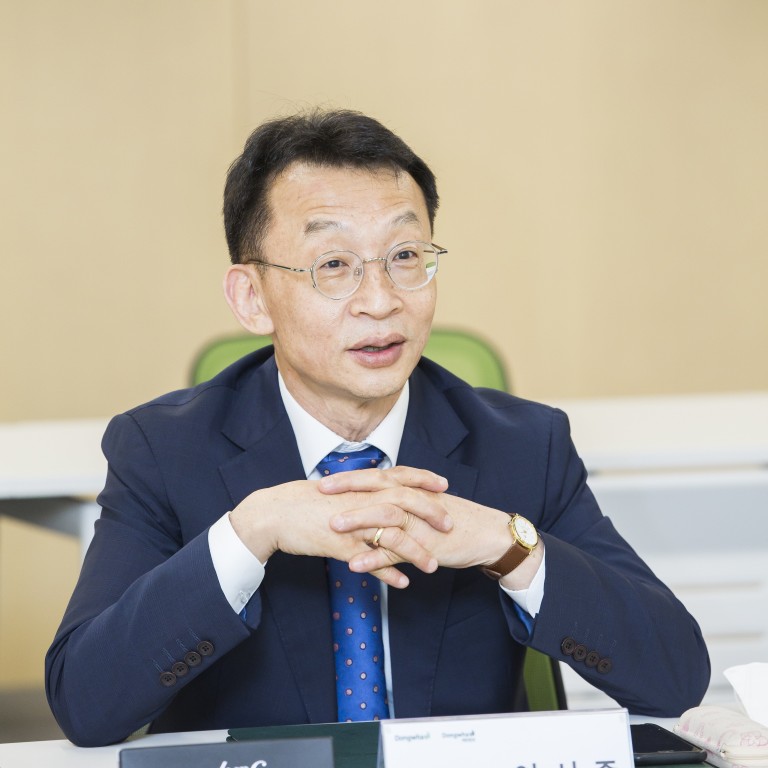 R&D and new factories spur Dongwha Electrolyte's global expansion, starting with Asia
Dongwha Electrolyte is rapidly emerging as the region's partner-of-choice in advanced electrolyte technology for multiple industry applications
Supported by:
Discovery Reports
Country Business Reports interviews and articles by Discovery Reports
As the chemical medium allowing batteries to store and transfer electrical energy, electrolytes are indispensable components of the batteries that power today's digital appliances and modern machines – from smartphones, laptops and digital cameras to wearable devices, solar panels and electric vehicles (EVs).
With Asia-Pacific comprising nearly 80 per cent of the world's multibillion-dollar industry for rechargeable secondary batteries, South Korean speciality chemical company Dongwha Electrolyte (formerly Panaxetec) is rapidly emerging as the region's partner-of-choice in advanced electrolyte technology for multiple industry applications.
Since the foundation of its first electrolyte factory in Busan in 2008, Dongwha Electrolyte has grown to become one of the world's leading manufacturers of electrolyte products used in secondary lithium ion (li-ion) batteries for portable electronics and electric vehicles.
Celebrating its 10th anniversary along with the latest acquisition of Dongwha Enterprise – a Dongwha Group subsidiary specialising in wood and chemical materials – Dongwha Electrolyte aims to double its production capacity, diversify its customer base overseas and expand its leadership in research and development (R&D) through open innovation partnerships.
In 2019, Dongwha Electrolyte completed the construction of its second factory in China – the largest market for secondary batteries in Asia-Pacific.
The 29,700-square-metre plant, a US$21.7 million investment located in Tianjin, houses an automated system for electrochemical processes and is expected to produce an additional 10,000 tonnes of electrolytes.
"The global secondary battery market is expected to quadruple over the next six years from US$25 billion to US$100 billion by 2025," says Lee Si-joon, president.
"As the battery market expands, so will the electrolyte market. Our focus is twofold: to improve the already high quality of our electrolyte products and to reduce our costs. We have started doing so by improving our manufacturing process and implementing smart factories in line with the fourth industrial revolution."
Empowered to succeed
From small-sized batteries used in mobile phones, cordless power tools and mobile vacuum cleaners to medium- and large-sized batteries used in EVs and plug-in hybrid electric vehicles (PHEVs), Dongwha Electrolyte's electrolyte products have varied battery applications – among which secondary li-ion batteries are the most popular.
With the popularity of EVs and PHEVs on the rise due to increasing environmental concerns, the global market for automotive li-ion batteries is projected to grow at an annual rate of 33 per cent and surpass US$73 billion by 2025. This has driven Dongwha Electrolyte to focus on electrolyte applications in large batteries for EVs, PHEVs and energy storage systems.
"The first key to our success would be our close cooperation with battery makers," Lee says. "We hold the most technological patents developed jointly with these companies. This makes us the Korean leader in electrolytes with a strong technological capacity."
Dongwha Electrolyte's electrolyte applications in li-ion batteries include round cell batteries used in laptops and power tools, li-ion square cell batteries used in mobile phones and digital cameras, li-ion polymer cell batteries used in MP3 players and headsets.
Dongwha Electrolyte's track record of success includes a number of pioneering accomplishments. Apart from being the very first vendor of li-ion technology expert and leading energy storage developer Samsung SDI, the company is also the first in South Korea to produce locally made electrolytes for secondary batteries.
The company's strong production capacity and network also forms the backbone of its continued growth. With the full-scale operation of its newest factory in Tianjin, Dongwha Electrolyte is able to manufacture a total of 43,000 tonnes of electrolyte materials annually – combining the output of its other manufacturing plants in South Korea, China and Malaysia.
"Our second key to success is our manufacturing footprint. Battery makers consider a strong and robust supply chain management capacity to be very important," Lee says. "Electrolytes are very dangerous materials, so battery makers want us to be near enough to shorten transport times. We are the only Korean electrolyte company with such an advantage."
Electrolytes consist of soluble salts, acids and other bases that form an integral part of a battery's construction and overall functionality. Available as liquids, gels and dry solids, electrolytes are crucial for ion transfer in batteries – allowing batteries to store electricity in the form of chemical energy and to convert these back into electrical energy.
Aiming to become the world's No 1 electrolyte maker, Dongwha Electrolyte understands the importance of using R&D to achieve high-performance and high-stability electrolyte products.
"Our third key to success is that we are in the process of developing a new technology related to full solid batteries – what we call next-generation batteries," Lee says. "We are conducting a joint project with the government in developing this technology."
A future driven by R&D
With an estimated 530 million EVs on the road expected by the year 2040, li-ion batteries for EVs are rapidly emerging as the new cornerstone of South Korea's economy – at a rate of growth surpassing even that of the semiconductor business.
As a top-tier South Korean provider of electrolytes for li-ion batteries, Dongwha Electrolyte continues to build upon its core R&D capabilities to address this growing trend. The company holds a total of 112 patents (80 of which are domestic and 32 are international) and owns a database of around 500 additive formulas – attesting to its accumulated knowledge of electrolyte formulation and technologies.
Its strategic cooperation with clients has also led to original research innovations – as seen in its joint patent with Samsung SDI for a non-aqueous battery electrolyte.
Dongwha Electrolyte is also working on a number of key R&D projects to improve the already premium voltage, temperature storage, power and life-cycle properties of its electrolyte products for small and large batteries. Through its expertise in electrolyte formulation, the company is developing more additives with special battery functions. These include overcharge protection additives and additives that preserve the life cycle of small batteries by protecting the cathode and anode – two major components of a li-ion battery.
"Our R&D is a mixture of everything – apart from our in-house technologies and customer projects, we engage in open innovation projects with universities and government research institutes," Lee says. "There are many types of applications for secondary and li-ion batteries and these continue to increase as technologies evolve."
In Southeast Asia, where traffic congestion in mega cities is a major problem costing governments and commuters millions of dollars a day, electric bikes and electric scooters have emerged as viable transport options for city travel. Increasing urbanisation and an expanding middle class continue to drive demand for smartphones and portable consumer electronics – necessitating improvements to telecommunications and data centre infrastructures in the region.
As consumers and companies look towards increasingly eco-friendly and sustainable solutions to address 21st-century needs, wireless and rechargeable devices, tools and vehicles that use secondary batteries have become an integral part of everyday life for most parts of the world.
"We have been receiving inquiries from car and scooter companies that are interested in producing their own batteries but do not have the technological capacity to do so," Lee says. "We are very open to technological partnerships for innovation and are very willing to share our background and knowledge."
Beyond South Korean borders
With its new factory in Hungary scheduled to open this year, Dongwha Electrolyte has begun its expansion into Europe and also plans to enter the United States as part of its global growth strategy.
Two potential battery-producing Asian markets are also on Dongwha Electrolyte's radar – Vietnam and India, where there has been increasing demand for the company's test lab samples.
India poses highly favourable conditions for battery production under its "Make in India" programme, a government initiative to encourage local manufacturing, and the country's five-year Automotive Mission Plan to quadruple vehicle production by 2026.
With a strong global network of manufacturing sites and sourcing channels for raw materials, Dongwha Electrolyte proves a highly valuable partner for battery makers in today's competitive global market for secondary batteries.
The company has secured long-term sources for lithium hexafluorophosphate, an important component in li-ion battery electrolytes.
From its manufacturing plant in Malaysia, an entry point to Southeast Asia's massive demand for small-sized e-bike and e-scooter batteries, to its upcoming factory in Hungary, where automobile brand Volkswagen Europe has emphasised a need for European-made batteries, Dongwha Electrolyte's locations serve a specific strategy and purpose.
"Most battery makers will agree that there is definitely more pressure as the market grows to either reduce costs or increase the energy density of batteries while improving quality," Lee says.
"This is not an easy industry. We continue to pay close attention to what customers need and always try to be ready to respond to market changes."

This content has been created under the direction of an advertiser. It contains no editorial input or review from the South China Morning Post (SCMP), nor does it reflect the position of, or the editorial standards used by, the SCMP. The advertiser has paid for and approved the content.