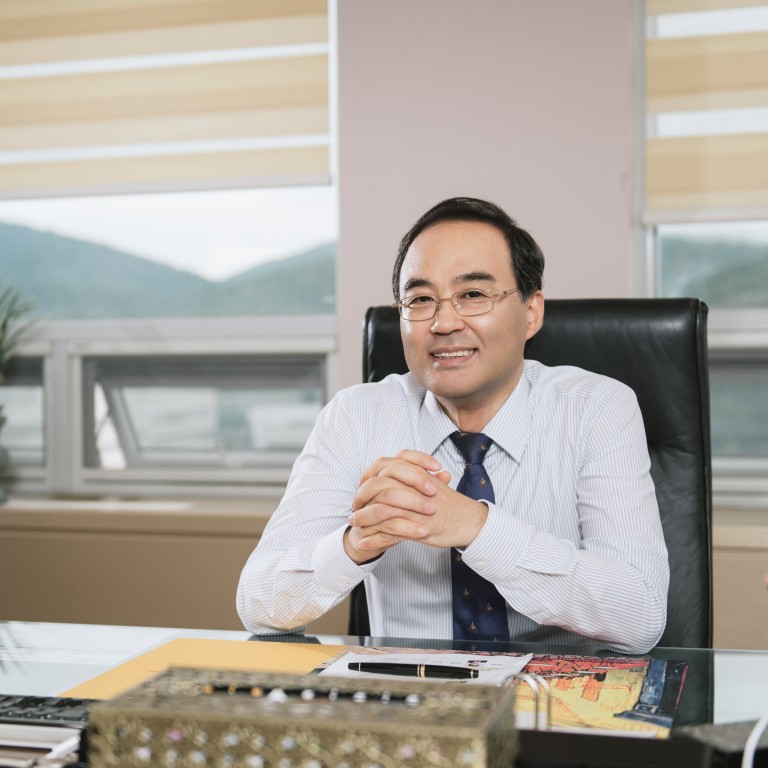 Daegu-Gyeongbuk Free Economic Zone Authority creates innovation hub for business success
The conveniently located DGFEZ develops customised facilities and spaces for IT convergence, hi-tech parts and materials, and cutting-edge medical services
Supported by:
Discovery Reports
Country Business Reports interviews and articles by Discovery Reports
The Yeongnam region of South Korea is considered an industrial powerhouse as it is home to many companies across different sectors. Daegu, for instance, made waves for its expertise in information technology (IT) manufacturing related fields. Pohang is known as the home of POSCO, one of the world's largest steel companies and formerly known as Pohang Iron and Steel.
Harnessing the strong business environment and highly knowledgeable talent pool, particularly in Daegu, Pohang, Yeongcheon and Gyeongsan, the Daegu-Gyeongbuk Free Economic Zone Authority (DGFEZ) aims to build the next innovation hub.
"As the heart of traditional manufacturing in South Korea, we envision that Daegu-Gyeongbuk will grow as a hub for advanced manufacturing in Asia," says DGFEZ commissioner Choi Sam-ryong.
Spearheaded by special government agency DGFEZ, the economic zone develops customised facilities and spaces for future industries such as information technology convergence, hi-tech parts and materials, and cutting-edge medical services.
The convenient location of DGFEZ is accessible by air, rail, land and sea transport systems. Air routes will be even further expanded as a new airport is slated to open in 2028 in the North Gyeongsang province. It also has excellent infrastructure to support the seamless operations of the companies within the economic zone.
"Aside from tax reductions and other financial support incentives, we create innovation ecosystems to encourage cooperation among companies, universities, research institutes, industries and government. This strengthens competencies of companies in the investment districts," Choi says.
Since its establishment in 2008, DGFEZ has received more than US$751 million from 30 foreign investors and US$4.5 million from 623 domestic companies and institutions. It has also generated more than 22,000 jobs.
To date, there are eight specialised districts, namely Daegu Technopolis, International Fashion District, Sinseo Meditech District, Suseong Medical District, Yeongcheon Industry District, Yeongcheon High-tech Park, Gyeongsan Knowledge Industry District, and Pohang Fusion Tech District.
With the Korea Institute for Robot Industry Advancement as one of its many technologically advanced occupants, Daegu Technopolis is the centre of innovation for futuristic vehicles and robotics. Receiving a 300 billion Korean won investment, it was selected as the site for the National Robot Test Field Innovation Project, which supports robot data centre developments and common base technologies for service robots.
The International Fashion District or Esiapolis is a district specialising in textiles and fashion. It houses the only textile museum in South Korea.
Sinseo Meditech and Suseong Medical are two medical districts with distinct focus areas. Sinseo Meditech is a medical industry research and development (R&D) hub, particularly for new drugs, technologies and medical devices, while Suseong Medical is a futuristic medical and IT complex.
Meanwhile, Yeongcheon is divided into two districts: Yeongcheon Industry District for automotive parts components, and Yeongcheon High-tech Park for futuristic mobility technologies.
Gyeongsan Knowledge Industry District features next-generation construction machinery, parts, hi-tech medical devices and research facilities.
Lastly, Pohang Fusion Tech District is an R&D hub housing the nation's best research facilities such as Postech Biotech Center and Pohang Accelerator Laboratory. Companies in this district specialise in various research fields, from biotechnology to new drug development.
DGFEZ has identified renewable energy, artificial intelligence, and sustainable and eco-friendly solutions as key areas drawing increasing global interest. DGFEZ opens its doors to more companies in these sectors and hopes to partner with them to develop successful businesses.
It aims to serve as a bridge to foreign companies looking to expand their horizons. DGFEZ is ready to assist and collaborate with interested companies to facilitate their entry into the area.
"I hope for the success of the businesses in DGFEZ, the hub of futuristic global new industries leading the Fourth Industrial Revolution. As a Korean institution attracting investments, DGFEZ will try to do our best to invite more competitive and potential growing companies," Choi says.