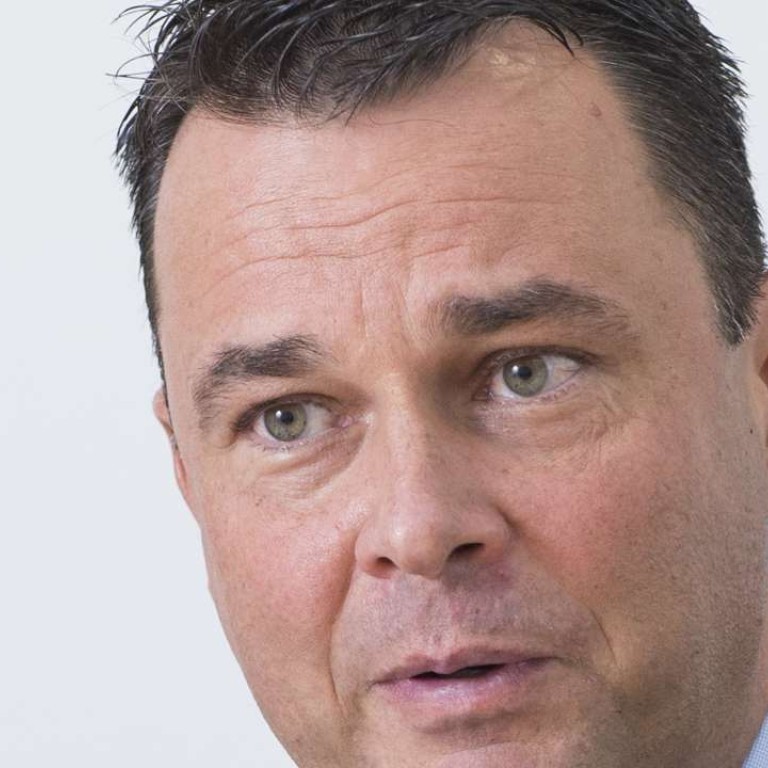 Conzzeta businesses increase focus on markets across Asia
Conzzeta is pursuing a robust growth and internationalisation strategy to secure leading positions in the areas of sheet metal and flat glass processing, sporting goods, foam materials and graphic coatings
No longer just a low-cost maker, China is muscling in on the higher-value intermediate goods market as Chinese manufacturers become more technologically proficient.
China's move up the value chain is creating waves across industries worldwide, and leading international company Conzzeta sees clear potential as it brings innovative Swiss technology and products to budding markets in China and the rest of Asia.
"China is not as it was seen in the past – a workbench or a place for cheap labour," says Michael Willome, Conzzeta Group CEO, who took the helm last year. "We recognise the large domestic market as an important part of the global market, and so we're focusing on Asia, particularly China."
As the umbrella group of a cluster of high-value businesses, Conzzeta is pursuing a robust growth and internationalisation strategy to secure leading positions in the areas of sheet metal and flat glass processing, sporting goods, foam materials and graphic coatings.
With a diversified portfolio, the Swiss holding company is fully equipped to provide customers with innovative and reliable products and solutions.
Two significant steps taken by Conzzeta to deepen its stamp in Asia are the acquisition of DNE Laser in Shenzhen for its sheet metal processing business and the opening of a regional office for its sporting goods brand Mammut in Hong Kong.
Conzzeta counts more than 4,000 employees globally, with 1,000 staff managing the broad activities in China. Backed by a stable ownership structure and strong balance sheet, the group seeks value-adding opportunities including acquisitions and collaborations with partners with distinct networks and market knowledge to hasten its expansion plans.
"We offer a solid technology portfolio and we have good positions. We want to accelerate growth and that's why we are focused on Asia," Willome says. "I've lived in Asia for quite some time and I believe in the opportunities in the region, its potential and people."
Beyond offering capital and sporting goods, Conzzeta runs businesses within the chemical specialities segment. Showcasing Swiss brilliance, Conzzeta manufactures coatings for the global printing and packaging industry through Schmid Rhyner. With leading competencies for ultraviolet-curing, low migration and functional coatings such as the Touch & Feel surface, Schmid Rhyner enables effective packaging solutions with haptic effects for crucial differentiation at the point of purchase. Its sophisticated know-how helps safeguard and strengthen brands of top consumer products, food and cosmetics companies. It also enabled the development of the revolutionary digital varnishing technology diVar.
Schmid Rhyner has a long tradition of manufacturing coating materials. Since its foundation in 1880, it has constantly pursued the highest quality standards by collaborating with customers in developing its products. It also provides client support through theoretical and practical training courses. Individual and on-site technical consulting sessions complement Schmid Rhyner's programmes, from graphic design through to food safety in packaging. Acquired by Conzzeta in 1987, Schmid Rhyner manufactures in Switzerland and serves clients in more than 100 countries, including China and Asia.
Conzzeta runs a second chemical specialities business under the FoamPartner brand. FoamPartner offers innovative, flexible foam solutions for a broad range of applications such as acoustic and thermal solutions within the automotive, filtration, purification, cleaning, surface treatment, packaging and sealing segments. Its portfolio also includes bedding products such as mattresses, pillows and cushions. As a supplier of tailor-made components and entire solutions for various industrial sectors, FoamPartner runs a polyurethane foam production and converting plant in Changzhou and sales offices in Shanghai and Singapore.
"The future of Conzzeta is getting more global, but we still need to stay close to our customers," Willome says. This is one of the reasons why FoamPartner implemented a new regional management structure to drive innovation in close cooperation with clients, to shorten development cycles and to accelerate growth particularly across Asia.
Through Bystronic glass, Conzzeta has also been manufacturing equipment for the processing of flat glass in Shanghai since 2010. The products are mainly for the export markets, but the company aims to strengthen its capabilities to better meet the needs of the domestic market. Bystronic glass serves the architectural and automotive glass markets, and the company explores further opportunities for innovative thin glass applications.
"We aim to complement our high-end solutions with quality mid-range products," Willome says. "We see growth potential in China due to increased requirements in the pursuit of energy efficiency and noise reduction."