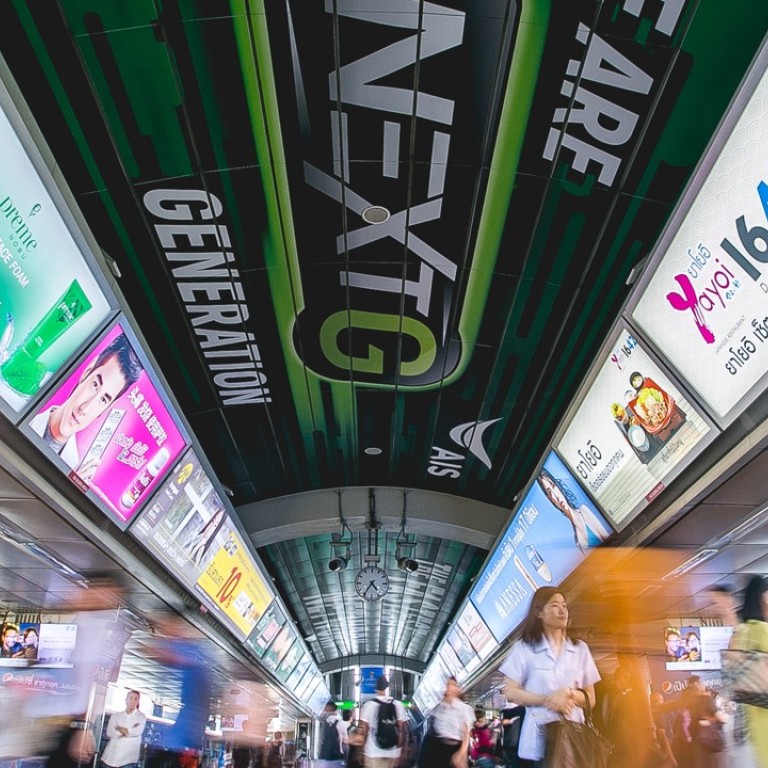 VGI spearheads regional growth of BTS with modern approach in advertising
VGI boasts of in-building advertisement billing worth about HK$78 million yearly from a total of about 175 buildings
Supported by:
Discovery Reports
Country Business Reports interviews and articles by Discovery Reports www.discoveryreports.com
Together with his father, Kavin Kanjanapas has the uncanny ability to make the most out of any business opportunity. After developing properties across Bangkok, the executive director and CEO of BTS Group then took on the construction of the BTS SkyTrain system to link its development projects. A master of synergy, the group embarked on yet another venture that has been taking its business to whole new levels. Originally established as an advertising and merchandising company, VGI Global Media today incorporates big data with its payment platforms, the Rabbit card and Rabbit LinePay, to unlock endless marketing and commercial opportunities for the group in Thailand and elsewhere in Asia.
"Mass transit systems always have people, and when you have people, you can have advertising," Kavin says. "It is the same concept as a newspaper, only the riders are your readers."
Every day, more than 780,000 people travel using the BTS SkyTrain system. There is, however, more to this number than meets the eye. Unlike European cities with many commercial areas spread throughout, Bangkok is monocentric, wherein there is only one commercial business district right at the centre. And with BTS SkyTrain criss-crossing the heart of Bangkok, its 780,000 riders thus represent the city's cream of the crop of individuals with the highest purchasing power.
Making advertising history
When VGI began 20 years ago, it only had a contract from its mother company BTS to manage the advertising and merchandising spaces at the BTS SkyTrain system. After a few years, however, the subsidiary started to do advertising for companies such as British multinational retailer Tesco and Thai retailer Big C. VGI was able to consolidate the advertising for these two clients so that its yearly billing amounted to a record high of about HK$314 million. The company made history with such tally, which up until today is still the track record in Thailand.
VGI made waves again when its advertising service inside buildings made about HK$7.8 million on the first day. The undertaking continued to grow, tripling in only two months as VGI bundled the in-building advertising with other promotional venues such as trains, stations and buses. Today, VGI boasts of total in-building advertisement billing of about HK$78 million yearly from a total of about 175 buildings.
Rabbit takes business to new level
The company, however, was just warming up. Soon enough, the number of BTS SkyTrain riders had gone up and to promote operational efficiency, the group created the Bangkok Smartcard System, or the Rabbit card. Originally conceived by BTS as an efficiency-enhancing ticketing system on the BTS SkyTrain, the smartcard also served as a more efficient payment platform for customers, similar to the Oyster card of Britain and Octopus card of Hong Kong.
"On day one, the smartcard system had a single purpose. But when people started using it more often and we began to have more members, we started a redemption programme and are now working to finally enable the card to be able to make retail and online purchases," Kavin says. "We are now moving into a more aggressive mode."
Customers can now use their Rabbit card in most retail outlets such as McDonald's, Tesco, Big C, cinemas, food courts and even for online shopping. While it took the Octopus card about 10 years to lay the whole groundwork setting up card readers in parking lots, bus terminals and retail outlets throughout Hong Kong, the Rabbit card hit the ground running on day one with readers spread out everywhere, thanks to the company's partnership with Bangkok Bank. Rabbit was able to save 10 years and has spent that time instead on expanding the card's membership base, improving its redemption programme, marketing and helping out customers.
In addition, the company has been in a partnership with LINE, the No 1 messaging app in Thailand with more than 45 million users, and AIS, the country's No 1 mobile operator, in running an e-wallet under the name of Rabbit LinePay. By combining the strength of its partners, Rabbit LinePay is expected to be the No 1 e-wallet with online and offline merchants.
Gaining upper hand with big data
To maximise the value of the smartcard and better leverage synergies, BTS transferred the whole Rabbit card business to VGI last year.
"At the end of the day, Rabbit is an enormous data centre," Kavin says. "With all the information we have from mass transit – where people are and where they are going, what they are doing with their cards – and combining these with the other information we gather from our media, promotional and customer-related activities, we even can predict whether you will go for beef or fish."
Kavin explains further that this is not the case with the other transit-linked payment systems. While some systems may know that an individual spent HK$100 in a 7/11 outlet, it does not know what items were bought, revealing only one's spending power, but not one's preferences. VGI, on the other hand, can forecast what specific products a person will most likely purchase next because of the company's growing access to big data.
"This is what we are focusing on now in Thailand, and I think we stand out because we have mass transit information and, at the same time, we have access to other data through our retail and insurance brokerage network," Kavin says.
In addition to this, the group's data bank grows as VGI acts as a friendly partner or middle man to everyone. The company, for instance, is able to offer its advertising services to both Coca-Cola and Pepsi, while the Rabbit card is among the few smartcards that can successfully serve both SF Cinema and Major Cineplex in one e-payment vehicle. VGI's access to big data also enables advertisers to communicate directly with its target consumers, eliminating the need for advertising agencies tasked with targeting specific consumer groups. Such an approach has made VGI an efficient one-stop shop solution for advertising.
"This is the way of the future. We are providing a huge platform that covers a lot of people, which includes your end-customers," Kavin says. "There is tremendous opportunity for everyone to earn money on top of this platform."
Expanding beyond media and payment
In order to better serve the online-to-offline (O2O) solutions ecosystem, VGI announced to invest in Kerry Express (Thailand), which is the largest provider of e-commerce fulfilment in Thailand with more than 500,000 shipments per day. Kerry's significant customer and logistics platform would bolster VGI's O2O solution business. In addition, with this investment, VGI would gain access to substantial new media inventory such as Kerry's vehicle delivery fleet or its extensive network of parcel shops and service points.
The excitement is just starting as VGI looks forward to an even more promising future. In Thailand, BTS will operate the extensions to the existing green lines as well as the pink and yellow lines. Upon completion after three years, these lines will expand the BTS' rail network from 38km to 132km, boosting the ridership base by 2.5 times to about 2 million passengers. BTS has also placed an order for 184 train carriages, almost doubling the existing fleet. The group has similarly launched 12 condominium projects thus far, worth about HK$11.8 billion within a 500-metre radius of selected BTS SkyTrain stations. Altogether, these initiatives will only result in a larger captured market for VGI's advertising and merchandising business.
"We are at a stage where we want to go and explore Asia as well," Kavin says. "We are not entering these markets, however, through the mass transit segment because this sector is too complicated for political reasons. Our point of entry will be through VGI instead."
The strategy makes perfect sense. While mass transit companies in other Asian countries specialise in train operation and safety, they lack the advertising and media expertise that comes from an advertising outfit that is also knowledgeable in the mass transit industry. VGI already secured the contract to run the advertising business for Malaysia's Klang Valley MRT 1 or Sungai Buloh-Kajang (SBK) Line and has also bagged a 20-year advertising concession for Indonesia's first mass transit system, Jakarta MRT North-South Line.
"Other countries may be able to run a safe train, but they may find it difficult to generate the needed revenues," Kavin says. "We can do that for them with our long experience in integrating mass transit with media, advertising, data, payments and property development. We are unique in this respect."