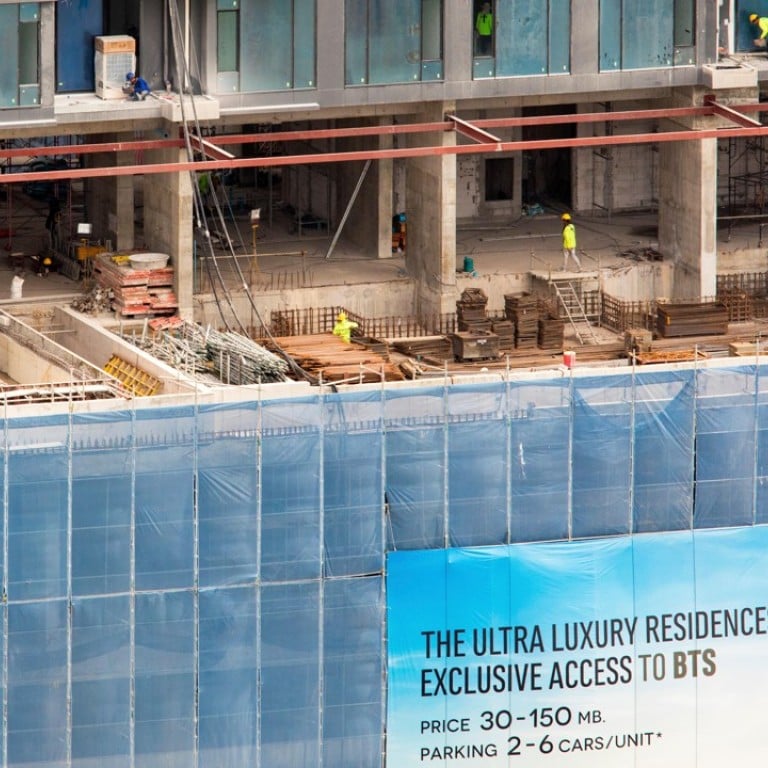 Soaring Hong Kong prices put Bangkok on the radar
Investors are increasingly looking at condominiums in Bangkok, where property rules make purchasing easy, provided there is sufficient cash
Supported by:
Discovery Reports
It has never been easier to look for a flat in Bangkok. Wealthy foreigners are flocking to the Thai capital to buy property at plush, new complexes such as 98 Wireless, which offers services such as a dedicated butler, a chauffeured Bentley, valet parking, and an on-site Quintessentially concierge. But then Bangkok now offers Hongkongers a large choice of luxury condominiums as well as enticing shopping and fine dining.
Some analysts are expecting Bangkok property prices to rise, however. CBRE's March 2018 market report says developers "are competing fiercely for prime development sites, driving up prices to record levels, and both condominium prices and office rents are at record highs".
In Hong Kong, investors are familiar with the situation, as red-hot prices have forced locals to consider other locations such as Japan or Taiwan. Midland Reality online indicators estimate the average price per square foot in Hong Kong (including Kowloon and New Territories) is HK$13,501. This means a 500 square-foot flat could cost close to HK$7 million when duties, moving and renovation costs are factored in.
By contrast, a Colliers Q1 2018 report shows that the average price of a new Bangkok condominium was about 133,000 Thai baht (HK$31,300) per square metre, with around 14,050 new units launched in that period.
An equivalent sized new flat in Bangkok could cost HK$1.5 million, but prices are rising. The report notes that "the average price of condominiums in Bangkok has increased every quarter by around 3-5 per cent, depending on location, project concept and market position".
Buying a condominium in Thailand is easy, according to Landscope International, a property firm that helps foreigners buy real estate there. "The law governing foreign ownership of condominium units is straightforward; foreigners may own up to 49 per cent of the total area of all condominium units in a condominium project," the firm's website says.
Landscope International estimates that only a small minority of condominium buildings in Thailand have achieved the maximum 49 per cent foreign ownership, so many of the properties will be available to Hong Kong buyers.
"In effect, this means that foreigners can fully own property in condominium buildings with the same rights to title that Thai owners have," the company says. However, buyer beware, as a prospective property owner must have the cash ready to purchase.
"The Condominium Act 1992, as amended in 2008, stipulates that a foreign individual wishing to purchase a condominium unit must remit foreign currency into Thailand in an amount not less than the unit's purchase price," the firm advises. While buyers therefore have to transfer funds into the country, Landscope International says that they can move funds out easily.
"Proof of the remittance must be shown to the Land Department at the time the transfer of ownership of the condominium unit is registered," it says. "When a condominium unit is sold, the initial funds transferred into Thailand to make the purchase, plus any declared profit, may be freely remitted out of the country."
Most condominium projects in Thailand are freehold, although there are leasehold buildings in central Bangkok held under the Thai Civil & Commercial Code, Landscope International says. "Properly structured, leases are fully transferable and can protect the rights of heirs and allow an option to purchase if a change in the law allows it, or if the buyer's personal circumstances change – for example if he/she marries a Thai national."
According to Siam Legal, a local law firm, there are pitfalls to be aware of. Buyers should conduct a title search, the company's website says.
"A comprehensive examination of title deed recorded at the Land Department should be done before placing a deposit or signing of a reservation agreement," it says. "You need to verify that the seller has clear and legal title of the land before you enter into any contractual agreement. The title search will trace the land to its first possession, as well as checking for any encumbrances such as liens, leases or mortgages on the title."
The firm also recommends carrying out the necessary due diligence on the developer.
"You should check with the previous buyers to see if they are satisfied with the quality and time frame of the construction," it says. "If you do not have time to spend on checking the history of the developer, a local lawyer near the development will know or can check the project, who their directors are and their performance history."
With analysts projecting a potential oversupply in the market, prices may hinge on the purchasing willingness of locals, who make up 75 per cent of buyers, according to the 2018 CBRE report.
"The Bangkok luxury condominium market will continue to be dominated by Thai purchasers," it says. "The performance of the downtown luxury market will depend on Thai buyers' willingness to pay the increasing prices." As always with investments, do not put all your eggs in one basket, and buy only what you can afford to lose.