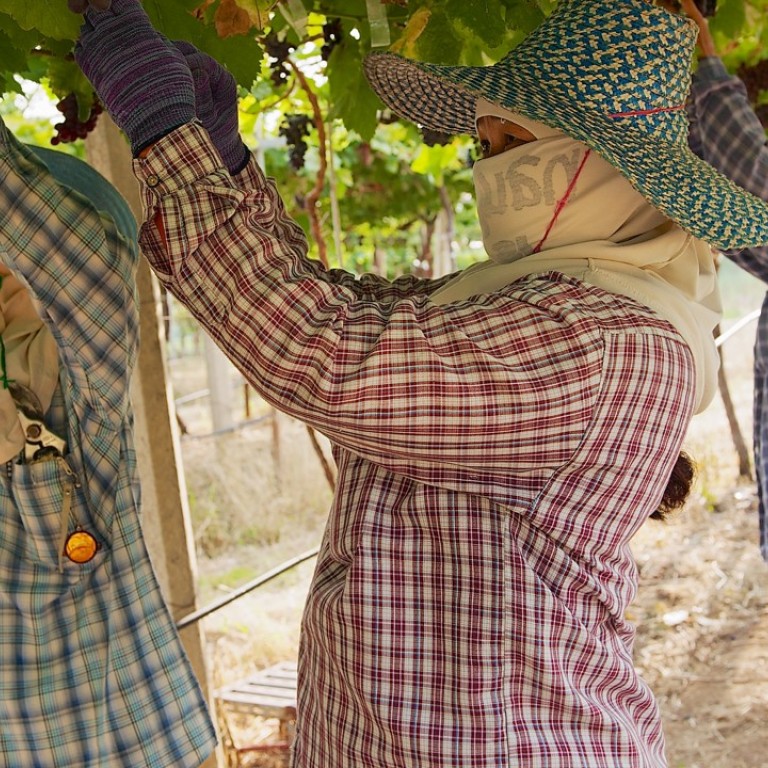 Degree of latitude aids winegrowers in Thailand
Thai wine is growing in importance as part of the nation's tourism industry
Supported by:
Discovery Reports
For many years it was generally accepted wisdom that grapes for making wine could only be cultivated between 30 and 50 degrees of latitude, in either the northern or southern hemisphere.
Over the past three decades or so, however, vignerons from Scandinavia to Southeast Asia have been growing grapes and making wines in other latitudes in defiance of the old convention – and some of them are surprisingly good.
Thailand was among the pioneers of what are now called "New Latitude" wines. Other Asian countries so categorised and now active in the wine business include Cambodia, Indonesia, Myanmar, and Vietnam, but India and Thailand are generally regarded as the leaders in terms of quality production.
The first serious attempts to make wine in Thailand were initiated by wealthy entrepreneurs with a taste for imported wines, and for a challenge. In 1989 Dr Piya Bhirombhakdi established the Khao Yai Winery in Nakhon Ratchasima Province, and in 1991 the late Dr Chaijudh Karnasuta set up Chateau de Loei in Loei Province in the northeast.
In 1995 Chateau de Loei became the first Thai winery to export its vintages. More Thai wineries keen to emulate its success sprang up, including Chateau des Brumes in 1997 and GranMonte Estate in 1999.
In 2001 Chalerm Yoovidhya, who had established a business under the name Siam Winery in 1986, initially selling "cooler", a wine and fruit juice-based drink, began planting grapes in the Khao Yai region. In 2003 he was invited to extend his viticultural initiative to an area nobody had previously thought might be suitable for grapes – Phetchaburi Province, under the auspices of the Huai Sai Royal Development Study Centre.
The experiment went well, and Chalerm decided to try his luck in Hua Hin, where he planted what is now Siam Winery's flagship vineyard, Monsoon Valley.
Despite the royal endorsement Chalerm received from the late King Bhumibol Adulyadej – who was reportedly keen to encourage consumption of wine as a healthier alternative to hard liquor – until recently the Thai wine industry had received little support from government.
Both imported and domestically produced wines are heavily taxed in Thailand – one reason, perhaps, why according to figures compiled by Wine Australia (Australia is the second biggest exporter of wines to Thailand by value after France) annual per capita consumption in 2015 was just 0.3 litres per head, meaning only about 10 per cent of Thais drink wine at all.
However, in the five years up to 2017 consumption grew at an average rate of around 14 per cent per annum. Wine sales grew by 11 per cent in 2015 to 20.1 million litres, although this amounts to just 0.8 per cent of alcoholic drinks sold in a market dominated by beer and spirits. Euromonitor forecasts the Thai wine market will grow at a rate of 9 per cent annually up to 2020.
About two-thirds of wine consumption in Thailand is estimated to be off premise, versus one-third in food and beverage outlets, with growth in the off trade outpacing the on.
There are obstacles to getting the word out about the product. Promotion in Thailand is heavily restricted, leaving few avenues open other than tastings and dinners. Distributors of imported and domestically produced wines alike are keen to encourage food and wine pairing to stimulate consumption.
Thai wines, which tend to be fruit-driven and modelled on the mass market South African and Australian wines which do well in the local market, are often represented as a good match for the spice in Thai food.
Thanks to 2017 changes in the taxation of alcohol, Thai wines now enjoy a modest advantage over their imported competition in the home market. In September 2017, tax on alcoholic beverages was raised by an average of 2 per cent, based on both the value and alcoholic strength of drinks, with value calculated from retail price, and not, as previously, price ex-factory or CIF (cost, insurance and freight).
While this change in formula has raised the prices of more expensive imported wines, it delivered a modest reduction in the tax on domestic production.
Thai wine is growing in importance as part of Thailand's tourism industry. The major producers are now able to offer wines of respectable quality to the country's hotels and resorts, which can sell them for more modest prices than imported wines of equivalent quality, which pleases tourists.
In an initiative to raise standards to a higher level, in 2004 the Thai Wine Association was established, and its membership now includes the majority of the wineries whose vintages are exported or available in the more prestigious on premise outlets.
Several wines made by association members have won medals in international wine shows, and in May this year, during the Third Annual Best Rosé in Thailand blind tasting, organised by James Suckling and held at the Nai Harn Phuket resort, Siam Winery's Monsoon Valley Shiraz Thailand White 2017 came first, beating strong competition from France. GranMonte Syrah Asoke Valley Sakuna Rosé 2017 also performed well, ranking seventh.
Thailand's vineyards and wineries, many located in scenically attractive and culturally interesting areas, are becoming visitor attractions in their own right.
At its Monsoon Valley vineyard, Siam Winery grows a range of international varietal grapes for wines to be found on the lists of many upmarket hotels, resorts and restaurants, and Thai restaurants overseas.
Visitors can enjoy vineyard tours, lunch in the Sala restaurant overlooking the vineyards, and the chance to explore further afield by Land Rover on a "wine safari", or by mountain bike or elephant.
The PB Valley Khao Yai Winery, as Bhirombhakdi's original winery is now known, is also well set up for visitors.
Will the New Latitude wines of Thailand and the other up and coming Asian producers eventually equal those of the best New World producers within the traditional latitudes? Probably not with most of the international grape varieties currently being cultivated. The optimum conditions for them in terms of terroir lie elsewhere.
It is still possible a grape may be found that offers something different. It's early days yet for an energetic and increasingly quality-conscious industry.