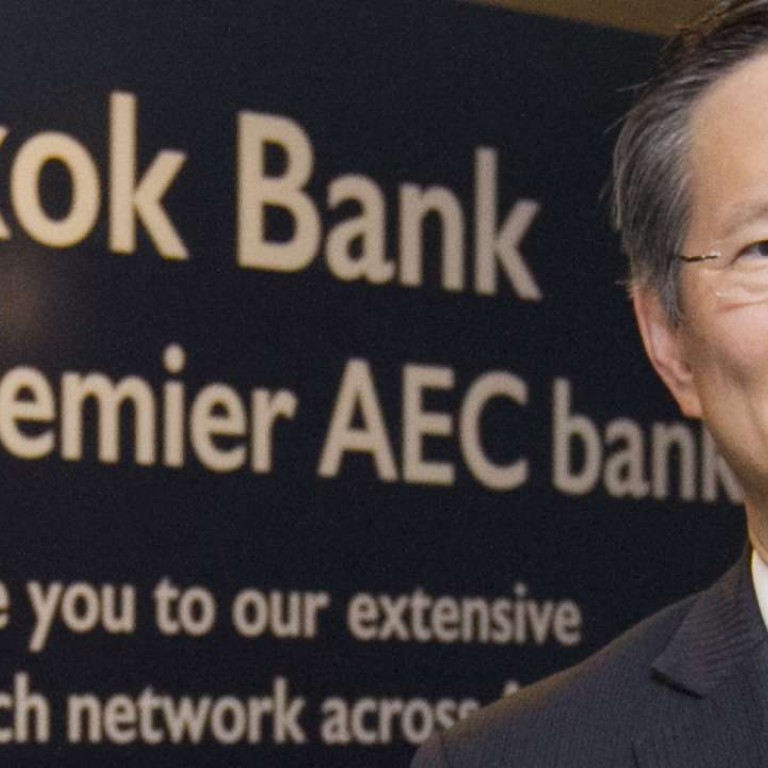 From the Bamboo Network to the Silk Road, Bangkok Bank journeys as a regional leader
With a nationwide network of more than 1,200 branches, 240 business

centres and business desks, Bangkok Bank has the largest overseas branch network of any Thai bank with 32 branches in 15 markets
Supported by:
Discovery Reports
For Thailand's leading international bank, Bangkok Bank, the path it has traversed since its foundation in 1944 parallels not only the country's own long, complex journey towards economic growth – but its ascent among Asia's greatest success stories.
Despite a challenging environment domestically and abroad, Bangkok Bank continues to grow. Assets increased from US$72 billion to US$79 billion in the past three years, with deposits increasing from US$54 billion to US$58 billion. Loans rose from US$49 billion to US$52 billion, and shareholders' equity from US$8 billion to US$10 billion.
With a nationwide network of more than 1,200 branches, 240 business centres and business desks, Bangkok Bank also has the largest overseas branch network of any Thai bank with 32 branches in 15 markets, including wholly owned subsidiaries in China and Malaysia.
With 16 branches in nine Asean countries and six branches in China, the bank is well positioned to benefit from regional economic integration following the establishment of the Asean Economic Community (AEC) and with the strengthening of the economic relationship, particularly between Asean and China.
"Our international network strategy is to expand in areas where we see high growth potential as well as to strengthen our position as a leading regional bank," says Bangkok Bank president Chartsiri Sophonpanich. "China is Thailand's biggest trading partner, and Chinese investment in Thailand and Southeast Asia is growing rapidly."
The bank's subsidiary Bangkok Bank (China) became a yuan clearing bank last year, while Bangkok Bank was appointed in March as a cross-currency dealer for the settlement of ringgit and baht for customers in Thailand and Malaysia. These moves will smooth customers' financial transactions across the region and are projected to reinforce the bank's position as the leading global player in Thai baht transactions.
"The AEC is one of the fastest-growing regions in the world with great potential. China recognises this and is accelerating its investment here," Chartsiri says. "Moreover, Thailand has a special role to play as a regional finance, supply chain and logistics hub. We see this as a tremendous opportunity for our customers, and we plan to tap into this as Thailand's leading regional bank."
'Belt and road initiative' and AEC
With an international network historically based on the business expansion of the overseas Chinese who provided the backbone of its business, Bangkok Bank opened its first overseas branch in Hong Kong in 1954. This was followed by branches in Taiwan and Southeast Asia, then in Beijing in 1986. Gradually expanding its Chinese branch network, the bank established Bangkok Bank (China) as a local bank in 2009.
"We went with our customers as they grew. Today, this gives us a unique advantage as the 'bamboo network' of the Chinese diaspora, was a very important element of our client base," Chartsiri says. "These family enterprises – many of which we have built strong relationships with – have established major, successful and interconnected business empires right across Southeast Asia. While our particular strengths are in Southeast Asia and China, we also have branches in Japan, New York and London."
This network is projected to grow further with the launch of China's Silk Road Economic Belt and the 21st-century Maritime Silk Road or "belt and road Initiative", which aims to intensify cooperation and connectivity between China and Eurasia.
Together with the AEC, the initiative is set to build on projects that are already taking place in the region, such as the building of new infrastructure and better transport links.
"The 'Belt and Road Initiative' and the formation of the AEC will help usher in a new era that will connect and modernise the region, encourage regional integration and generate prosperity," Chartsiri says. "As a major Thailand corporate bank with considerable experience in project finance, infrastructure development and a strong regional network, we definitely see ourselves playing a role in this development."
Accordingly, Bangkok Bank has formed partnerships with Chinese banks to help clients take advantage of the emerging opportunities and support the use of regional currencies.
The bank contributes strengths such as its local knowledge in Southeast Asia, experience in doing business in China, long-standing regional branch network, and broad and deep relationships in the region.
To help raise awareness about the "belt and road initiative" and to strengthen business ties between China and Thailand, the bank also organises forums and seminars in Thailand, other countries in the AEC and China, and thousands of participants have already taken part. The bank encourages its customers to use the yuan in trade, and offers many yuan-denominated products and services. This year, it also launched its first debit card under the Thai Payment Network based on the UnionPay chip card standard. All ATM and debit cards in Thailand are now required to have electronic chips, something which Bangkok Bank has been providing for many years.
"Over the next five to 10 years, we envision our international network becoming increasingly integrated in response to the growing importance of China, which is improving its connectivity with the AEC," Chartsiri says. "We will also continue to play a prominent role in supporting major projects under the 'belt and road initiative'."
Many Thai companies are already expanding into the region, where they are accessing new markets and establishing Asean production supply chains. In addition to arranging financing for its clients, Bangkok Bank provides local knowledge and introduces them to potential business partners.
"We see our long-standing relationship with China and its people as a major competitive advantage as it provides us with an excellent customer base, local and business knowledge and good connections," Chartsiri says. "Our presence in the key markets of Hong Kong and mainland China means we are well positioned to provide comprehensive solutions to support trade and investment for our customers across the region."
Taking its AEC initiatives further, Bangkok Bank has launched its AEC Business Leader Program, which is an intensive workshop for Thai business owners and entrepreneurs who want to start businesses in other Asean countries. Under the bank's AEC Connect Center launched last year, the programme provides information to customers, prepares educational materials and organises trips and workshops in close liaison with overseas branches.
The AEC Business Leader Program brings together high-potential leaders from a range of industries who want to start businesses in other Asean countries. Participants gain access to marketing tools and receive a thorough understanding about doing business in each Asean country, including the differences in geography, culture, trade and investment regulations.
The first class in the programme focused on Myanmar, and 45 participants joined the course, which took place over a period of seven weeks in June and July.
In addition to encouraging clients to use the yuan for trade and investment, Bangkok Bank is encouraging the use of other regional currencies such as the baht and ringgit for settlement of bilateral trade and direct investment in the two countries.
"We actively support Thai companies investing outside Thailand and foreign companies investing in Asean," Chartsiri says. "We take pride in serving as a connecting bridge, bringing together investors, traders, potential business partners and other parties while helping with all financial aspects."
Transforming banking as a trusted partner
Technology is transforming the banking business including Thailand's domestic market. Social media and digital technologies are extremely popular in Thailand as well as in neighbouring countries, while more and more people are turning to online transaction options such as online payments.
To accommodate this, Bangkok Bank has built an award-winning mobile banking application, Bualuang mBanking, which the bank constantly improves and updates while supporting small- and medium-sized enterprises to embrace new e-commerce channels so they can reach wider global markets. It also established the Thai Payment Network in a joint venture with China UnionPay to encourage the use of online payment options.
Furthermore, the bank continues to develop innovative ways to enhance its banking services and customer experience. Among the bank's research projects are streamlined payment systems for e-commerce and m-commerce, and the use of big data analytics in providing more accurate offers and campaigns in real time.
The new electronic payment infrastructure being established by Thailand will also be leveraged to promote wider regional connectivity, especially in the Greater Mekong Subregion, where it will support neighbouring countries to improve the quality and connectivity of their systems.
"Our commitment is to support customers as ' puan koo kit mit koo baan ' – aspiring to be a trusted partner and reliable close friend," Chartsiri says. "We seek to understand our customers' needs wherever they come from and to support them in their own journeys not only with products and services, but with knowledge and advice."