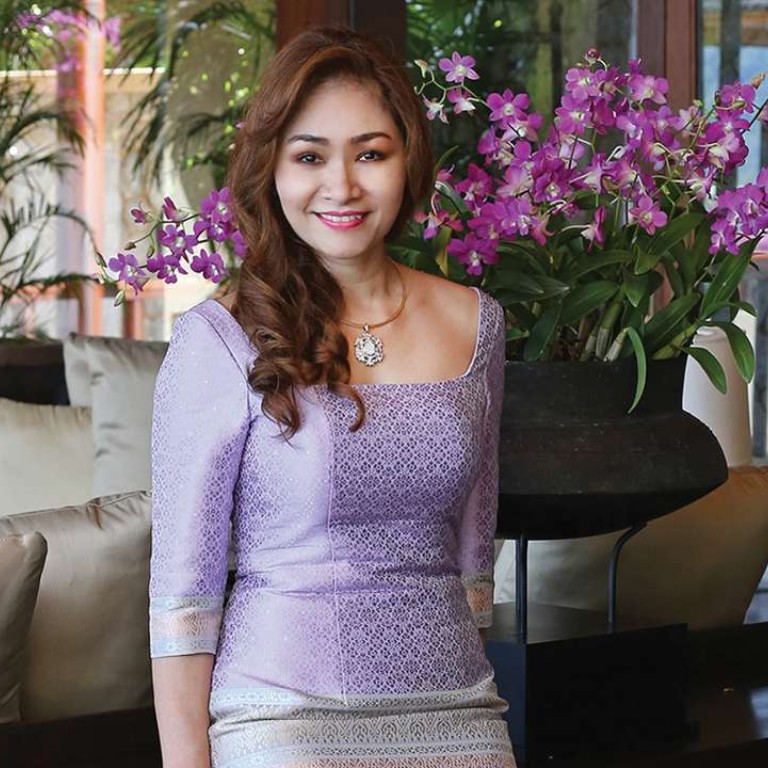 Paradise Group's luxury properties enrich Thailand's potential for global investment
The kingdom's high-end real estate sector is thriving, and Paradise Group's Andara Signature Resort Villas sets the standard for five-star resort developers
Supported by:
Discovery Reports
Perched atop a quiet hillside against a backdrop of lush mountains, overlooking world-renowned pristine beaches and the Andaman Sea, Andara Signature Resort Villas is one of western Phuket's best-kept secrets.
The award-winning luxury resort earned its prestigious reputation thanks to a number of upmarket amenities and features. Spacious pavilions and an infinity pool give way to a clear view of the ocean, while a dramatic footpath entrance framed by a grand archway invokes a sense of tranquillity as guests make their way through surrounding lotus ponds and coconut palms. The resort offers traditional Thai cuisine with a gourmet twist, spa services, recreational sports such as tennis, yoga, pilates and dance fitness and even goes the extra mile for villa owners with its private motor
yacht services.
An opulent Asian paradise conceptualised by leading high-end tropical property developer Paradise Group, Andara Signature Resort Villas is a clear example of Thailand's thriving upscale real estate industry.
Despite sluggish local property markets across Asia-Pacific – encumbered in part by volatile capital flows, declining property prices and slower regional economic growth especially in major Asian economies such as Hong Kong and mainland China – Thailand's high-end real estate sector is in full swing.
In fact, developers such as Paradise Group remain optimistic. Luxury condominiums and hotels are sprouting up in central Bangkok's prime locations, with rising property values boasting price tags of up to US$8,421 per square metre.
There is no mystery behind why the country attracts wealthy foreign property investors. Thailand's varied attractions – ranging from its stunning tropical beaches, world-famous nightlife and upscale shopping malls to Buddhist temples, floating markets and ancient cities – attracted a record-breaking population of tourists nearing 30 million last year.
The launch of the Asean Economic Community (AEC) last year and the onset of infrastructural investments in Bangkok such as an 867-km railway from China to Thailand are also encouraging foreign investors to patronise Southeast Asia's blossoming business hub.
"Our policy here at Paradise Group is to keep everything global," says CEO Natthakanya Saengpho. "Everything begins with having the right property, starting with the feasibility of developing a piece of land while keeping investors in mind. Every investor has his own requirement based on his own market, and it's important to be aligned with what investors want."
An overview of Paradise
Specialising in exclusive boutique-style properties in tropical locations, Paradise Group was established 15 years ago by Dr Allan Zeman – a successful entrepreneur and founder of Hong Kong's well-known Lan Kwai Fong entertainment district.
The group is comprised of three divisions. Paradise Designs, a professional team of renowned local and international interior designers and architects led by Zeman, is the group's design arm. On the other hand, Paradise Properties Development handles development-related issues regarding a property – offering consultation services that advise clients about construction requirements, design packages, methods of saving cost and ways to gain quicker returns on investments.
Most significantly, the group's project and property management arm, Andaman Property Development, has enjoyed a reputation over the last 11 years as Phuket's most knowledgeable and reliable land broker. From white sandy beaches and islands to real estate with jungle, mountain and sea views, Andaman Property Development specialises in prime land in Phuket and nearby provinces suitable for the development of luxury hotels, boutique resorts, pool villas and high-end private properties.
The company is already a leading property developer in Thailand and Hong Kong, with expertise in other professional services such as property and investment management, including funds and loan securement.
"We are a turnkey property investment company," Natthakanya says. "We assist clients and investors beginning from the design of a property to tracking its development and handling the underlying accounting and financials."
Intricately designed luxury
Guided by a design philosophy highlighting the beauty, elegance, practicality, functionality and quality of its undertaken projects, Paradise Group's expertise in luxury real estate development is apparent in a strong track record of collaborations in Thailand with foreign and domestic investors.
Andara Signature Resort Villas, apart from being the pinnacle of Phuket's high-end resort experience, has set the standard for five-star resort developers in Thailand. The resort bagged four major awards at last year's Thailand Property Awards, winning laurels for Best Architectural Design in residential, Best Landscape Architectural Design and for best villa developments in Thailand and Phuket .
"When we design a project, we consider how that project benefits Thailand," Natthakanya says. "The consultancy we provide investors considers the implications of what we do in a bigger context – from the architectural and interior design of the development to its financials and tax planning. For example, we use local Thai materials or products when we can and properly plan for what share of profits will be returned to the country after a development breaks even."
The Plaza Surin, Paradise Group's Phuket-based commercial development, is a distinct shopping and dining experience. Open-air walkways surround 12 original boutique stores offering one-of-a-kind products such as Thai furnishings, artwork, natural spa products and gorgeous Thai silk garments. Traditional Thai gourmet cuisine is also served at The Plaza Surin's stylish yet relaxed avant-garde Silk Restaurant & Bar.
A distinctly Thai business ethic
Although globally oriented in its standards of quality, Paradise Group has not lost touch with its roots – remaining true to Thailand's cultural heritage in the way it operates its business.
More than Southeast Asia's premier tourist destination, Thailand offers a distinct Southeast Asian experience culturally rooted in hospitality and service thanks to the nation's strong Buddhist, Hindu and Animist values. The Thai custom of wai – an everyday salutation made with the slight bow of the head, hands clasped as if in prayer and a serene smile – symbolises the innate refinement of Thai culture, earning the nation its moniker as "the land of a thousand smiles".
For Natthakanya, that refinement is an indispensable part of Paradise Group's success.
"Thailand has the advantage of people with a love for service, who have the ability to support and guide foreign investors the right way," Natthakanya says. "We are an honest people. At Paradise Group, for example, we treat everybody with kindness in mind. When doing business, our staff, our client investors and even local government authorities are treated as one team. Beginning a process the right way builds the foundation for successful results."
A firm follower of the Dasavidha-rãjadhamma – a 10-fold Buddhist practice consisting of virtues such as charity (dãna), honesty (ajjava), gentleness (maddava) and uprightness (avirodhana) – Natthakanya believes in leading by example and sharing one's successes with the community. She is an active philanthropist, helping with weekly afternoon clean-ups spearheaded by the Kamala Beach Cleaning Club, and funds local initiatives that support the community, protect the environment and uphold the conservation of traditional Thai silk.
"The way I run this enterprise begins with fully understanding each company under the group – each unit's activities and objectives – before operating the group as a whole to implement my directions and ideas," Natthakanya says. "As the CEO, I must think for all parties and not just for myself. It's all about team work and maintaining good relationships with our staff, our investors and our government that everything can run smoothly."
Beyond paradise
With the AEC's roadmap until 2025 focused on easing trade and industry towards a single Southeast Asian market, Paradise Group welcomes overseas investors from mainland China, Hong Kong, Malaysia and the Middle East.
"The AEC is an opportunity to explore real estate possibilities in demand in the near future," Natthakanya says. "We'll look at the location, do the designs and assess the feasibility of the project and how it could turn a profit."
Apart from other Phuket developments in progress, Paradise Group is working with investors from China and Hong Kong on a major project in Phang Nga. It is interested in applying its expertise beyond Thailand, and invites investors with existing properties near beaches or islands.
"Working with foreign investors requires sifting through very many details, and this is why they need professional partners who know the entire picture – partners who can understand the property well and can manage it in a way that it makes the right profit after taxes," Natthakanya says. "I believe that we are the most trusted and best partner of choice in our industry right now because we have the experience to support all kinds of investors and a strong track record of accomplishments that attests to our success."