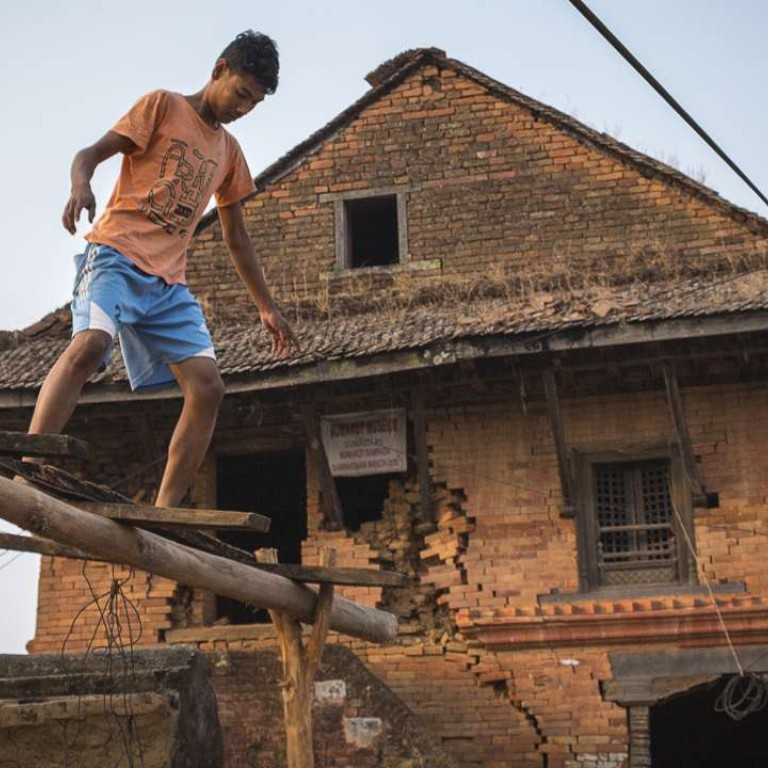 A year after deadly earthquake, impatient Nepalis take rebuilding into their own hands
Government progress on restoring 500,000-plus damaged buildings and providing safe homes has been painfully slow. Survivors have tired of waiting and have begun work, helped by NGOs
Sitting outside her corrugated iron shack in Nuwakot, Nepal, a 94-year-old woman reveals the secret to her longevity. "The problem with today's youth is that they don't drink and smoke enough," she says, as her daughter tops up our cups of millet wine. The old woman is a rarity in Nepal. Not only did she survive the 7.8 magnitude earthquake that struck the country on April 25, 2015, killing nearly 9,000 people, and the 7.3 magnitude aftershock that followed a month later, but is one of the few people still alive who remember an even bigger disaster - the 8.0 magnitude Nepal-Bihar quake in 1934, one of the most destructive in the country's history.
I can't help but admire her resilience, having felt my first tremor a couple of days earlier when a 4.5 magnitude aftershock from the April 25 quake struck the Nepalese capital, Kathmandu, its epicentre next to where we were having dinner in the Patan district. Aftershocks are common, but it was enough to create panic on the streets, rattle the building we were in and give me a sleepless night.
By the next day, it was as if nothing had happened.
"It's something the international community has noticed about us," says Abhi Shrestha of Rural Heritage in Kathmandu. "The Nepalese can go on with their lives very quickly, even after disasters of the magnitudes we have seen."
Shrestha, who is working with the villagers to rebuild 400 traditional homes in Nuwakot, hopes that by preserving the original structure of the houses in the old town they can retain its heritage and revive its tourist trade. "It's likely that Nuwakot could be shortlisted as a [Unesco] world heritage site in Nepal, but this will depend how this village is rebuilt," he says. "If local people and tourism entrepreneurs aren't careful enough, it'll be all too easy to see modern concrete buildings here."
Driving through rural Nepal, you'd be forgiven for thinking the earthquake had happened just weeks ago. Makeshift homes dot its sweeping vistas, children play in the rubble of collapsed buildings. Baby goats roam, a reminder that it's spring, meaning the monsoon season – bringing with it heavy rain and landslides – is just two months away.
"The current situation in Nepal is unacceptable," says Avery Doninger, shelter programmes manager at charity All Hands Volunteers in Melamchi, in Sindhupalchowk district, one of the worst affected areas. "Almost a year later and people are still living in makeshift structures and in unsafe buildings."
When we visit the charity's Melamchi base, the air is thick with smog and dust – it hasn't rained properly for months – and while many villagers can see the Indrawati River below, damaged water pipes and the lack of proper infrastructure makes sanitation and water supply a challenge. Nepal is one of the most water-abundant countries in the world, and the ambitious Melamchi Water Supply Project was launched in 1998 to solve the Kathmandu Valley's water crisis. Its completion was due in 2010, but each year the contractors change, stalling progress.
"Springs and taps that once flowed plentifully are now dried up. Families are struggling to meet basic needs and have no income remaining for reconstruction," says Doninger.
The international community pledged over US$4 billion in recovery funds after the earthquake; so how has the money been spent?
"We cannot be too sure," says Shrestha. "One thing I do know is that not all of the pledged funds have come through to the government. The international community asked them to come out with very concrete plans and proposals, but they failed to do so."
Political instability, corruption and the lingering effects of a blockade of the border with India by tribes opposed to a new constitution have contributed to the delay, says Shrestha. "Whatever we do we always have to face the brunt of corruption in Nepal. But the primary reason I think is the government has just been plain slow. Corruption will come into play once the money gets released for different projects."
Much progress has been made since last April thanks to the work of volunteers, people in quake-hit communities and international NGOs, but their efforts have been hindered by a bureaucratic bottleneck.
"In February 2016, the National Reconstruction Authority (NRA) requested a hold on all earthquake-related house reconstruction programmes in order to allow a new survey of damaged houses," says Lalita Gurung of Hong Kong Red Cross. In early April 2016, the NRA finally agreed on guidelines that will allow non-governmental organisations and international organisations to help earthquake survivors rebuild. But by mid-April, NGOs had still not received details of the guidelines.
"We are all waiting for clear-cut government policies and guidelines on reconstruction," says Shrestha. "Once they come out with those policies and guidelines, whether the government helps or not, communities and individuals can start rebuilding."
The biggest challenge facing rural areas such as Nuwakot and Sindhupalchowk is the scale of the damage; more than 500,000 homes, classrooms, temples and other buildings across a large part of the country suffered severe damage.
Having spent the past year focusing on building emergency transitional homes and training local families to build safer basic housing in Sindhupalchowk, All Hands has now shifted its focus to building permanent schools in Nuwakot in partnership with international education charity Room to Read.
"It has required a massive effort to rebuild and repair the schools so that children can return to a regular learning environment and there are just not enough resources to handle this very big task," says Hong Kong-based Room to Read founder John Wood. "Nuwakot was one of the districts closest to the epicentre and sustained some of the worst damage – 90 per cent of school buildings were damaged or destroyed."
With aftershocks frequent in both districts, Wood stresses the importance of building earthquake-safe structures, and says Room to Read has offered its assistance to the Ministry of Education so that other communities can copy its methods of construction.
"We are very proud that we are rebuilding over 700 classrooms, but that is still relatively small compared to the overall need," says Wood.
While shelter and education are immediate needs, preservation of culture heritage is essential for the long-term recovery of Nepal, where tourism is a key source of income. Nepalis have always taken an active approach to the conservation of their heritage, and many local guthis - kinship associations - have launched heritage restoration initiatives. The Boudhanath Area Development Committee, for example, rather than wait for government funds and guidelines, has already started rebuilding the famous Boudanath Stupa using donations and volunteers.
Unesco - the United Nations Educational, Scientific and Cultural Organisation – has expressed concern over how heritage sites will be rebuilt, and is urging Nepal's Ministry of Culture to change the bidding process for reconstruction. "Awarding the bidding to the cheapest bidder will not be appropriate for World Heritage Sites," says Christian Manhart of Unesco, Nepal. "We are closely cooperating with the Department of Archaeology to monitor the work on the sites to prevent inappropriate interventions.
Manhart says the lack of coordination is one of the biggest challenges. Heritage sites will not be successfully rebuilt without cooperation between the Department of Archaeology and local communities, he adds.
"If there's one positive side to all this, it's that we've seen how much can be achieved when your back's against the wall," concludes Shrestha as we return to Kathmandu. "Communities can be very effective without the government's help. Before the earthquake, our community initiatives used to be very slow. But now our people are in dire need, we're seeing that they can actually take things into their own hands and push forward in a communal way."