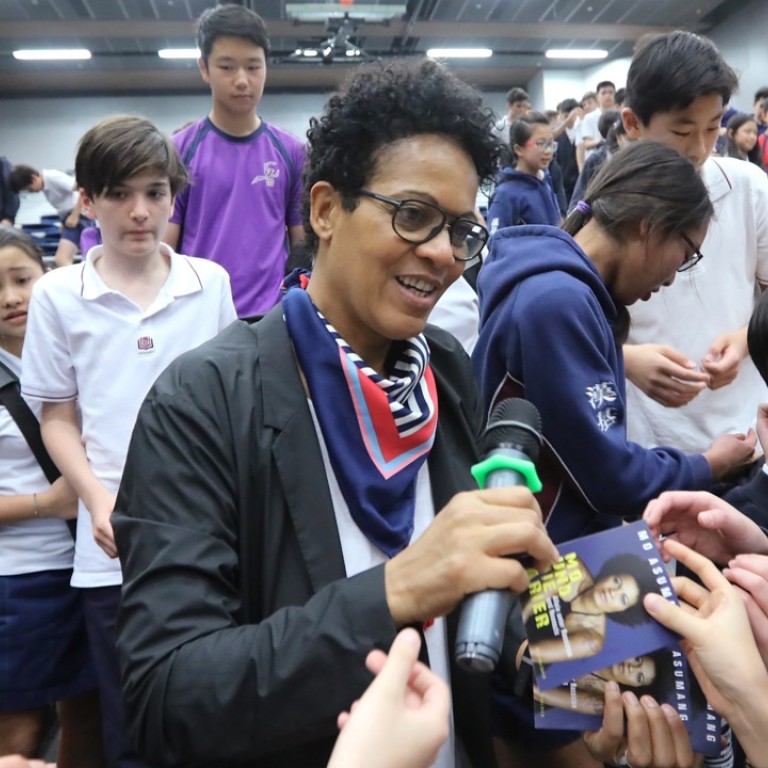 German anti-racism activist's message of tolerance as she tells Hong Kong school pupils of her struggle
Mo Asumang has suffered racism her whole life but chose to confront it head on, becoming one of Germany's first black woman TV presenters and filming a documentary on white supremacists
After Mo Asumang finished speaking about tolerance and diversity to pupils at Chinese International School in the Hong Kong neighbourhood of North Point, they spontaneously approached her for a group hug. The 55-year-old was pleasantly surprised and happy that her message had come across so clearly to them.
"They asked very intelligent questions and had deep thoughts. I was surprised how fast they could jump into this environment of racism in Germany even though they don't experience racism here," says the half-Ghanaian, half-German television presenter, producer and author.
"They asked questions like, 'How do you deal with fear?' Because I guess it's something they experience in their lives. I tell them how I get rid of the fear, and [answer] questions about identity, because I'm Afro-German."
Asumang has dealt with racism all her life and confronts it head on. That is why the Hong Kong Holocaust and Tolerance Centre, and the local chapter of the Goethe-Institut language school, sponsored her trip to talk to Hong Kong pupils on the subject. This included covering how racism breeds movements such as white supremacism, which historically led to the rise of Nazism, and how the issue affects her personally.
Being biracial, Asumang has had to deal with racism from the moment she was born in the small central German city of Kassel. Her Ghanaian father, Raphael Asumang, was studying electronics there when he met her mother, Renate Walker, on a tram. For Walker, being with a black man was a rebellious act in the early 1960s – especially in post-war Germany. That is why Asumang calls herself a "revolution baby".
"When my mother told my grandmother she was going to have a baby and the baby was going to be black, my grandmother said she wanted to jump in front of a tram and kill herself," Asumang says.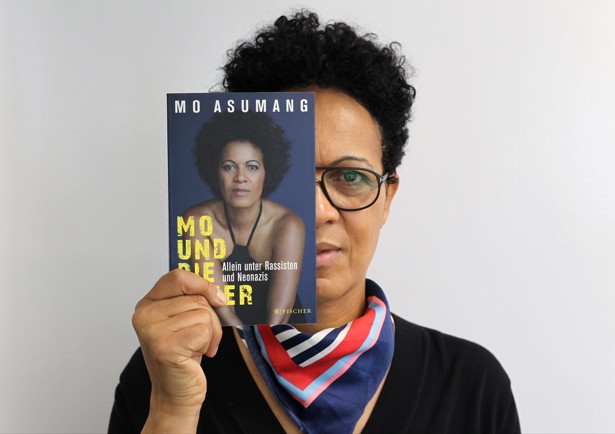 She explains that her grandmother forced her parents to get married after she discovered they were going to have a child. They were in their early 20s at the time, and too busy with work and studies to look after a newborn.
Five weeks after Asumang was born, she was placed in an orphanage for a year, and then raised by foster parents until she was six years old. She lived with them during the week, visiting her birth parents and maternal grandmother at weekends.
When her birth parents' landlord found out about their biracial child, the family, including Asumang's grandmother, was kicked out of their home. Complicating matters was the disintegration of her parents' marriage.
At the same time, her father's uncle found out about Raphael's relationship with a white woman and threatened to withdraw financial help unless he went to London to continue his studies or returned home. He chose the former, leaving Asumang behind.
Growing up, Asumang felt guilty about creating so much trouble because of her skin colour; as a child she had low self-esteem and was too scared to speak out. She remembers as a teenager being too scared to walk into a cafe to meet a friend because she thought people would judge her because of her mixed race.
But as she grew older, Asumang realised she needed to resolve her personal issues. In doing so, she became one of the first black female television presenters in Germany – but that made her the target of a neo-Nazi rock band.
"They had a song called This Bullet is For You, Mo Asumang, but other people were mentioned, too: a Jew, a homosexual and a [female] minister advocating for women's rights. You can see the direction of the bigots – it's not about colour," she says.
Although Asumang did not report the threat to the police, she was terrified. "I was not able to sit by the window for many years because a bullet can easily go through a window. Even driving a car was a strange thing for me."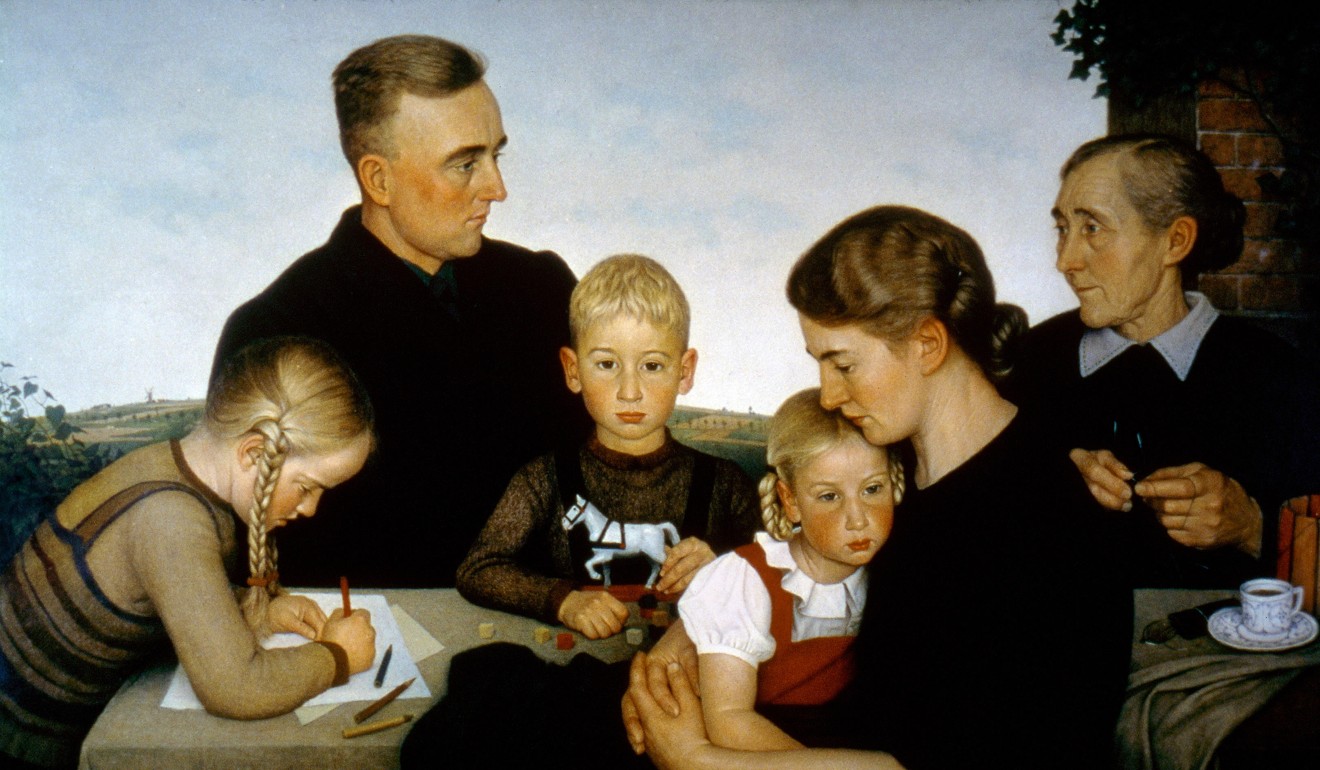 In 1989, before she landed her broadcasting job, Asumang was a taxi driver. She recalls how one time a male passenger wanted her to take a route through a forest, but she refused because he made racist comments. "I got out of the car and opened the door for him to get out, but he took my head and banged it against the car many times. I somehow escaped and drove away."
Another man got out her taxi refusing to pay the fare, and when asked to at least pay something, pulled out a 9mm handgun and pointed it at her forehead. She walked back to her car and drove away.
Such incidents finally led Asumang to realise she had to stop being afraid and act – to confront racists.
In her documentary The Aryans, she approaches white supremacists at gatherings in Germany. They tell her to go back to where she came from, implying Africa, but she retorts that she was born in Germany.
She also visits a small town in Virginia, in the United States, and meets two Ku Klux Klan members, one wearing a white hooded robe. On camera, she asks them calmly what they are doing and why they are wearing robes, to which one replies it is for ceremonial purposes.
Asumang also meets Tom Metzger, a white supremacist in America and head of the White Aryan Resistance, who denies point blank that he is a racist.
"Their strategy is the insecurity that gives you fear," she says. "It's a war strategy in their race war. They say they are not racist, that they only want their own homeland. It's not about skin colour, not religion, or Jews. It's about having power, or getting into power. That's the only focus they have. They want to be the ones who rule and make the rules."
Asumang points out that, although the Nazis idealised the Aryans as a superior race with the physical Caucasian attributes of blond hair and blue eyes, Aryans are actually an Indo-Iranian people.
She believes Germans, having experienced the horrors of the Holocaust – the campaign by Germany's wartime Nazi leaders to exterminate Jews – are most qualified to talk about racism.
Despite the rise of alt-right groups in Europe which oppose accepting the entry of immigrants to their countries, and those in the US supporting President Donald Trump's plan to build a wall to keep Mexican and Latin American migrants out, Asumang is undeterred, saying such people are small in number.
"They don't see the beauty of coming together. They don't see the economic side of a colourful society. If people with different opinions, cultures, religions and languages are together, it takes you out of your comfort zone and forces you to use your brain and forces you to get smarter and stronger. Of course, it's not easy."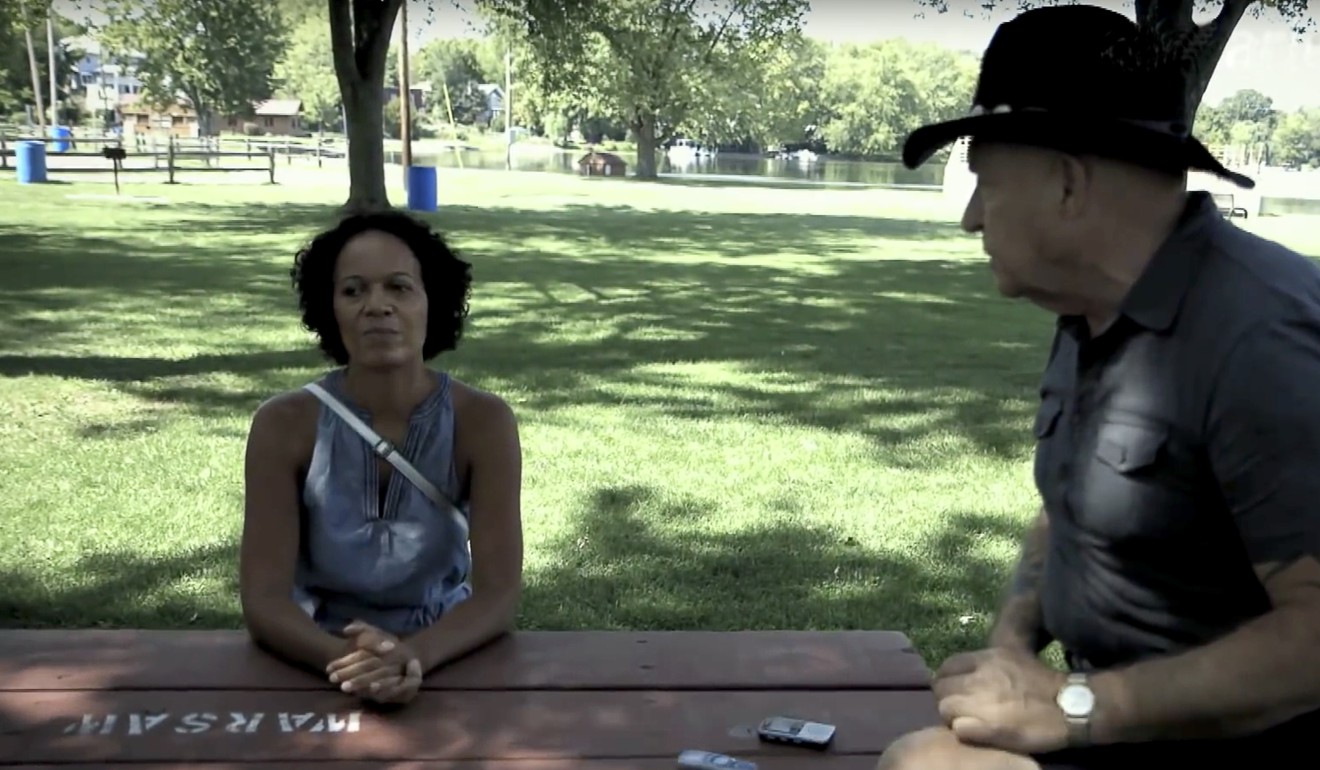 She cites the US as a successful example of a melting pot of migrants from different countries. "In the end it's a stronger society and I think that's very beautiful, but the right-wing people tell them the other side.
"Look at societies where they are narrow-minded. Look at the DDR [East Germany], in the end they went bankrupt; it's a dead end. If you force people to go just in one direction, [with] one skin colour, only blue eyes, blonde, it's stupid. It doesn't work, that's for sure."
In The Aryans, Asumang meets a racist called Chris and shows him a picture of her grandmother, telling him she worked for the Nazis.
"I knew my grandmother lived during the Nazi time, but it wasn't until later that my mother found documents that showed my grandmother was a secretary handling secret documents for a high-ranking Nazi," she says.
"I was shocked at first, but actually it was better I found out much later, because when I was young, I wouldn't have talked to her, and wouldn't that be terrible? Because I think I would not have the sense that she had already changed and I would push her away. I'm glad I did not."
Asumang says this is proof that a person like her grandmother, who was manipulated with propaganda for at least 12 years, can be turned around 180 degrees.
She and Chris are good friends now, and they even collaborated on an artwork about racism.
"A student here [in Hong Kong] asked me if I was satisfied with what I was doing, asking how many people I had changed. How would I know? When I started this I thought I wanted to change the world, and I ended up thinking, OK, I'm one person, and I met Chris, he's one person, so I've achieved 100 per cent."
This article appeared in the South China Morning Post print edition as: The race for acceptance