Art
Get more with myNEWS
A personalised news feed of stories that matter to you
Learn more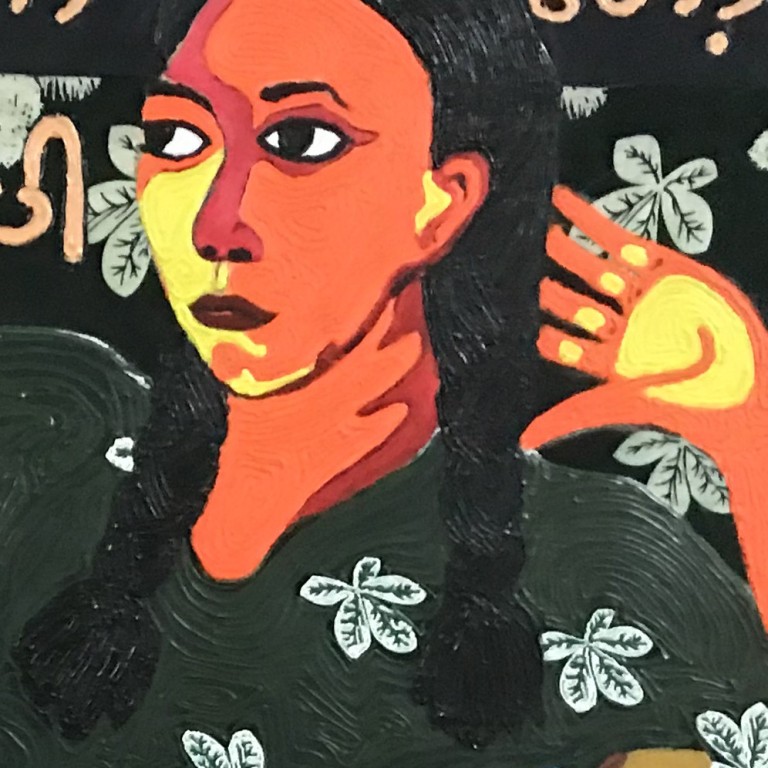 Myanmar artist's Hong Kong exhibition taps Buddhism, folklore and politics
Former student activist produced art while he was jailed for seven years
Some of his work brings to mind Ai Weiwei's sculptures made from found objects – a response, like the Chinese artist's work, to rapid social change
Many people in Myanmar will think that Htein Lin is left emasculated after he painted on women's lungis, the sarong-like wraps that he has used as canvas for a new series called "Skirting the Issue". In Burmese Buddhism, there is a concept called hpone which dictates that men are superior to women. Adding insult to injury, local folklore also insists that the lungis that women wear below their waist are dirty and jinx men by sucking dry their hpone.
This belief is so wedded to the military's perception of its own power that a woman was jailed for six months in 2015 for posting a picture on Facebook of Aung San Suu Kyi in a green lungi side by side with an image of the commander-in-chief wearing a uniform in a similar shade.
"When I made a social media appeal for women to give me their used lungi and to talk about their feelings on hpone, the response was overwhelming," the 52-year-old artist says at his solo exhibition in Hong Kong. "People really wanted to participate in the debate. Some of the women surprised me. Even some of the younger ones would say they do not feel comfortable washing their lungis with men's, and when they hang their lungis to dry, they still make sure they are hung near the ground in case men get caught walking beneath them, which is supposed to be really bad."
Six of his lungi paintings hang inside a section of the gallery lined with the same bamboo mats commonly used in Myanmar households when Htein Lin was growing up. On each is a portrait of the lungi's owner wearing the same fabric as the background. He has covered their faces and limbs with swirls of wild, fauvian colours in patterns reminiscent of how Myanmese women apply thanaka paste (a cosmetic made from ground bark) on their skin. Each woman has written on the fabric their short answer to Htein Lin's question.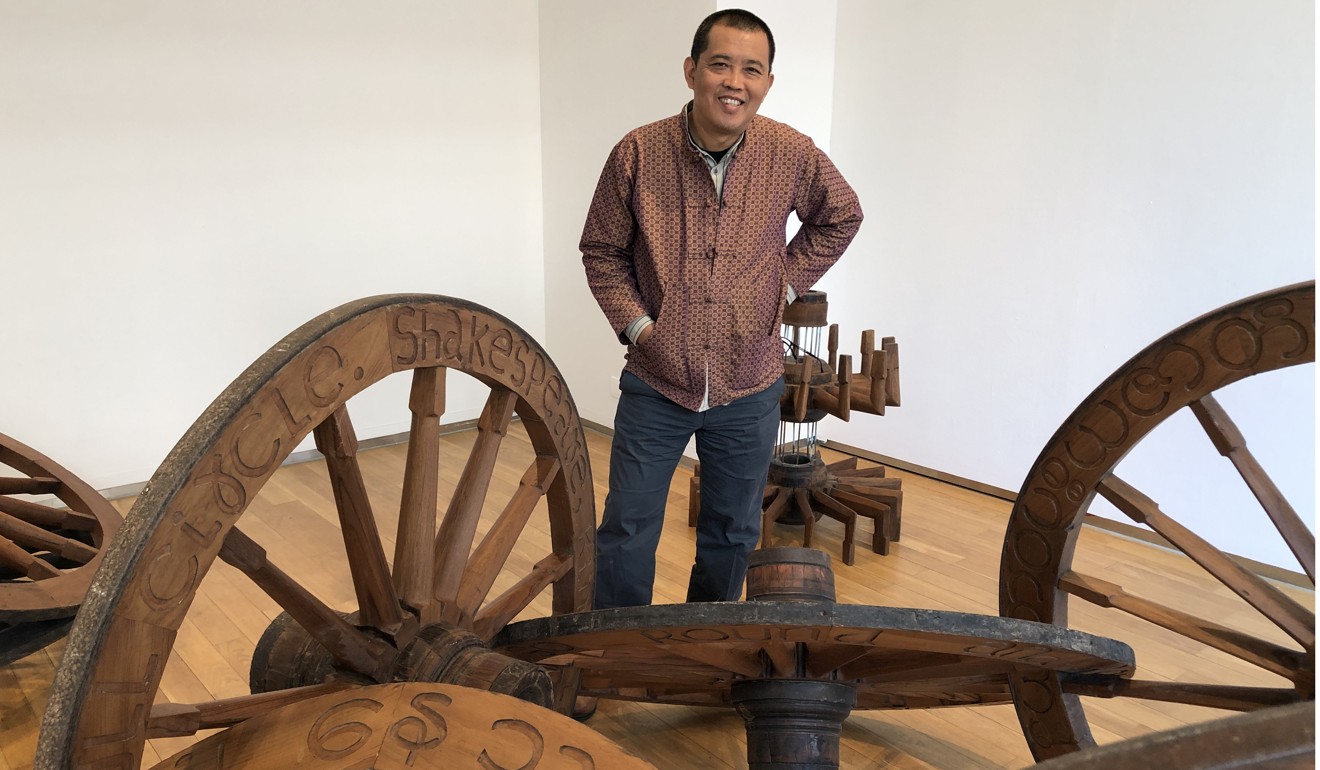 Sandar Thet says she plays it safe: "Although I don't know whether hpone is real or not, I don't want my husband to pass under the htamein laundry line." (Htamein means a woman's skirt.)
Aye Aye Nwe is traditional: "Women's hpone and men's hpone are not equal. Htameins should not be hung up high."
And Aue Hnin Nyo says: "I don't believe men lose their hpone if they pass under htameins on a washing line. But I don't dry my htamein out in front of the house because I'm worried I will be criticised."
According to Htein Lin, this series, shown with a video recording of his conversation with the women, is just a snapshot of how clashes between traditional and modern values have paralysed Myanmar. Diversity of opinions, ethnicity and backgrounds are as thrilling as the clashing colours in the portraits, and the expression of multiple views is vital to the country's underdeveloped democratic processes, he says.
However, when some people express extremist views and refuse to compromise – he refers to the Buddhist extremism that has led to the horrific treatment of
Rohingya Muslims
in particular – progress comes to a halt.
The other series on show in Hong Kong is called "Bespoke". This is a group of sculptures using abandoned wooden ox-cart wheels he collected in his home village of Ingapu, in the Ayeyarwady Division.
The biggest piece is called Immobilised – six wheels linked together, preventing any one of them from rolling forward. There are inscriptions of lines taken from nursery rhymes and from Shakespeare's King Lear, alluding to the inescapable cycle of life and death, or samsara as Buddhists call it.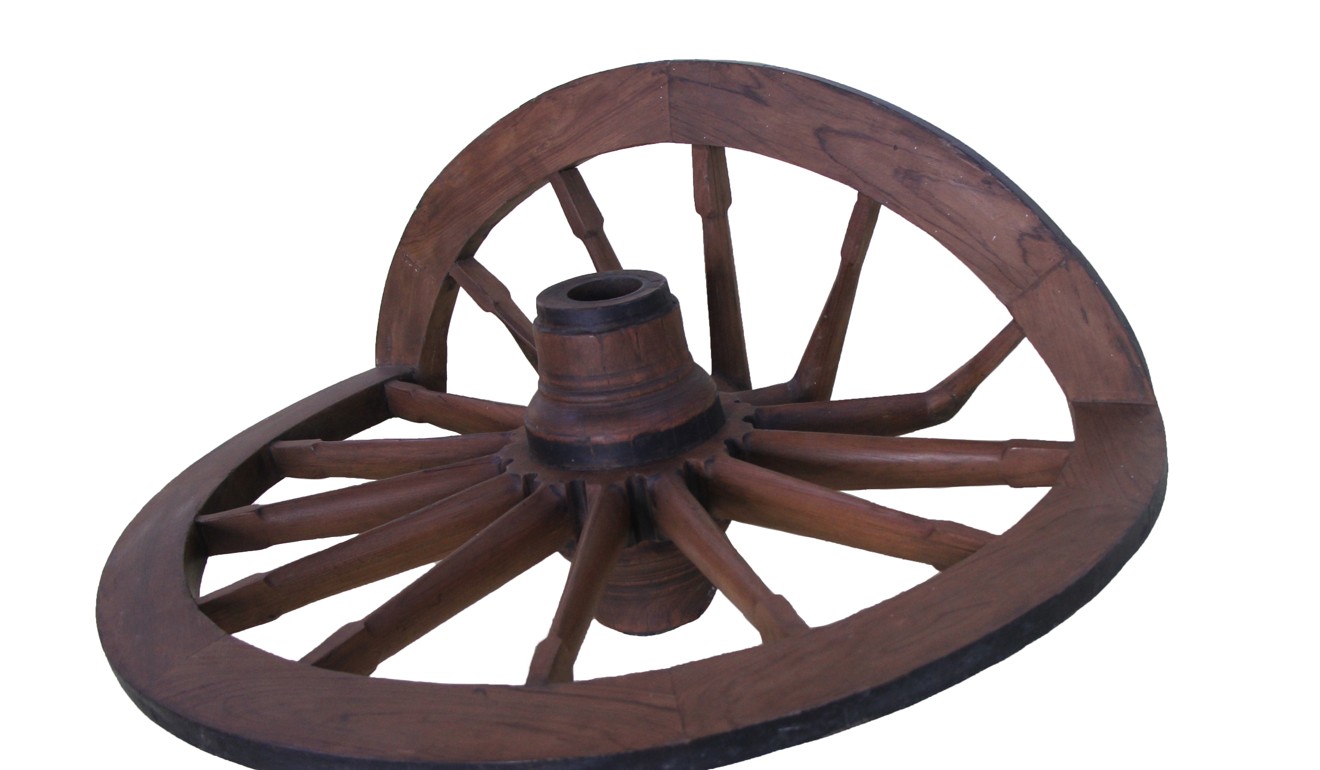 Other wheel structures are bent or reconfigured to suggest a disillusionment about economic progress. In Wheel Right, a wheel looks as if it has been folded at a right angle, resembling Salvador Dali's melting clocks. "When I go back to my village, everyone has a smartphone and a motorcycle. In the city, too, development has made a real mess of things. Are our lives really better when everything moves quickly and our sense of time changes? I am not sure," he says.
Htein Lin was a student activist who hid in the jungle to avoid persecution by the military junta in the late 1980s. He was arrested in the early 1990s and jailed for nearly seven years, which was when he used any material he could lay his hands on to make art, including soap.
His 2016 work called Soap Block, a map of Myanmar made with sculpted pieces of soap showing a figure curled up in a prison cell, has been included in the collection of Hong Kong's M+ museum of visual culture, gallerist Katie de Tilly says.
The wheel sculptures bring to mind some of Ai Weiwei's sculptures, which were also informed by the artist's experience of prison and life in an autocratic country that has adopted capitalism with the fervour of the newly converted.
"True, he also uses found objects and there are similarities between Myanmar and China. But unlike him, I never had exposure to Western art history until I lived in the UK for a few years in the late 1990s. My preference for found objects comes from the feeling that I have been recycled myself," Htein Lin says.
The country, too, is being recycled in the sense that old feuds and power struggles are taking new forms. "When Aung San Suu Kyi's party won the 2015 election, local people and the international community simply expected too much," he says. The locked wheels that are Myanmese politics will take a long time to loosen.
Htein Lin: Skirting Issue, 10 Chancery Lane Gallery, G/F, 10 Chancery Lane, Central, Tue-Sat, 10am-6pm. Until Mar 2.