Art
Get more with myNEWS
A personalised news feed of stories that matter to you
Learn more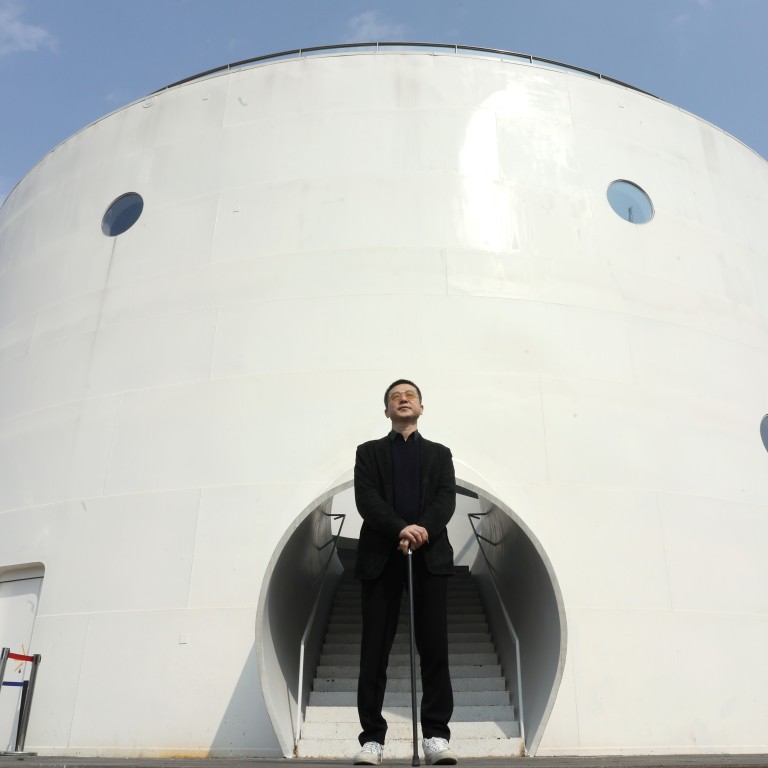 Tank Shanghai, art centre in disused oil tanks, opens in West Bund. We take a look inside
Consisting of five huge converted oil tanks by the Huangpu River, the space offers generous dimensions of which artists can take advantage
But with the delay of the nearby DreamCenter complex – sold by its investors last year to the local government – footfall is likely to be lower than hoped
Tank Shanghai is an unusual place to see art even for the art-mad metropolis. The city boasts some of the country's best-known galleries, which often double as architectural marvels. There is the Long Museum West Bund built out of an old coal storage facility; the Power Station of Art that took over an entire electricity plant; and the Rockbund Art Museum in the art deco RAS Building on the Bund. But an art centre housed inside several disused aviation oil tanks on the bank of the Huangpu River has got to take the cake when it comes to novelty of experience.
The man behind the project,
Qiao Zhibing
– an enigmatic businessman best known for running a chain of nightclubs – was among a group of Chinese collectors who the Shanghai government invited in 2013 to build private galleries in its new designated business district called the West Bund.
A desolate riverbank strewn with derelicts of its industrial past, the area was at the time beginning its transformation into a hub for businesses of the future – artificial intelligence and creative multimedia products – and contemporary art was seen as a way of complementing them.
Prior to Tank's public opening on March 23, the West Bund had already seen the arrival of the Long Museum, the Yuz Museum, the Shanghai Centre of Photography, numerous commercial galleries, and the annual West Bund Art and Design fair, introduced in 2014. But this latest addition, designed by the Beijing-based firm Open Architecture, stands out as an irresistible destination for people to "check in" on social media.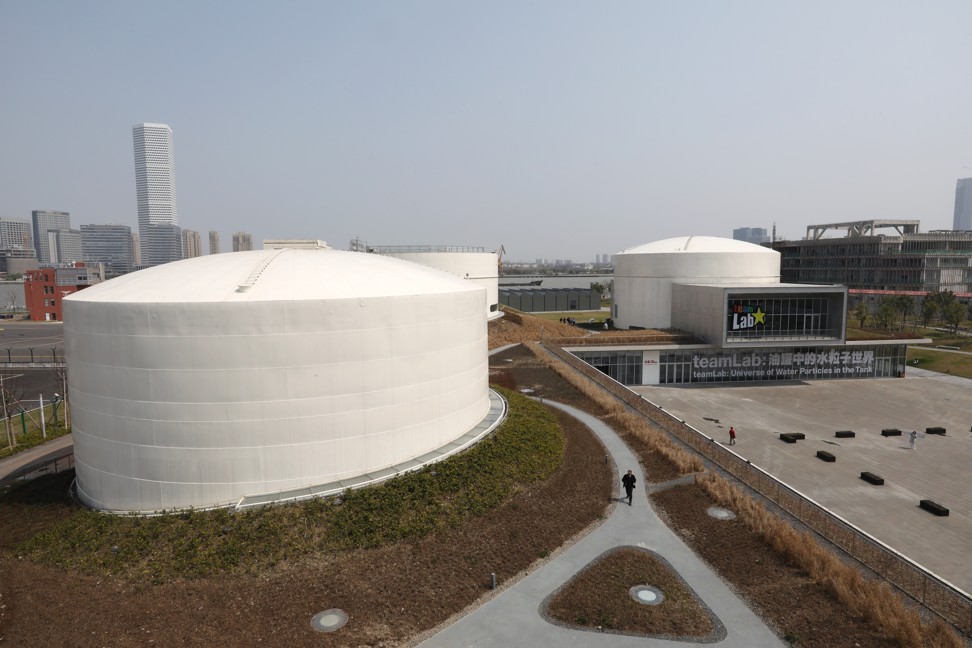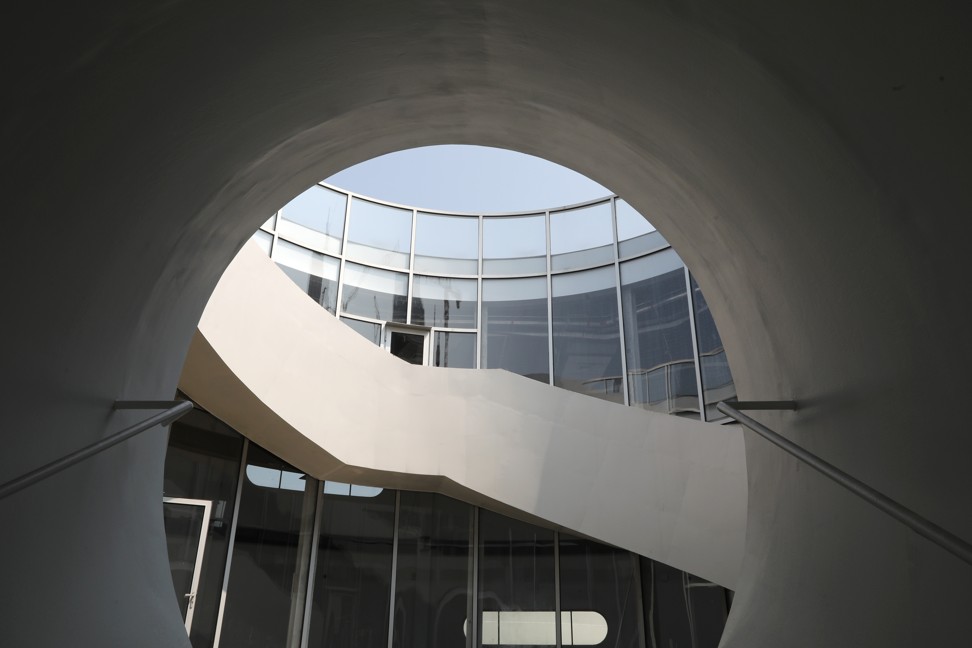 Visitors enter via a large square flanked on two sides by an L-shaped, single-storey, glass-fronted building. The building is both the ticketing foyer and an indoor walkway connecting the entrances of three of the five huge oil tanks, which are each between 15 and 25 metres (49 to 82 feet) in diameter.
The interiors of tanks three and five have largely been left in their voluminous original state and the opening exhibitions make use of the generous 11-metre-high ceilings. A new immersive digital work by art collective Teamlab, called "Universe of Water Particles in the Tank", is in tank five, with giant waterfalls plunging down to part a sea of bright-coloured flowers and petals. Cameras react to the audience to create an interactive environment.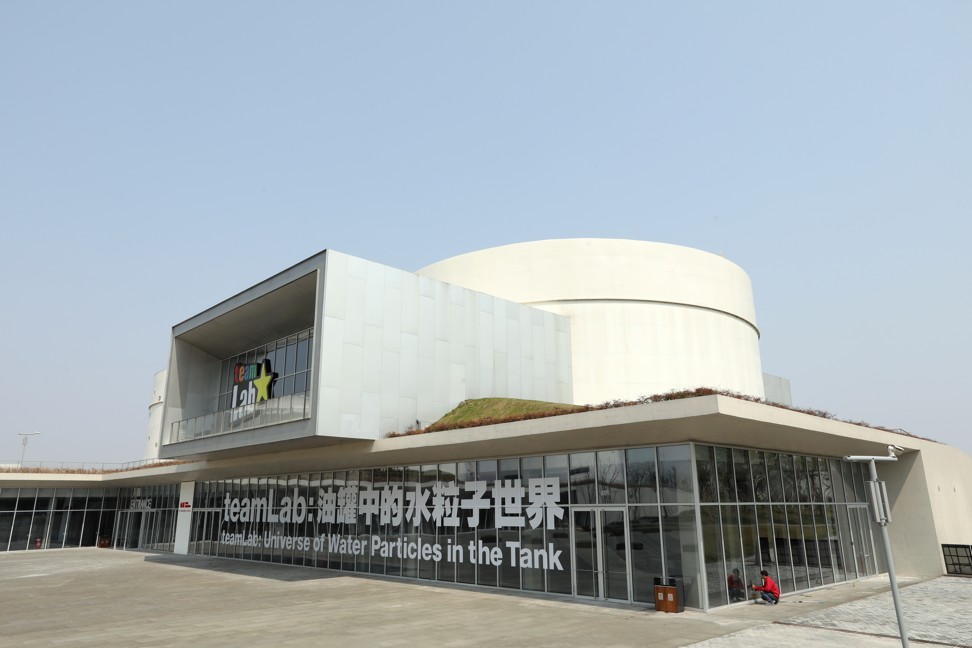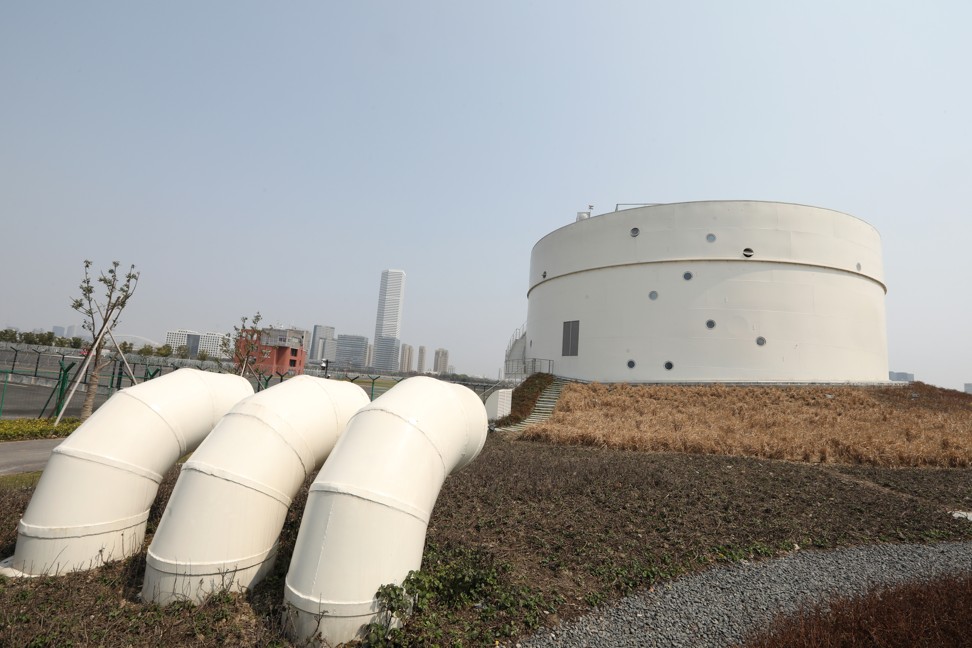 Teamlab is extremely popular in Asia and this is the one work that is likely to pull in the crowd, even if they have to pay 80 to 120 yuan (US$12 to US$18) each to see it, Qiao says.
Tank three contains a sci-fi landscape created by Argentinian artist Adrian Villar Rojas based on his impressions of Shanghai, a city so impatient for the future that vast tracts of gleaming office towers are being erected on both sides of the river to house new businesses that it is convinced will come. Rojas has placed a mini space rover on top of a mound of Martian red soil, surrounded by decrepit concrete columns against a large portrait of a caveman.
Tank four has had floors put in, with Qiao's open-plan office at the top that has a balcony overlooking the Huangpu river. The lower two floors are being used for a group show of 13 Chinese artists. It includes pieces from Qiao's own extensive collection as well as loaned works, such as a new painting by Zeng Fanzhi in which a dense web of brightly coloured lines completely obliterates figurative references typical of artist that he has been moving away from.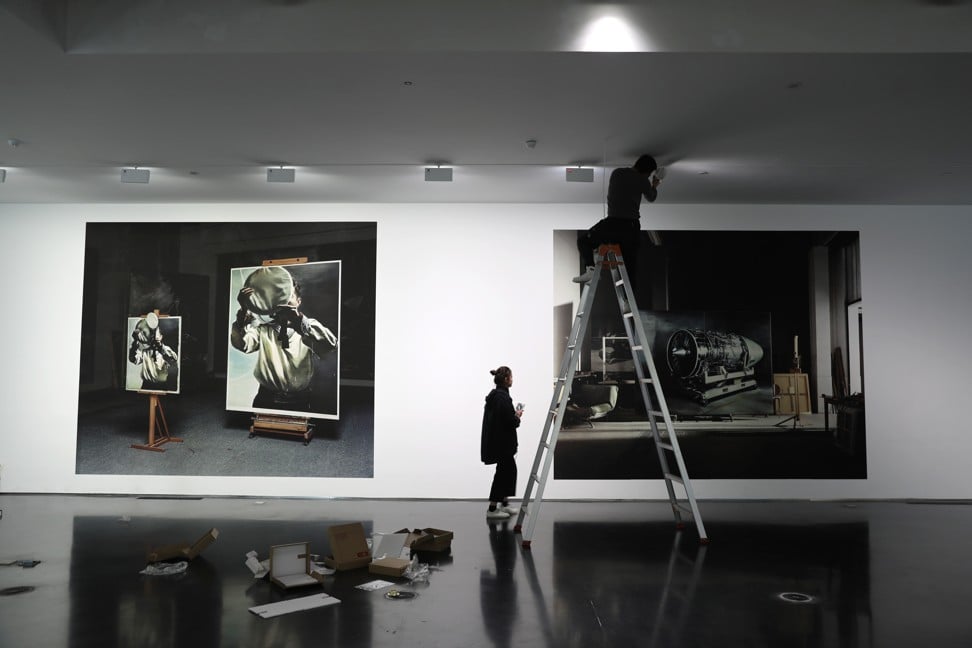 The show, called "Under Construction", is an extension of what Qiao has been showing at Qiao Space, a temporary gallery nearby. It is very much a reflection of his own personal taste: mostly art by middle-aged male artists of Qiao's generation who grew up during the Cultural Revolution and became very successful in the art market, and are now experimenting and reinventing themselves with the blessing of major art dealers.
(The two stand-alone tanks will be used to host events in the future but visitors can freely roam the comical structures, which have round holes for entrances and windows and a roof offering stunning views.)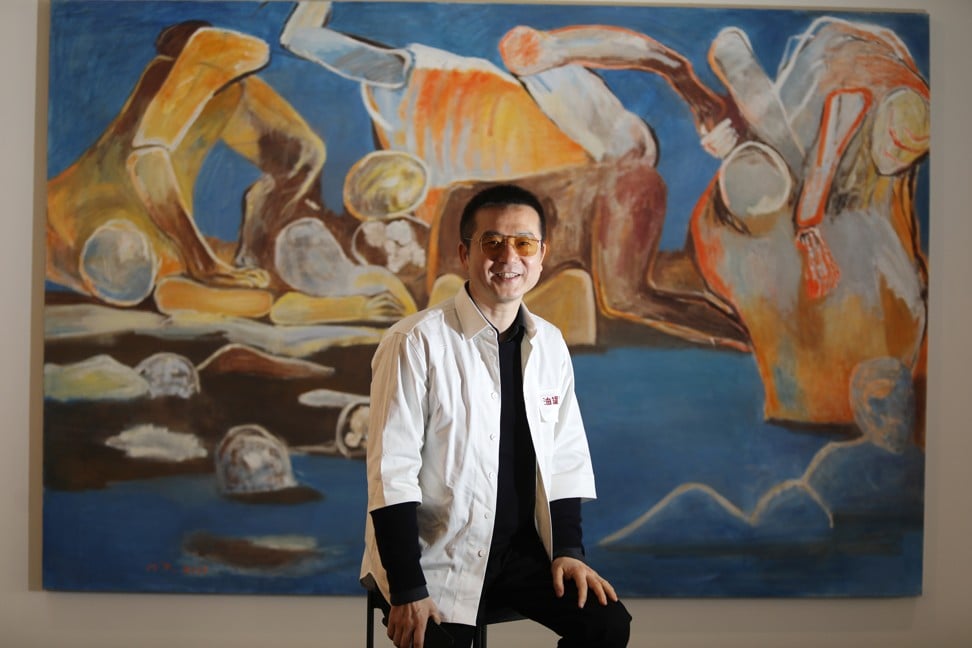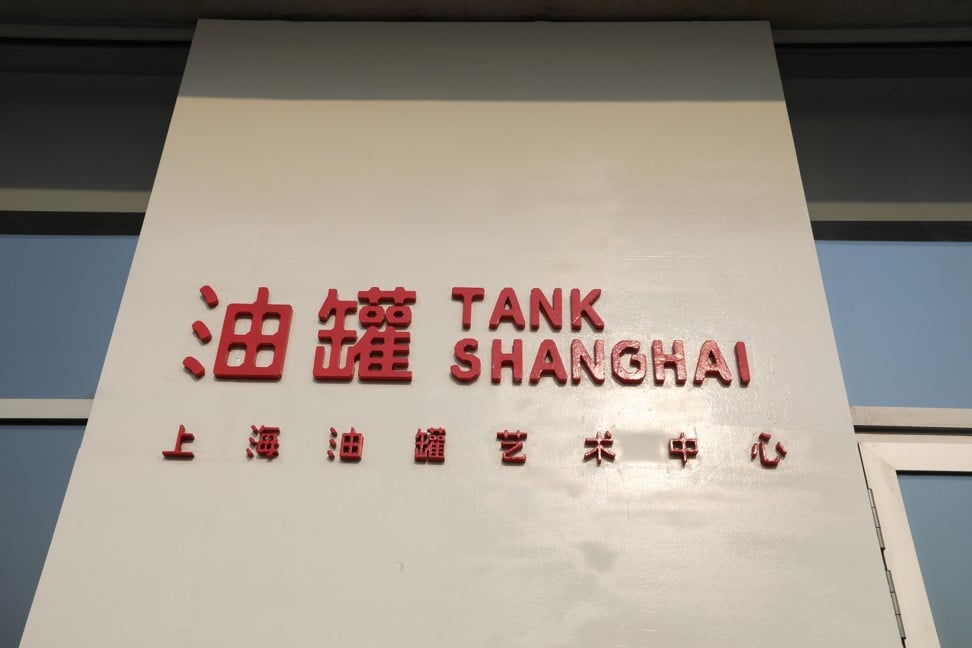 Qiao is a hands-on owner who says he has stepped back from his businesses and is now completely devoted to sharing his passion for contemporary art. He says he is talking to well-known international artists keen to exploit the unusual spaces for solo exhibitions. But he adds that only the first year's programme is in place and he has yet to hire a curator.
He also concedes that Tank's opening is too early, given that the original plan was to time it for when the DreamCenter complex and the Centre Pompidou's Shanghai gallery, both near Qiao's space, open and bring serious footfall to the area.
While the much-delayed Centre Pompidou is readying for a late 2019 opening, the future of DreamCenter is less clear. The mixed-use cultural, entertainment and business compound that was meant to open in 2018 as Shanghai's answer to New York's Broadway has had more changes in ownership after DreamWorks, the US studio,
pulled out in 2017
. Last year, the main creditor, China Development Bank Capital, decided to recoup its investment and together with the two other investors – Hong Kong's Lan Kwai Fong Group and Shanghai's China Media Capital – sold the entire project to the local government, says Lan Kwai Fong Group chairman Allan Zeman to the
Post
.
Construction is continuing, Zeman says, and the cultural elements will be run directly by Shanghai West Bund, the government authority in charge of the area's development.
"Sometimes, you just can't control the timing," Qiao says.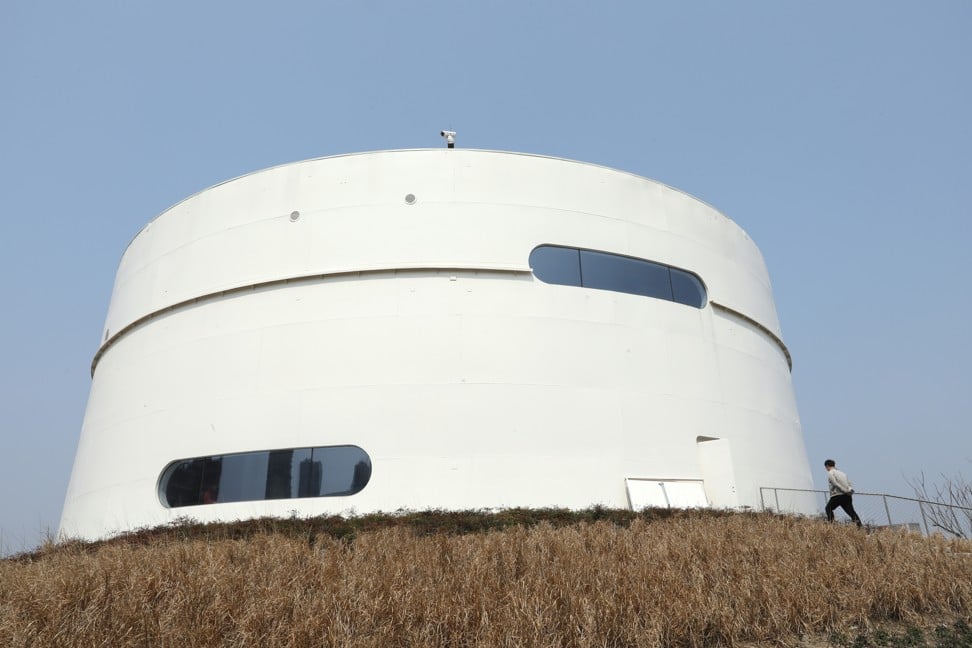 Earlier this month, a new report on the Chinese art market predicted that many private non-profit art galleries will have to close because of enormous and unsustainable operational costs. The report, by The European Fine Art Foundation (Tefaf), quoted Qiao as saying that having an art foundation makes it easier for him to buy art that he wants, especially if there is a waiting list for certain artwork.
Qiao refused to divulge how he is funding Tank Shanghai, which cost at least 100 million yuan to build. He says the nightclubs where he shows most of his collection are not funding the art centre.
"Buying contemporary art is risky business. Collectors take risks. It's what we do," he says. "I am solely responsible for Tank Shanghai. The fact that I have opened a non-profit institution rather than a moneymaking venture should tell you that my financial situation is fine."
This article appeared in the South China Morning Post print edition as: tanks f or t he mem ori e s : new h i gh f or n ovel ty ART s p aces