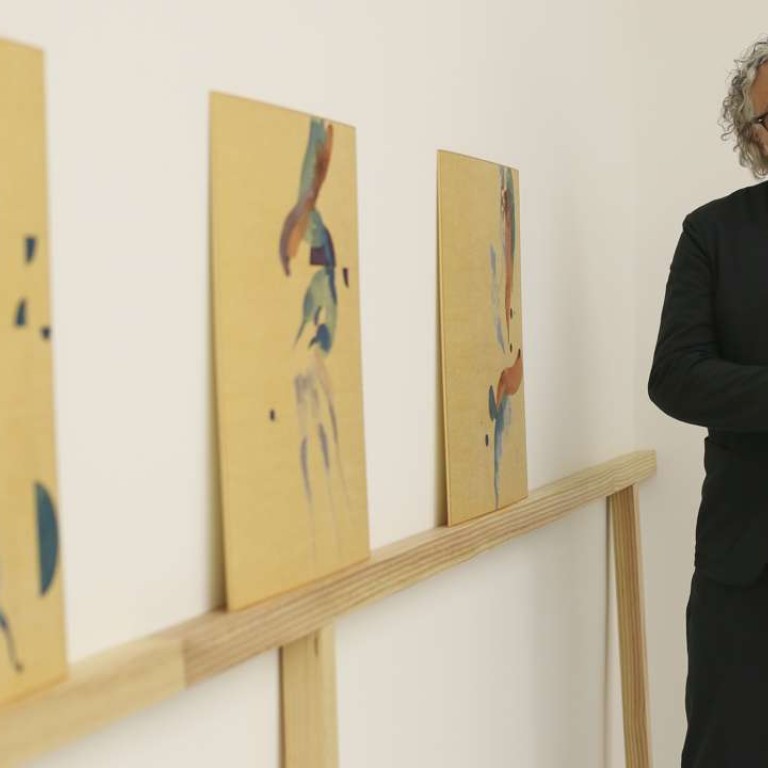 From Empty Shoe Box to a full Hong Kong gallery - Mexican artist Gabriel Orozco's journey
The contemporary artist who showed an empty shoebox at the Venice Biennale 23 years ago has come a long way since, and makes his Hong Kong debut with a collection of more than 50 watercolours at White Cube
In 1993, a young Mexican artist – not a term he particularly likes but we'll get back to that – named Gabriel Orozco showed a work at the Venice Biennale titled Empty Shoe Box. The clue's in the title. It really was a shoebox with nothing in it.
One of the (many) contradictions of the contemporary art world is that it likes to embrace those who appear to be rejecting it. The shoeless box was seen as an antidote to the glossy, gussied-up, galleried art of the 1980s; its very emptiness indicated its worthiness. Within a few months, Orozco's work was being shown in New York's Museum of Modern Art.
Usually, young artists at MoMA are given a designated space but Orozco refused to be confined within the usual white cube and positioned his work in unlikely corners. What people often remember about the show is the work Home Run. It consisted of oranges arranged in cups and vases. The crucial point was that they weren't in the museum: they were in the windows of homes and offices that could be seen across the street.
And the artist? Well, he was a nomad, rattling around the world, gathering impressions – rather like the ball of plasticine, weighing exactly what he did, which he rolled through the streets of New York, picking up the city's lint, and onto one of MoMA's landings. He called that work Yielding Stone.
The following year, he held his first show in a commercial gallery, Marian Goodman, in New York. The highlight was
Yogurt Caps
which, yes, were four (Danone) yogurt lids, each attached to a gallery wall. You could say it was a cultured revolution.
Orozco was in Hong Kong last week for the opening of his first solo show in the city. The fact that it's in a gallery called White Cube gives some sense of the distance travelled. Art world trimmings were properly in place: the gathered press, the expert flown intercontinentally to speak about the oeuvre, the stark chilliness of wall, the deadened air.
If you'd rolled a ball of plasticine over Orozco, now 54, at the media talk, it would probably have gathered up a grey curl or two (he has plenty to spare), bits of plaster from the cast encasing his right hand (he'd recently fallen off a Solowheel – an auto monocycle – whilst playing with his son, Simón, aged 11) and the skin he picked from his cuticles while listening to Briony Fer, who is history of art professor at University College London and the show's earnestly enthusiastic curator.
As Fer talks about how different this current work looks to his previous work and yet, on the other hand, is absolutely at the heart of it; as she refers to his consistent love of the circular motif and how he'd created works in so many different parts of the world that he was, himself, in circulation; as she evokes Mondrian and Rodchenko, Orozco wears an expression of modestly amused wonderment as if to say, 'Who is this genius walking amongst us'?
Several times, gesturing to his work, he says, "They're just very bad, very clumsy" or "Not that these are very good but at least they're presentable".
In 2009, when MoMA held an Orozco retrospective (which moved to the Centre Pompidou in Paris and Tate Modern in London), he told The New York Times, "I want to disappoint the expectations of the one who waits to be amazed" – a canny statement. In Hong Kong, each time he turned to inspect his recent output, he gave a little groan, though not of disappointment; he'd also broken two ribs.
The show consists of 53 works – all watercolours on golden cardboard, many with geometric patterns – which he's been painting for the past year in Tokyo. They come in four sizes, from, roughly, postcard to large computer screen, and they lean, unframed, on narrow shelves propped up on wooden slats.
These shelves are the same height and depth as those in the Tokyo apartment where he lives with his wife, Maria Gutierrez, a climate change expert, and Simón; and it's where all the work was done, as he still doesn't have a studio.
In the gallery, however, the paintings look distinctly dwarfed. He's finished about 140; viewers might find themselves longing to do a home run – like the 1993 oranges – across the sea to Japan just to see how the rest look in a 1,000 sq ft family space.
The Tokyo sojourn, which followed a 2015 retrospective called "Inner Circles" at the city's Museum of Contemporary Art, was supposed to last six months.
"And already it's a year and a half," he says, amiably chatting later in White Cube's back room. "It proves I can work anywhere. It makes me feel light. One of the things we haven't done is bought a house there, which we usually do."
For a nomad, his property portfolio is impressively heavyweight. Orozco interviews usually mention that his New York townhouse is worth (in 2010) almost US$9 million, and his next-door neighbour is Gisele Bundchen. Is that true? "It's true – but indiscreet." There's also a house in Paris. And in Mexico. The family blithely shuttles between them all.
"I live in this world which is new, I'm the first generation like this," he says contentedly. "We like it, it's a great pleasure." (Not so great for the climate perhaps. "It's true," he agrees again, unabashed.)
The lifestyle is how he manages without a studio. "These houses are spaceships – or time ships if you like," he explains.
Orozco is a fan of the Argentine writer Jorge Luis Borges, and also a keen chess player; the fascination with emptiness, geometry and infinity can be ascribed to both. "If I have a place, I can keep things there – projects, memories. Each is a work in progress, not real estate speculation. That's my work system."
In the early days, he didn't want to be pigeon-holed as a Mexican artist. He'd left Mexico, where his father had been a painter, because of the government's "tyrannical" hold on culture. Now his whale sculpture
Mobile Matrix
(2006) hangs in the country's national library (very Borges – the project to find a dead whale took on a mythological aspect in Mexico); and to younger artists he's apparently become a patriarch.
"What does this word mean? Who says that?" he asks. He thinks about it, ambivalent about the shifting shape of his own public image. "The way of making art has changed and younger artists like to see what I did ... It's a strange word ... I guess that's why I'm not there that much."
He exhales sharply but it's not the ribs. "Phew. I love Mexico. Art is very alive, there are a lot of parties. I go out, I don't come back in three days."
He's uncertain where they'll live after Japan, where even the furniture ("ugly as hell") is rented but he's already traced a remarkable journey. What did he do with the contents of that shoebox all those years ago?
"They were very nice Italian shoes," he says, "so I wore them."
Gabriel Orozco Suisai: Tokyo Strokes at White Cube, 50 Connaught Road Central until August 20