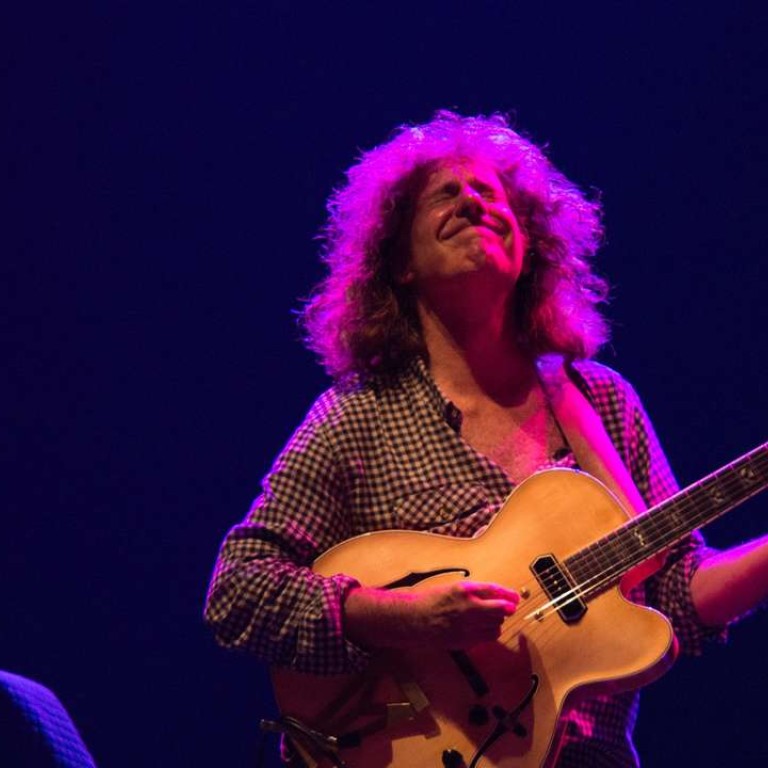 Pat Metheny and formidable new jazz band make old tunes sound fresh
Hong Kong audience listen attentively to guitar great's new material for his recently formed quartet - who earn their spurs in duets with leader - but respond with most warmth to older numbers
Some 14 years after his last appearance in Hong Kong, jazz guitarist Pat Metheny was welcomed back by an enthusiastic crowd which responded with particular warmth to some of the older tunes, but also listened attentively to new material composed specifically for the three other musicians in his new quartet.
The band has played only a few dates together so far, the tour having begun last month in Japan, and they bring a fresh perspective to Metheny's music. Some of the pieces in the set dated back to the late 1970s, but all sounded newly minted.
The leader opened the show on his own, acoustically, playing a custom-built harp guitar by luthier Linda Manzer, then switching to his regular, hollow-bodied electric guitar when the band came on for the second number.
Drummer Antonio Sanchez is a long-time musical associate, but bassist Linda Oh - doubling on acoustic upright bass and electric bass guitar – and pianist Gwilym Simcock, who is one of Britain's finest jazz and classical pianists, are new sparring partners.
They played two sets of about an hour and a quarter each, separated by a short interval. James – a tune from Metheny's 1984 Offramp album and one of his most often covered compositions – marked a high point of the first set.
He made few stage announcements in the first half, but talked a little more during the second, which began with three duets, each featuring the leader and one of the other band members in turn.
He introduced Linda Oh by running through a by no means complete list of some of the great bass players he has worked with over the years – Jaco Pastorius, Charlie Haden and Ron Carter among them – and expressed his confidence that she has the talent to play in their league.
That sets the bar high, but on the basis of their thoughtful version of Antonio Carlos Jobim's Insesatez Metheny may be right.
Simcock and Metheny's duet was a stripped down version of (Cross The) Heartland, the opening track from 1979's American Garage, composed with long-time musical partner Lyle Mays. Both musicians dug deep into the tune, and the bass and drum parts that featured strongly on the original recording were not missed.
In the hands of most guitarists the guitar synthesiser is simply a mistake, but Metheny is one of a tiny number of players who uses it genuinely expressively, taking advantage of options such as raising the pitch of the instrument by an octave in mid-solo, which allowed him to keep playing ascending lines even after running out of fretboard.
Two new pieces, as yet without titles, were played by the full quartet, from which it is safe to infer that this will be a formidable recording band when Metheny eventually takes it into the studio.
For the final encore he closed the show as he had begun it, alone with an acoustic guitar. It was an evening of many moods, deftly orchestrated.
Pat Metheny, Academic Community Hall, Hong Kong Baptist University. Reviewed: June 1