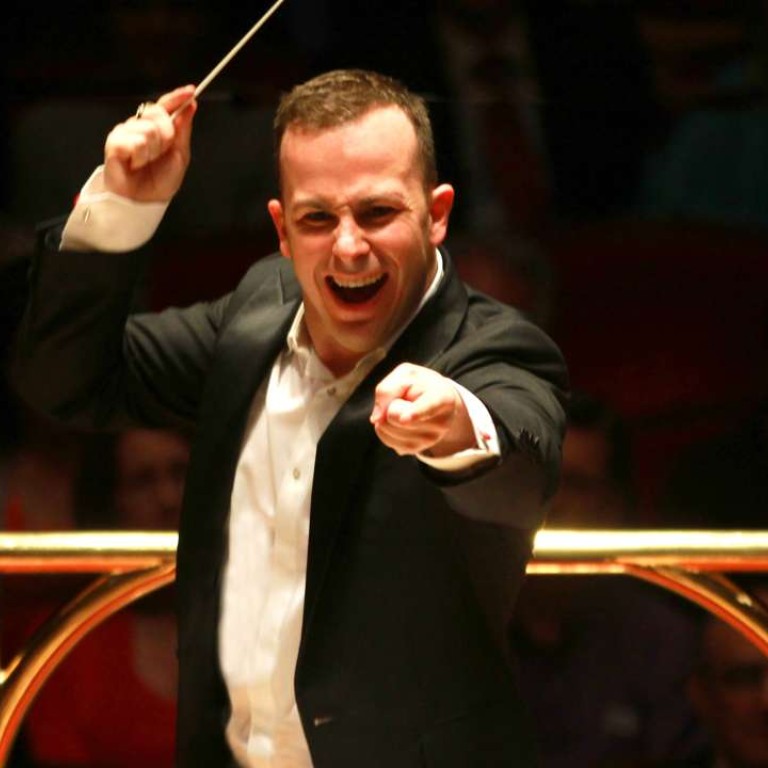 Fresh from China tour, Philadelphia conductor tells of joy at Met Opera top job
Yannick Nézet-Séguin says succeeding James Levine as Met's music director 'a dream come true'. He will start with opera house at same time HKPhil's Jaap van Zweden begins work as New York Philharmonic music director
When Hong Kong Philharmonic music director Jaap van Zweden takes on the same role with the New York Philharmonic Orchestra in its 2017-18 season, the Dutch maestro won't be the only new boy in town: Yannick Nézet-Séguin will be beginning work as music director of New York's Metropolitan Opera around the same time.
Nézet-Séguin, a 41-year-old Canadian with a youthful flair, was named on Thursday in New York as successor to legendary conductor James Levine at the Met.
The Met announced Nézet-Séguin just weeks after Levine, citing health concerns, said he would retire after 40 years defining the job, one of the most prestigious in the opera world.
Nézet-Séguin, a Montreal native who was just one year old when Levine became music director of the Met, also leads the Philadelphia Orchestra, where he has developed a reputation for lively performances.
Speaking from Osaka, where he had just conducted the Philadelphia Orchestra on the latest leg of its East Asian tour, which began in Hong Kong on May 19, Nézet-Séguin said he had long felt a connection to the "greatest opera orchestra in the world".
"I can't recall a day in my life where I've been more joyful, more honoured, humbled also," he said via video link at an online announcement event at the Met.
"For me to be in the footsteps of the giant James Levine, who has always been my hero and my inspiration, is something which is really a dream come true – I dare say, a childhood dream," he said.
With opera houses planning out works years in advance, Nézet-Séguin will not assume his role until the 2020-21 season. He will become interim director in 2017-18, when van Zweden will begin a season as music director designate of the New York Philharmonic before fully taking on the role from 2018-19.
With his jack-in-the-box-like expressiveness as he conducts, Nézet-Séguin has become a favourite of audiences and musicians as he delivers energetic interpretations of symphonic and opera works.
He is also identifiable for his boyish looks and has a tattoo on his right shoulder from a trip to Tahiti of a baton-wielding turtle.
Peter Gelb, the Met's general manager, said Nézet-Séguin was "the right artist at the right time to lead us forward into a new and what I believe will be a glorious chapter in the history of the Met".
The Met, while one of the premier opera houses, faces struggles to stay financially healthy and fill its ornate 4,000-seat theatre. It narrowly avoided a strike in 2014 over workers' conditions, five years after the opera house put up its celebrated pair of Marc Chagall murals as collateral for loans.
Nézet-Séguin acknowledged in an interview last month with Montreal's La Presse newspaper that the Met faced "enormous challenges", including keeping up attendance.
A guest conductor at the Met every year since 2009, he said he had "many, many ideas" but also described himself as an "ear" who would listen to the musicians.
The conductor will remain as music director of the Philadelphia Orchestra, one of the leading US classical institutions which is known for its international outreach.
The Philadelphia Orchestra simultaneously announced that it was extending his contract until 2026, the year in which the historic city will celebrate the 250th anniversary of US independence.
The orchestra's president and CEO, Allison Vulgamore, said the institution was flourishing under Nézet-Séguin, citing his strong rapport with musicians, audiences and the city at large.
Such simultaneous appointments are common in the opera and classical world for major stars, even in an era when so many young musicians are looking to break in.
Nézet-Séguin will also remain as music director of Montreal's Opera Metropolitain, his breakthrough position which he assumed in 2000.
But the music director, a frequent guest conductor in Europe, resigned a fourth position as music director of the Rotterdam Philharmonic.