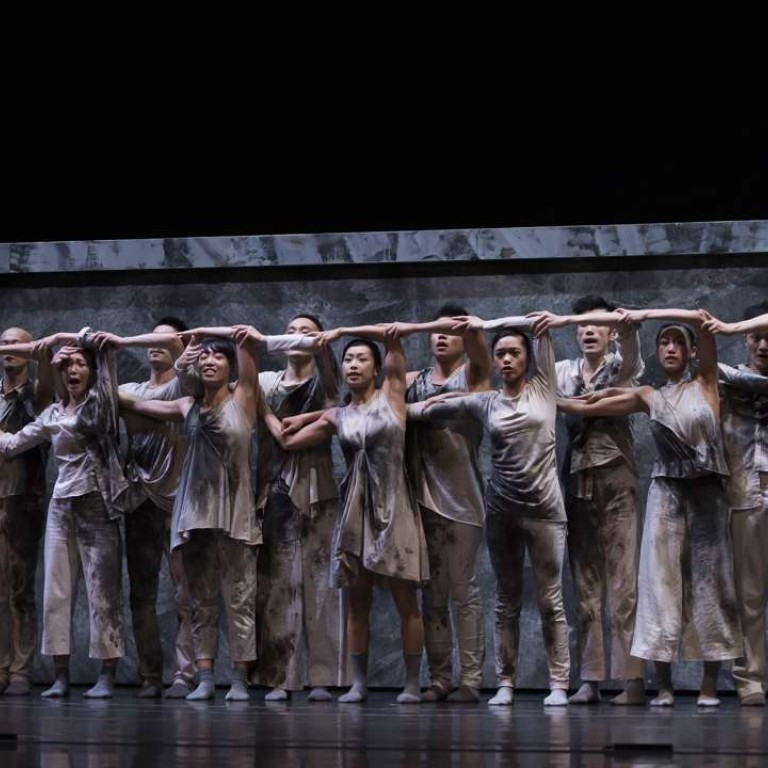 Review: Fragile Beauty by City Contemporary Dance Company
A grim picture of the decline of happiness in Hong Kong, with relentless movement and enough screeching to warrant earplugs
Internationally acclaimed Tibetan choreographer Sang Jijia's last creation for City Contemporary Dance Company was the award-winning As If To Nothing in 2009. Last year he became the troupe's resident choreographer and Fragile Beauty is his first new work in that role.
The premise of the production is the decline of life and happiness (the "fragility of beauty") in a city – here, presumably, Hong Kong.
There are glimpses of Sang's undoubted skill as a choreographer, but the piece resorts too much to dialogue instead of expressing ideas through movement and while it's good to see artists tackle major local issues, the picture Sang paints is so unremittingly bleak that it fails to engage.
The piece opens with all the dancers on stage wearing long, brightly coloured skirts, in which they whirl and swirl before trooping off and returning in grim, prison uniform like costumes of white and grey which set the tone for the rest of the performance.
The choreography bears Sang's hallmarks of relentless kineticism and emphasis on ensemble work, where the dancers' individuality is suppressed in favour of the group.
There are some striking images, notably where a row of dancers spread out across the stage, slowly sink to their knees in unison while others continue to move. However, the choreography's insistence on constant motion becomes tiring to watch.
Contrast is similarly lacking in terms of emotion – the city is portrayed as a nightmare in which its hapless residents are trapped, with no note of hope.
There are scenes of violence and chaos (a reference to Occupy Central and its aftermath, perhaps). One trio, with two men brutally attacking a girl who screams at the top of her voice throughout, is almost unendurable, not least for the ears.
Another sequence, which appears to refer to Sars, employs multiple voices speaking at the same time and a lot of shrill screeching – the result is excruciating and makes one long to push a mute button.
Two appealing monologues (in Chinese with English translation) by dancers about their childhood memories of Hong Kong and how old neighbourhoods have been transformed provide some respite from the tension but are overlong and seem disconnected from the rest of the piece.
The dancers perform with commendable energy and commitment. Dickson Dee's menacing, percussion-dominated score contributes to the sense of angst, as does Sang's cleverly conceived, claustrophobic set of moving dark grey walls which hem in the stage.
Fragile Beauty
City Contemporary Dance Company
Kwai Tsing Theatre
Reviewed: June 3