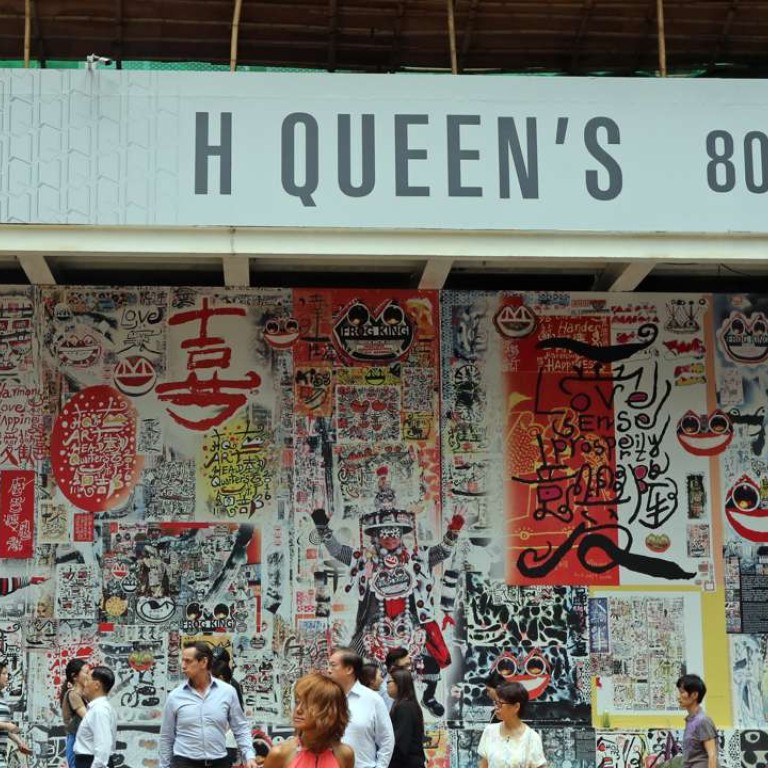 New York art dealer David Zwirner explains why he's set his sights on Hong Kong
Zwirner's plan to open a gallery in Central shows his belief in the strength of local demand for Western art
In January this year, New York art dealer David Zwirner
told the Post
he would start looking for a place to open a Hong Kong gallery. He didn't expect it to be easy. Zwirner wanted something matching the quality of his commodious New York and London properties and this city, as everyone knows, has little space to spare.
But he found a suitable spot in a little more than four months. Zwirner will rent two floors at H Queen's, a commercial tower under construction at 80 Queen's Road Central. In total, he will have a gross floor area of 9,000 sq ft to play with. This will be his first Asia gallery and it should open in the autumn of 2017.
Zwirner is a big name in the art world. He represents 51 artists or their estates, including Jeff Koons and Isa Genzken, and is seen to belong to a small group of powerful dealers who have the ability to turn living artists into multimillionaires and international superstars. His arrival in Hong Kong, therefore, is seen as a vote of confidence in Asian demand for Western art, which is what he mainly deals in.
But not everyone is convinced Zwirner has timed his entry right: the slowdown in China's economic growth has hit Hong Kong-based retailers particularly hard, but rent in Central remains one of the highest in the world.
Zwirner, who has a custom-built five-storey gallery in New York and whose London gallery occupies the whole of a Georgian townhouse in Mayfair, says a new building is the best option in Hong Kong since the developer can easily accommodate his specific demands.
"If we go outside of Central then many things are possible but we think it is crucial that we are in Central. There were two limitations virtually everywhere we looked – ceiling height and the logistics of bringing artwork into the buildings," he says.
H Queen's, a 24-storey property being built by Henderson Land, is the first building in Hong Kong with most floors specifically designed for modern commercial galleries.
Scheduled for completion in the middle of 2017, the building is designed by Hong Kong architect William Lim, who is also a major collector of local contemporary art. It boasts a generous ceiling height of 4.65 metres, a gross floor area of 4,000 to 5,000 sq ft and a rooftop gondola system that can hoist works as heavy as 1.25 tonnes from the ground and deliver them, via an extendable arm, to any floor through the removable glass facade. A glass lift serving the lower 10 floors allows visitors to view what's in each gallery as they move up. Zwirner's is the first international gallery to sign on the dotted line.
Zwirner's space will only have three columns on each floor, allowing room for large statues or installations. Henderson Land has also put in an internal staircase linking the two floors, designed by Annabelle Selldorf, the architect behind Zwirner's 30,000 sq ft gallery in 20th Street in New York. "My London gallery is about 10,000 sq ft, but it's split over four floors. So the Hong Kong gallery will actually have more display space," Zwirner says.
Kristine Li, granddaughter of Henderson Land founder Lee Shau-kee and deputy general manager of the company's portfolio leasing department, says H Queen's will not include any office space.
"All the floors will be let to galleries, retail, restaurants and bars. There are already a lot of office buildings in Central. We want to do something different so people won't feel this end of Central is just a business district. We are near the future Tai Kwun [the former Central Police Station], the Hollywood Road antique shops and PMQ. We believe the future for the local retail industry is a more artistic, lifestyle oriented experience," she says.
The plot where H Queen's stands used to be occupied by the 1964 Pinocine Building, named after a local pharmaceutical company. Li says it took 30 years for Henderson Land to acquire the building and surrounding low-rises in order to knock them down for redevelopment.
"This is a very central location and we want to turn it into a new icon that changes the dynamic of the district," Li says.
This is not the first time an international gallery has had to wait for a new building to be built in Hong Kong. After attending the early editions of ArtHK, London dealer Jay Jopling decided to open a branch of his White Cube gallery here but it took him three years to find the right space: the ground and mezzanine floors on one side of the Agricultural Bank of China Tower in Connaught Road Central. Larry Gagosian, who opened his Hong Kong gallery in 2011, opted for an address in the Pedder Building, the only existing building in Central known for its cluster of art galleries.
Claudia Albertini, director of Massimo De Carlo in Hong Kong, oversaw the Italian gallery's move into the Pedder Building this spring. While the Pedder Building lacks the special facilities that H Queen's offers, it has the advantage of being a low-rise, which encourages visitors to stroll through the different floors of galleries, she says.
"The city doesn't offer many places. It took us about a year of active looking. As far as I know there has been continued interest from other international galleries to set up in Hong Kong. China's slowdown is frightening people but so far, the art market seems to be self-sustainable. The sense is that even if things don't go very right, it won't collapse," she says.
Certainly, this year's Art Basel Hong Kong and the local auctions suggest that the art market has not collapsed despite overall retail sales in Hong Kong falling a staggering 12.5 per cent in the first three months of this year. But whoever is signing a retail lease now may be missing out on better deals in the future as rent is expected to fall further, property experts say. ,
Chains selling luxury clothes, watches and jewellery are consolidating their branches in Hong Kong as they are the most dependent on mainland Chinese tourists and fewer of them are visiting, mainly because the Hong Kong currency is pegged to a strong greenback. Chow Tai Fook Jewellery Group said on Tuesday it would be closing more stores after its net annual profit plunged 46.1 per cent.
Joe Lin, executive director, retail services, for CBRE Hong Kong told the Post earlier this year that prime locations have seen rents drop by more than 40 per cent from their peak in the second half of 2014. But not all landlords are willing to slash rent. According to property consultancy Cushman & Wakefield, Central retail rent remained the third highest in the world last year. At an average US$1,934.90 per sq ft per year, only Causeway Bay and Upper Fifth Avenue in New York were cheaper.
"Retail rent is still more than double the level of 1997 but gross domestic product growth is substantially lower and mainland Chinese tourists are not eager to come to Hong Kong any more.
"Fundamentally, Hong Kong is too expensive. It's still too big a bubble," says Mark Bernard, founder of OfficeAsia, a local commercial property leasing service.
He says despite some landlords dropping prices in the past year, many are still holding out for unrealistically high rent and don't mind that some tenants choose to walk away.
"We've seen that in the build-up to the 1997 crash. With rent being so high, how can people make money? It will all come home to roost one day," Bernard says. "You can argue that art galleries are more resilient because buying art is like buying insurance policies. But I don't understand why they don't wait longer for rent to fall. Are things really that bad in the West?"
Zwirner will not reveal how much rent he will be paying. He says, however, that Henderson Land has been realistic and the agreed amount was comfortably within his budget.
Li doesn't say whether she has given Zwirner a special deal as an early anchor tenant, but she says the softening of the market has allowed new brands to move into Central for the first time. For example, Adidas has moved into where Coach was, paying about HK$5 million a month, according to a Post report.
"Questions about rent are never-ending. We'll never stop wondering. For us, Hong Kong is a good window to reach new audiences and people have great capacity to learn about new art. We are very happy so far," says Albertini.
Meg Maggio, director of Pekin Fine Arts, which has galleries in Beijing and Hong Kong, says H Queen's should help lower the rent galleries have to pay.
"They will substantially increase the supply of gallery space so it will bring down rent. At the same time, it will further consolidate west Central and Sheung Wan as the city's main gallery hub. Apart from PMQ and Tai Kwun, you also have the galleries at Soho 189 in Sheung Wan and K11 Art Foundation's regular pop-up exhibition space in Cosco Tower," she says.
But Maggio believes that having more galleries in Hong Kong will help the growth of other hubs in cheaper areas, such as Wong Chuk Hang, where her own gallery is located.
While the likes of Zwirner do not represent local artists, she has seen a sharp rise in demand for local art in recent years as more international collectors are drawn to the city by Art Basel and new galleries.