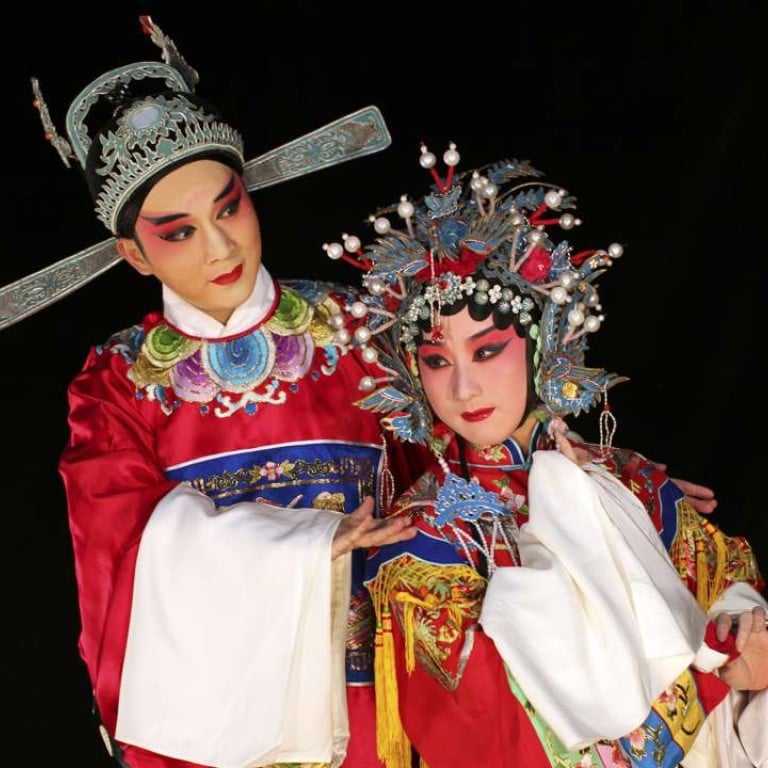 'Chinese Shakespeare' Tang Xianzu in focus at Hong Kong Chinese opera festival
400 years after his death, works of poet and playwright who heralded an era of openness in China are still often performed, and rare full staging of his Legend of the Purple Hairpin is a highlight of Hong Kong event
He may not have been as prolific as William Shakespeare, and nor is he as internationally renowned, but Tang Xianzu, who, like the Bard, died 400 years ago, penned four of the most significant works in the Chinese operatic canon.
A liberal thinker ahead of his time, the Ming dynasty dramatist's four masterpieces – The Peony Pavilion, The Legend of the Purple Hairpin, The Story of Handan and The Dream of Nanke – collectively known as The Four Dreams of Yuming Tang, are still being staged regularly by operatic troupes today.
Hong Kong audiences can catch some of these works in the upcoming Chinese Opera Festival, which will feature full-length works as well as excerpts performed by China's top artists. Organised by the Leisure and Cultural Services Department, this annual offering is now in its seventh edition and will run from June 17 to August 14.
Tang is often compared with Shakespeare, as they both wrote plays and poems and made lasting contributions to literature, says scholar Cheng Pei-kei, an expert on Tang's works and an adviser to the department.
Cheng says Tang's literary work is significant because it heralded a transition from the traditional feudal system to a comparatively open society. Some of his plays are written from the perspective of a girl, which was very rare in 16th century China.
"He thinks women should have their own autonomy, self-identity and the right to pursue happiness, instead of relying on men in society to make decisions for them," says Cheng, a professor at the City University who has taught Chinese historyat Yale University and the State University of New York.
At the time, marriages were arranged and women had no say in who they wed, but Tang encouraged women to find their own partners. This also explains why most of his fans were women.
Dreams are a recurring theme in Tang's plays; they highlight the contrasts and contradictions between reality and ideals.
"Tang saw the highs and lows of people's lives, chasing after fame, wealth and other benefits," says Cheng. "But he was very sick of this political game."
According to Cheng, Tang was a character. Born into an upper class family, he grew up exposed to the greatest poets and literati of the time. As part of the educated elite, he could have had a high-flying career. But it was not to be.
He refused to side with the power-hungry prime minister, or zaixiang Zhang Juzheng (1525–1582) and failed the imperial examination to become a public servant three times. It was not until Zhang died that Tang finally passed.
His political career was, however, short-lived.He wrote a public letter reprimanding the imperial court and accused the zaixiang and his men of corruption, as a result of which he came close to resigning. The letter wreaked havoc in the court and enraged the emperor, who banished him to Hainan, says Cheng.
Tang eventually left politics and dedicated his life to writing poems and plays. Cheng says Tang's dramas are reflections of the ups and downs of his own life.
"He posed a question, 'what are you pursuing in your life?'"
One of the highlights of the upcoming festival is a staging of The Legend of the Purple Hairpin – a collaboration between troupes in China and Taiwan.
There have been many film adaptations of this opera, but it is rarely performed in its entirety on stage – two excerpts, "Willow" and "Yang Pass", are the only parts of it regularly performed.
The drama revolves around a pair of lovers, Huo Xiaoyu and Li Yi, who are threatened by a sinister government official. Hong Kong kunqu playwright Koo Siu-sun was invited by the department to turn its 53 episodes into a full-length play.
Hong Kong artist Ying Kam-sha, who will play the role of Huo Xiaoyu, says it is not easy to perform Tang's plays because they are so widely presented in the different genres of Chinese opera and often require method-acting techniques.
"I delved into Huo's background, her encounters and the characteristics of her personality in order to portray her emotions," says Ying. "We wanted to present a version that is as close as possible to the original play."
The Legend of the Purple Hairpin is directed by Shen Bin. The cast includes Taiwanese artist Wen Yu Hang and two stars from the Zhejiang Kunqu Opera Troupe, Zeng Jie and Hu Ping.
A selection of excerpts from The Four Dreams of Yuming Tang will also be presented by the Shanghai Kunqu Opera Troupe. The troupe was awarded the Ministry of Culture's first prize for promoting kunqu opera in 1986 and has been performing around the world since.
The company will be joined by some legendary opera masters who have shaped the development of the art, such as Liang Guyin, Zhang Xunpeng, Zhang Jingxian and Cai Zhengren, the retired director of the troupe.
As this is the Year of Monkey, the festival will also feature three operas devoted to Sun Wukong, the Monkey King.
Chinese Opera Festival, June 17 to August 14, various venues. Inquiries: 2268 7325