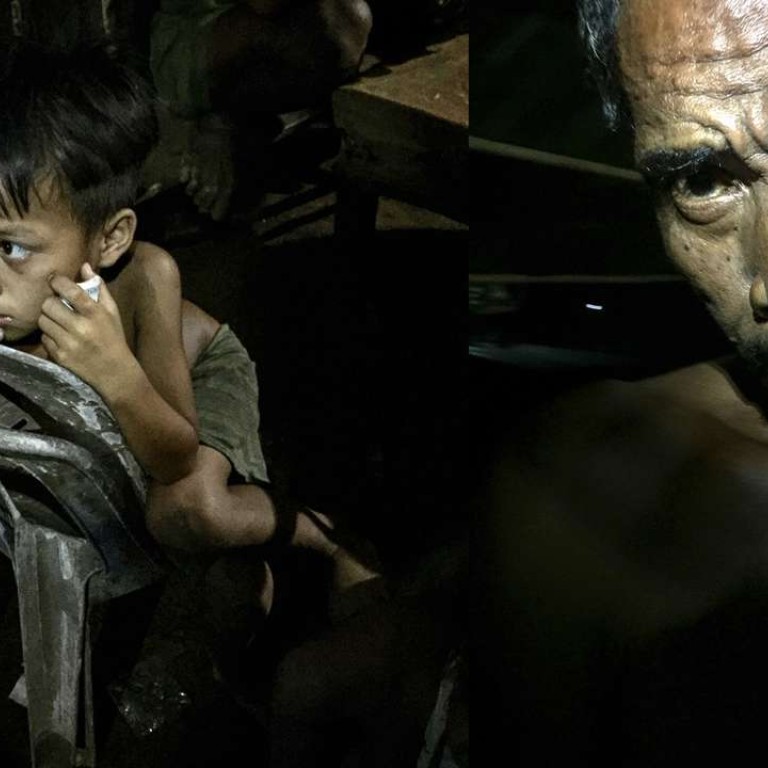 How Angkor Photo Festival became Southeast Asia's top event for aspiring photographers
The Angkor Photo Festival & Workshops began 12 years ago as an endeavour to nurture young Asian talent. Today, Southeast Asia's longest-running photo festival has planted itself firmly on the map, with exhibitions, projections, workshops and discussions.
The festival has attracted hundreds of amateur photographers wanting to hone their skills, and a string of established professionals willing to share theirs. It has also given Siem Reap, where visitors to the ancient ruins of Angkor Wat stay, an added attraction. Photographs are artistically scattered throughout the city, installations popping up in discreet corners, and some of the world's top professionals come to offer their expert eye.
"The aim was to be an affordable and accessible international platform for both established and emerging photographers in the region," says Jessica Lim, the festival's coordinator and also a photographer and former journalism lecturer.
The festival was born in 2005 when a group of photographer enthusiasts who met regularly in Cambodia's "Temple Town" decided to give something back to the country. Current festival director Jean-Yves Navel and VII Agency founder Gary Knight envisioned an event in which young talents who lack the means could develop skills.
Its debut was hailed a success, with Magnum photographer Antoine D'Agata getting on board to launch the annual Anjali Photo Workshops – a platform for creative expression through photography for street kids under the wing of NGO Anjali House.
The festival has gone on to attract an increasing number of hopefuls based all over Asia. Split into two main components, it is open to photographers wanting to submit work for exhibition and those seeking to up their game through intensive week-long workshops led by top professionals. During the week, workshop attendees are expected to create a story to showcase at the end of the course.
"The aim is to help them raise their approach to take the craft to the next level," says Lim. "Under the tutelage of international photographers, all of whom volunteer their time and expertise to be a part of this initiative, we encourage each participant to hone their unique vision and voice."
Each year thousands of hopefuls apply to take part, with just a lucky few being selected.
The festival's success also stems from the community it has created. "There are many ways to define success, and for me it isn't really about winning awards and becoming famous," says Lim. "With the workshops, it is about how [for example] our Vietnamese participant, Thuy Tien Nguyen, had a place to stay when she visited India, thanks to her friendship with Soham Gupta, another participant from the same year. It is about how Truth Leem, from South Korea, and Gian Cruz, from the Philippines, did a joint collaborative photographic project, 'Artificial Memories', together."
Zeeshan Haider was the sole Pakistani photographer selected to attend the 2009 festival. "I had to be part of it," the 31-year-old recalls. "Being there and meeting people from across Asia and the world, making new contacts, the competition, and the friction all help you to hone your skills."
Inspired by the need for storytelling, Haider has gone on to shoot feature films, documentaries and the launch of new fashion brands across Asia. "You get to share your skills with fellow photographers and meet like-minded people who share the same passion. That means the world to me."
Phnom Penh-based Australian photographer Scott Howes, 30, is a regular festival-goer who enjoys the "friendly, welcoming and vibrant community". With a wealth of knowledge and experience to tap into, and enormous potential for freelancers looking to build regional networks, he says the festival's allure stretches further than the week in which it takes place.
"The festival has done a really good job of fostering the photography community in Asia," he adds. "It's always exciting to see the projects that emerging photographers are working on. It's just as exciting when you see their body of work being published in exhibitions and publications in other parts of the world afterwards."
While there are no winners nor prizes dished out at the festival, its success is evident in the achievements of workshop alumni. It has been the launch pad for a succession of snappers, who have gone on to enjoy successful careers. "It is especially heartening and humbling when they return as mentors and teachers themselves," Lim says.
In 2007, Indian photographer Sohrab Hura attended as a participant. Today, he is a Magnum Photos nominee and tutor at the same workshops he attended almost a decade ago. Japanese photographer Noriko Hayashi has also scooped a clutch of major awards since attending the festival in 2009, and has been recruited to photo agency Panos Pictures.
Recent successes from festival alumni include Beijing-based Yan Cong, who was named a fellow of the first Abigail Cohen Fellowship in Documentary Photography, jointly presented by the Magnum Foundation and ChinaFile. Her current exhibition, "High Expectations, Hard Realities", the result of two years spent documenting the life of a Cambodian bride in China, is currently touring Cambodia.
"Through the festival, the exposure we provide has helped push the work of many talented photographers onto a wider international stage," says Lim. "It is a privilege to be able to witness their own professional and personal growth unfold over the years, and to be able to be a part of that."
In recent years, organisers have also joined forces with similar festivals, boosting exposure. This year's event sees them team up with Photojourn Festival in Bangkok, and presenting a selection of alumni work at the upcoming Tbilisi Festival in Georgia. Last year saw exchanges with events including Auckland Festival of Photography, Guatephoto in Guatemala, South Korea's Suwon International Photo Festival and Australia's Ballarat Foto Biennale.
The next instalment of the Angkor Festival takes place from December 3 to 10, and a call for submissions has been made. "We are open to all genres and themes, and a key focus has been to find work that effectively conveys a story or message," says Lim.
There are two categories for submissions. One is open to entries on any issue or topic, while the "Impact Project" seeks stories that showcase individuals and groups working to make a positive impact on social and environmental issues. In line with the rapidly changing landscape of photography, for the first time, multimedia entries will be accepted in both categories.
The workshops are open to student or professional photographers of Asian nationalities with less than five years' professional experience. Hopefuls are expected to submit a portfolio of work and personal statement, which are reviewed by tutors. "Each tutor has a different inclination, but I feel the one thing they have in common is that they look for photographers who have a distinctive vision and voice in their work, and who are committed to the craft," Lim says.
Programme co-ordinator Françoise Callier says she is eclectic in her selections. "I like work which is full of life, and asking real questions," she says. "Personal stories also move me a lot. It is about whether I can understand what is it the photographer really wants to say or tell. With some work, sometimes that isn't very clear."
Last year's festival attracted 28 photographers from Cambodia, China, Bangladesh, India, Iran, Russia and South Korea to its workshops. Among the swathe of experts taking part in portfolio reviews and seminars were Dean Cox, a lecturer at the journalism department of Hong Kong's Baptist University. Organisers hope the bar will continue to be raised.
Topics addressed in the 2015 edition included the difficulties of a relationship between a man and transgender woman, through Singaporean photographer Grace Baey's work.
Cambodian Vong Sopheak was inspired by Cambodian weddings and the white thread used in ceremonies. In his series, he uses the thread to bind couples together and explore the issues faced during married life. Russian photographer Vlad Sokhin tackles the effects of climate change by focusing on the small Pacific nation of Kiribati, said to be the most vulnerable to the effects.
"The role of photography in society today is the same as it has always been – to communicate," says Lim. "It remains one of the few mediums that surpasses the boundaries of language, and its uses are only limited to our imagination and interpretation."
To apply for the workshops or festival submissions, register at angkor-photo.com before July