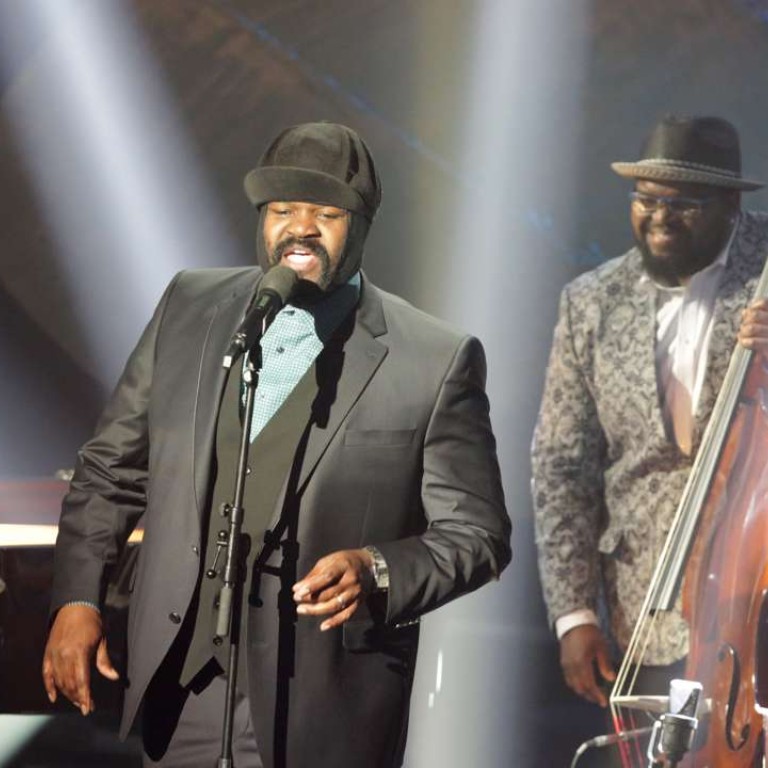 American jazz singer Gregory Porter hopes to ape his success in Europe at home
The Grammy-nominated artist, who played in Hong Kong in 2014, would love to come back to the city next year
Jazz singer and songwriter Gregory Porter, who has just released his fourth album, Take Me To The Alley, has conquered Europe and is working hard on building the same profile in his native United States.
He would also like to spend more time in Asia (he played the Hong Kong Arts Festival in 2014) but he and his hard-working band already perform an average of 250 shows per year.
"My schedule has been pretty intense for quite some time now," he says over the phone from the southern US city of Georgia, after playing the Atlanta Jazz Festival.
"Sometimes we get offers in Asia, and I'm unable to do it because of bookings in another part of the world. It's a matter of availability, but we had some strong energy with [2013 album] Liquid Spirit in Korea, and in Japan as well. I'm looking forward to more Asia tours."
Since the 2010 release of his debut album,
Water
, which garnered him his first Grammy nomination, Porter, 44, by then already a seasoned live performer, has emerged as one of just a handful of rising jazz artists able to sell CDs in appreciable volumes.
Liquid Spirit won not just a nomination but the actual Grammy award for best jazz vocal album, and went gold in the UK. He is so popular there that he was invited to take part in this May's major VE Day 70th anniversary celebration in London, singing as Time Goes By.
Porter – whose singing and lyric writing are heavily influenced by soul, blues and gospel as well as jazz – has also crossed over to pop success with the single Holding On, by electronica duo Disclosure, which he co-wrote and sang.
"It has been extraordinary," he says. "I'm grateful for it. Europe can see black American music from a distance and realise its value. Although in the US my shows sell out, and we have good record sales here, it's surpassed in Germany and the UK."
His whole musical success story might never have come to pass but for what turned out, on balance, to be a lucky accident.
While studying at San Diego State University on an American football scholarship he sustained a shoulder injurythat permanently took him out of the game. His mother, who had encouraged his singing since childhood, advised him to focus on music instead.
"Her sanctioning my trying gave me a goal. It took quite some time to get to a place where I could find the finance to record an album, but it felt like one of the best things I could ever do, and my mother made it all work for me, in a way," he says.
His first record company encouraged him to start out with an album of standard tunes, but Porter, had other ideas. "My own music wanted to get out. I've always had quite a bit of autonomy and self-direction. I felt that I had something to say and a way of saying it," he says.
He does feature songs by other writers in his concerts and on record – Liquid Spirit's single was a cover of the Dobie Gray hit The 'In' Crowd – but the greater part of his repertoire is self composed, and he sees his four albums as a single coherent body of work.
The success of
Liquid Spirit
set him a high bar, but
Take Me To The Alley
has been well received on both sides of the Atlantic.
"This record is basically an addition to Liquid Spirit," he says.
"It's all about irrepressible love and the desire for it to find its way. I'm probably doing the same thing as with the first record. It's about the ups and downs of love, and there's a dose of protest there."
The album includes a swinging, bare-bones remake of Holding On.
"We wrote that in the studio with the guys from Disclosure. I wanted to do the song again because it has that message of irrepressible love. It had been done with the full dance treatment, and I wanted to strip it down, almost to the way it had been written," he explains.
Recording with his regular road musicians provides him with a comfort zone.
"Chip Crawford, my piano player, has been with me since the beginning and [drummer] Emanuel Harrold. The crew has been the same. It's the easiest thing and the most comfortable. They know my style and what I'm trying to achieve.
"I don't have to go through a ton of explanation when I bring tunes in. They've been with me for all these records now. They know my story, they know my family. It just feels natural to play with people that really know my life."
Despite his full diary he is not yet road weary, so perhaps a return to Asia in 2017 is a possibility.
"The difficulties are to do with the mishaps of travel, when your bags are lost and so on. But being on stage in front of 1,000 to 5,000 people never palls," he says.
"An extraordinary exchange of energy happens – which is probably the reason why artists continue to do it long after they no longer need to financially."