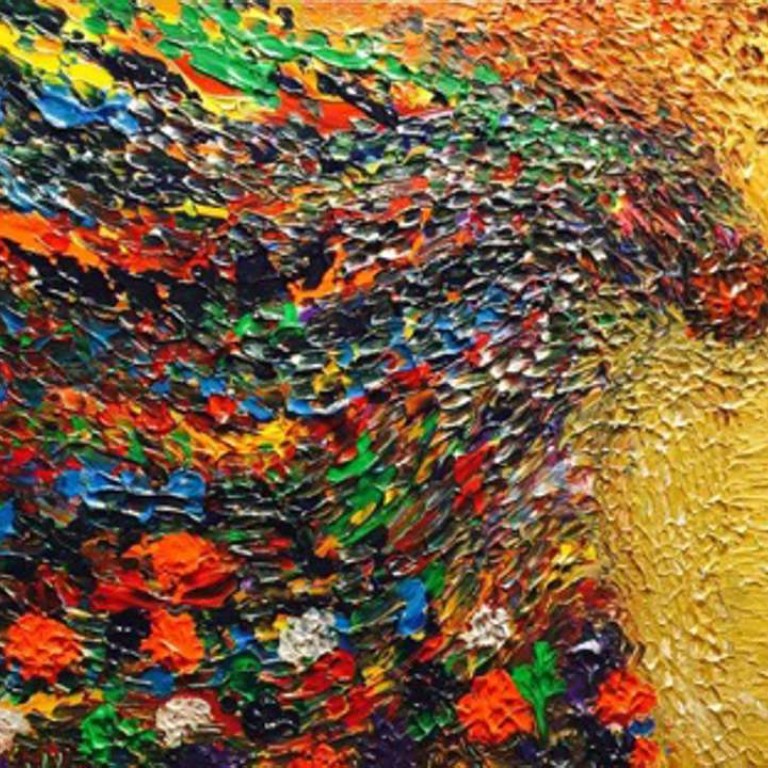 Hong Kong finger-painting ex-adman's self-promotion pays dividends
Justin Y spends more time promoting his work than making it, asks his clients what they like, and doesn't mind being called a commercial artist
Justin Whye didn't go to art school or receive any formal training in painting. What he did have was a passion for colour, enough to convince him to leave a job in advertising and become a full-time artist.
That was only two years ago and now his decorative art has found its way onto Penhaligon's perfume bottles, shop windows and lately, at the Cordis Hotel in Mong Kok.
The reason for his success is his talent for marketing as much as his artistic flair.
The 45-year-old – better known as Justin Y – was born in China but has called Hong Kong home for the past 15 years. He started in advertising and opened his own business as a brand consultant. His experience in the corporate world has helped tremendously with his career as an artist.
He spends the bulk of his time promoting his work rather than creating it. "The majority of artists from a traditional point spend 95 per cent of their time creating," he says. "But for me, I like the interaction with my clients. I like to know what they want, and why they like this particular piece of work. That creates more understanding and appreciation for what I should create."
Whye paints with his fingers, smearing colours not only on canvas, but also on cars, perfume bottles and handbags.
His flexibility in working with different objects and shaping his work according to clients' requests has helped him land more than 300 commissions with different brands including LuluLemon in IFC mall. His paintings at the exhibition are priced from HK$74,000 to HK$128,000 depending on the size of the work.
While many artists may have reservations about working with businesses for fear of losing their artistic integrity, Whye is not troubled by this.
"I've never been offended about being called commercial. Gone are those days when people think a commercial artist means an artist that is not good in terms of fine arts," he says. "If being commercial allows the artist to continue and sustain his career, then so be it."
While most local artists have studios in factories and industrial buildings, Whye's is located among investment banks and trading companies in the IFC.
"I do not want to be an artist that has a huge collection of works in a studio or storage which don't see the light of day," he says.
"Ultimately, art is a commodity. It's just wrapped and packaged differently."
His exhibition "A Call to be Free, A Call to be me" will hosted by the Cordis Hotel until July 15. The collection depicts the story of a prince who took revenge on warlords who stole his kingdom. Whye says it's inspired by the challenges faced by local youth today.
As for what these challenges are and who these evil warlords are hinting at? It's open to interpretation.
A Call to be Free, A Call to be Me, Level L, Cordis Hong Kong, Langham Place, 555 Shanghai St, Mong Kok. Until July 13