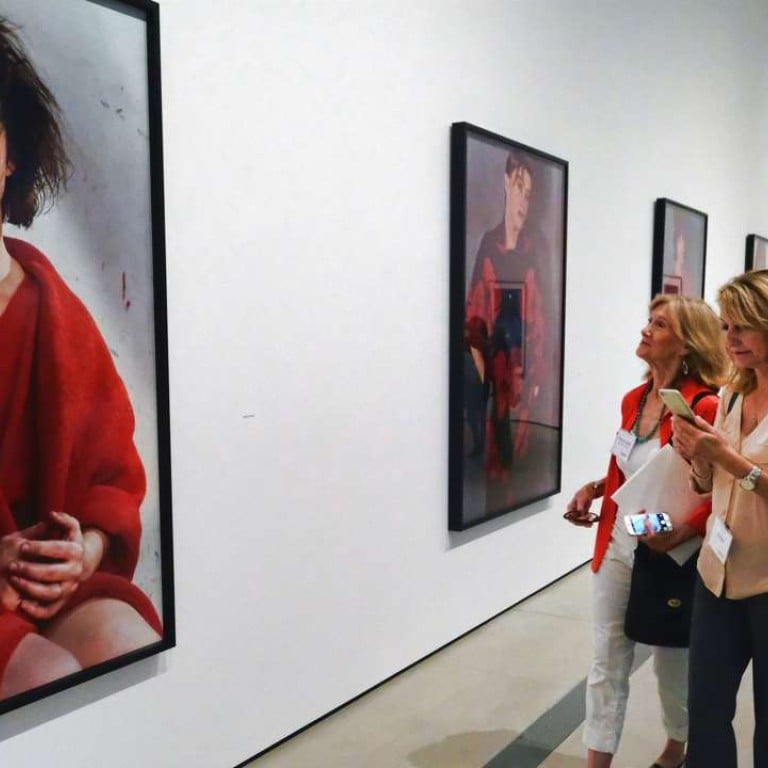 Cindy Sherman retrospective: artist confronts Hollywood clichés
From blonde Hitchcock starlets to ageing socialites to pin-up housewives, Cindy Sherman has imitated the spectrum of feminine tropes
Long before the selfie, there was Cindy Sherman, the shape-shifting artist best known for her often grotesque self-portraits.
For the first time in 20 years, some of her most influential works are going on view at The Broad contemporary art museum in Los Angeles, focusing on Hollywood's feminine clichés in the city that invented them.
From blonde Hitchcock starlets to ageing socialites to pin-up housewives, Sherman has imitated the spectrum of feminine tropes.
"She's produced some of the most influential work of her time," says Philipp Kaiser, the curator of the exhibition "Imitation of Life", which runs until October.
Sherman's works are worth millions and consistently break auction records. The artist plays her own model, donning elaborate costumes and garish make-up, that play on cinematic imagery.
Her all-encompassing retrospective includes work that plays off stereotypes from Hollywood's golden age, B-list horror films and even porn.
The show draws "on cinema roles in the shaping of identity and stereotypes", says Joanne Heyler, director of the Broad Museum.
The first major exhibition at the Broad since its grand opening in September 2015, features 120 pieces created over four decades by Sherman.
The works come mostly from the collection of real estate mogul and philanthropist Eli Broad, a long-time collector of the 62-year-old artist's work.
Broad designed Los Angeles' newest contemporary art museum to house his vast art holdings, including the world's largest collection of Sherman pieces.
"Cindy has held for a long time a very special place in our collection," says the wealthy businessman, who remembers being dazzled when he discovered her work in the 1980s.
The show comes at a poignant moment, as critics lambast Hollywood for the lack of recognition given to women in the industry at the same time that Hillary Rodham Clinton could become the first woman in the White House.
"It's a particularly interesting time to present to the public the work of an artist which questions the way the media shapes feminine identity in images, and how, as an artist, she talks back to these images," says Heyler.
Each of her photographs resemble a short silent film, she adds.
Sherman sometimes employs the same techniques old Hollywood is known for, including large-scale projections that resemble frozen film screens, reproduced on entire walls of the Broad.
She also poses with comically frightened expressions, as if taken aback in the style of a "damsel in distress", putting herself in submissive positions.
In another image, she takes the opposite perspective and adopts the "male gaze", expressing desire with a bold stare.
The New York artist's body of work also includes imagery from fashion magazines, like a satirical photo series that plays on images from the '80s. In those works Sherman poses in chic designer outfits with chalky make-up, slumped shoulders and greasy hair.
Because Sherman is her own model, her subjects age along with her, says Heyler.
The artist's 2008 series satirises ageing society women, clad in sequins with impeccable blowouts.
In her most recent pieces, recently shown in New York, Sherman plays 1920s stars including Marlene Dietrich and Greta Garbo, with their extreme eyebrow arches, turbans and theatrical poses.
"Imitation of Life" will also include Sherman's black comedy film Office Killer, a special screening of the artist's directorial debut, appropriately looping in a city defined by its film industry.
This article appeared in the South China Morning Post print edition as: Sherman holdsa mirror up to selfie culture