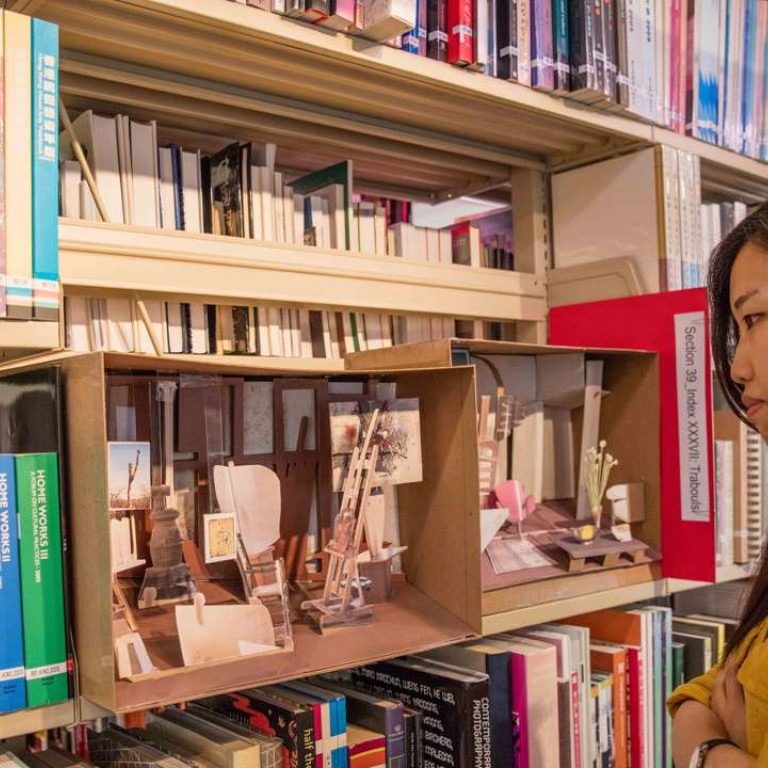 With Hong Kong show, Lebanese-American artist Walid Raad subverts the idea of the canon
Raad's exhibition at the Asia Art Archive uncovers a hidden connection between prolific Hong Kong artist Ha Bik-chuen and the Middle East – or does it?
A Lebanese-American exploring Middle Eastern art history has found an unlikely link in Hong Kong: a decades-long collaboration between a Beirut-based artist and Ha Bik-chuen, who died in 2009.
The fact that this previously unknown partnership was discovered by Walid Raad, the subject of a recent retrospective at the Museum of Modern Art in New York, makes its veracity suspect, for he is a known prankster of the art world. True or not, the tale nonetheless provides a fascinating way of looking at the compilation of history and the idea of the canon.
Ha, a prolific Hong Kong painter, printmaker and sculptor, kept a fascinating archive in his To Kwa Wan studio – soon to be moved into a dedicated, Jockey Club-sponsored space, managed by the Asia Art Archive.
He kept detailed records of every exhibition he attended and countless scrapbooks filled with an odd assortment of newspaper cuttings, pictures of art, furniture and soft porn. Some of these cut-outs were pasted on to pages of interior design books, interfering with scenes of idealised domesticity.
Raad says Lebanese artist Suha Traboulsi (born 1947) first met Ha in 1962 when she travelled to Hong Kong to conduct research on Chinese calligraphy. From then until Ha's death, they worked on a series of collages together.
Raad has placed some of these in the Asia Art Archive's library, squeezed between reference books on Middle Eastern art, art education and individual artists that he has selected.
Among the exhibits are three-dimensional dioramas made from Ha's fantasy version of London interiors, in which Traboulsi added miniature copies of some of her favourite paintings by Arab artists.
Traboulsi, Raad says, picked paintings by relatively obscure Arab artists.
"I don't know that much about the paintings. These are paintings I'd like to investigate more, to see how they may fit into an emerging canon of Arab art."
It is difficult to tell which paintings were Traboulsi's choices and which are Ha's, and that's the point.
"Placing them in this artificially created space, like Ha did with his cuttings, is one way to bypass the organisation of the emerging canon by genre, periods and formal tendencies," says Raad.
"Ha selected certain images and housed them in this entirely new space. He didn't place them in museum-like spaces, in white cube spaces for example. He chose domestic spaces," he adds.
Personal selections can become the official canon. "All major museums in the world originated as personal collections, after all," says Raad.
Raad, who never met Ha, may well be Traboulsi himself. His modus operandi is to hide behind fictional characters, such as an artist collective called the Atlas Group that embarked on a 15-year project to document contemporary Lebanese history.
Except there was no collective. It was just Raad, an artist and academic born in Lebanon, who has lived in the US for many years.
He got to know of Ha's archives when came here in 2014 for a residency at the AAA, which was focused on whether parallels between Arab and Chinese art histories could help him approach the building of a Middle Eastern canon.
As Hong Kong pours billions of dollars into new art spaces, the Middle East is also rushing to build museums after a long period that saw little investment in culture, he says.
Most new museums in the Arab world are being built too quickly, Raad thinks.
"They think they can just dust off some paintings and then arrange them chronologically and/or formally and/or conceptually and/or by genre. But art history isn't linear. Artworks and artists collaborate with the past and the future, with other artworks and non-artworks," he says.
"Ha's approach seems cognisant of this. It was somewhat esoteric, personal, and definitely not art historical. It avoids, among other things, the high/low distinction."
There is a reason why Raad feels strongly about finding a new approach to compiling a history of Arab art. He has found that a number of artists in the region are stuck making pastiches of old art, a practice he attributes to a century of violence in the Middle East.
"Violence doesn't just destroy museums. It doesn't just affect artists and the audience by traumatising them. It can affect artists in other ways," he says.
These artists are not trapped repeating the old as a postmodern practice of appropriation, but as an act to fill a void left by so much destruction.
"One analogy is a vampire's reflection in a mirror. It is not visible to normal human beings. But some people, like artists, may be more sensitive. They may look in the mirror and sense that they can't see the vampire's reflection," Raad says.
He attributes this particular way of describing Middle Eastern cultural heritage to his philosopher friend Jalal Toufic.
"Toufic is a real person but because I quote him, some people think he's made up by me," Raad says.
As for Traboulsi, all he will say is that they have worked on the AAA exhibition together and that she is an inspiration that he relies on.
15 Invitations for 15 years: Walid Raad, Section 39_Index XXXVII: Traboulsi, Library, Asia Art Archive, 11/F Hollywood Centre, 233 Hollywood Road, Central. 10am-6pm, Mon to Sat. Until September 3
This article appeared in the South China Morning Post print edition as: a looser canon