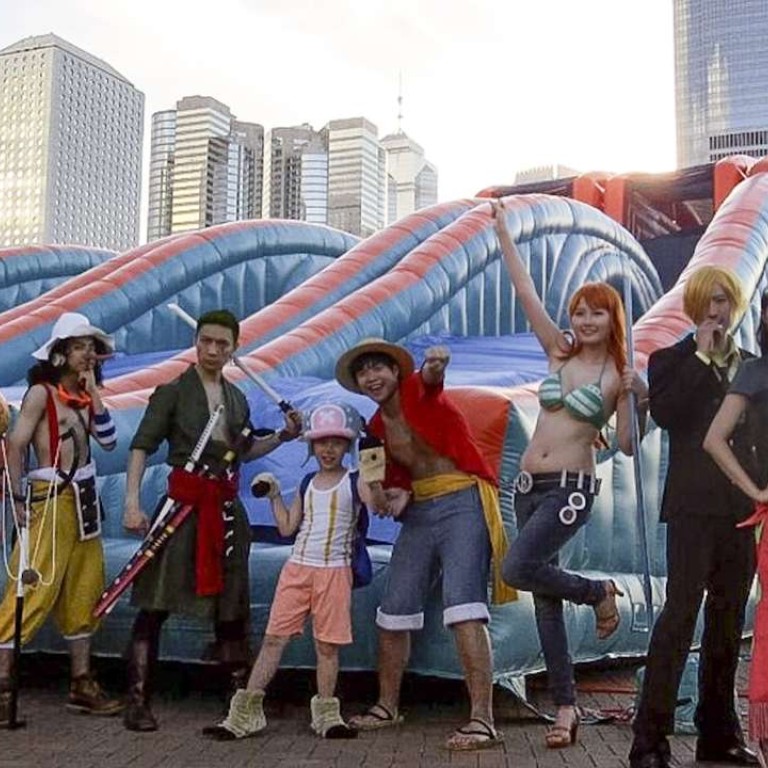 10 events to keep Hong Kong schoolchildren entertained over the summer holiday
Carnivals, fairs, concerts, shows – indoors or out, there's something for every child between now and the end of August at various venues in Hong Kong and Macau
School holidays have begun or are about to start in Hong Kong, so we've put our heads together to come up with some family-friendly events in the city and over the water in Macau to help you and your children get the most out of the summer break.
One Piece Carnival
To the delight of anime fans, a One Piece-themed carnival is being held in Hong Kong for the first time. Test your balance on an obstacle challenge while being attacked by water guns, or race your friend down the water slides. There are also photo opportunities, with a huge pirate ship, a seven-metre tall Luffy and other characters from anime.
The entry fee is at HK$50, with extra charges for various attractions, or HK$400 for a day pass giving you unlimited access to attractions.
July 8 – August 7, Central Harbourfront. Inquiries: 6989 1836
Mega Summer Carnival
The Lai Chi Kok Amusement Park will be revived for a second summer this year. Children can take part in activities such as the Inflatable Mad Dash, the XRace featuring electric go-karts, and the Petite Family Garden.
July 15 – August 7, AsiaWorld-Expo, HK$70 – HK$180, Inquiries: 6524 4557
The International Arts Carnival
Also kicking off on July 8 is the International Arts Carnival, which will bring an array of varied and colourful performances to Hong Kong. With acts by artists from Japan, the UK, Taiwan, the Netherlands, Australia and Hong Kong, the carnival features a puppet musical, robot dance, concerts, magic and more. Start your summer adventure with the opening programme The Wonderful Wizard of Oz (July 8-10 at the Hong Kong Cultural Centre), an enchanting multimedia theatre show from Japan.
July 8 – August 7, various venues. Inquiries: 2370 1044
Vienna Music Festival
Encourage the flow of creative juices by taking your children to the Vienna Music Festival. A multi-layered platform of concerts, educational workshops, music camps, training tours and community programmes, this festival is the ultimate artistic experience for young minds.
The Festival will feature a performance of Mahler's Symphony No.8 by Viennese and Hong Kong musicians under the baton of conductor Jimmy Chiang.
July 15, Hong Kong City Hall (Concert Hall), HK$200, Inquiries: 2997 1393
Hong Kong Book Fair
The Hong Kong Book Fair returns with a new theme – Chinese martial arts literature. Children's books in various genres will be available in abundance. Children attending the fair can dodge the queues at the main entrance by using a special passage from the left-hand side of the venue's Harbour Road entrance, which leads directly to the Children's Paradise.
July 20 – 26, Hong Kong Convention and Exhibition Centre, HK$10 (child), HK$10 (morning admission – adults), HK$25 (adult)
Ani-Com&Games
The 18th edition of the Ani-Com&Games Hong Kong will be packed with animation, comics, games, toys and limited edition collectibles. Highlights this year include a dance power competition and a cosplay contest.
Asian Youth Orchestra Concert Tour
Why not attend an Asian Youth Orchestra concert this summer? Each year the orchestra draws together the best young classical-music players from across the region in Hong Kong for a series of workshops and concerts in the city and elsewhere. Pianist Alicia de Larrocha and soprano Elly Ameling will perform with the orchestra.
August 5-6, Hong Kong Cultural Centre, HK$340. Inquiries: 2866-1623
Slide the City
Slide the City will be back on the Central Harbourfront at the end of August. Speed down the 10-metre-high slide, enjoy some music, or sunbathe on an artificial beach.
August 24-29, Central Harbourfront Event Space, Central, HK$180-HK$580 republicticketing.com. Inquiries:
[email protected]
Shrek The Musical
Shrek the Musical will be in Macau as part of the production's first international tour. Based on the DreamWorks Animation film, it features our favourite ogre trying to save the princess from her midget prince with the help of a donkey.
July 22- August 7, The Venetian Theatre, HK$180-HK$580, VIP HK$780. Inquiries: +853 2882 8818
Blue Man Group
Children – and adults – are bound to enjoy Blue Man Group – a show that combines comedy, theatre, a rock concert and dance party to create a fully immersive audio visual experience.
August 11 – August 28, The Venetian Theatre, HK$380-HK$880, Inquiries: +853 2882 8818
And finally ...
The school holidays will be over by the time this show reaches Macau, but we thought we'd include it - your kids will probably be making a big noise about going over there to see it.
Stomp
An eclectic combination of percussion, dance, theatre, and comedy, STOMP features an explosive soundtrack inspired by everyday items including lighters, bin lids, plastic bags and kitchen sinks.
September 23 – October 9, The Venetian Theatre, HK$180-HK$580, VIP HK$780. Inquiries: +853 2882 8818 (Macau), 6333 6660 (Hong Kong)