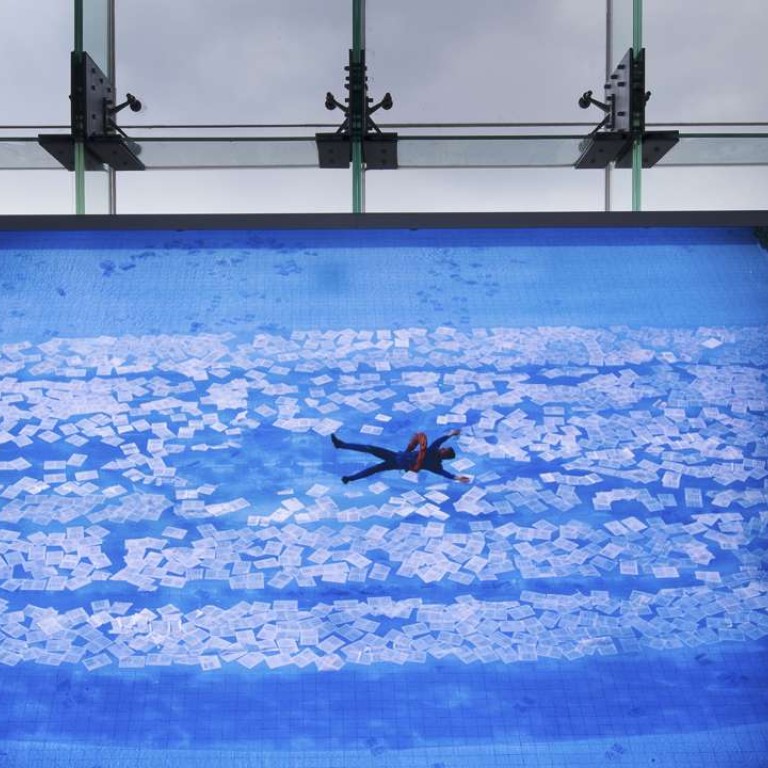 Censorship and ravages of time weigh on Guangzhou art group's playful retrospective
For 25 years, Big Tail Elephants collective has used candid humour to explore Guangdong capital's social and physical changes, but surveillance state's heavy hand has squeezed the space for expression they once enjoyed
Big Tail Elephants, the 1990s Guangzhou collective, used art to explore a brave new world in which capitalism displaced communist values and the familiar geography of a city was being redrawn by rapid urbanisation.
Apart from their shared interest in contemporary society, humour bound the art collective, as is apparent in a tribute at Guangzhou's Times Museum.
But there is a poignancy that tempers the playful tone of the retrospective – one member of the collective is now dead and another seriously ill.
The space for uncensored artistic expression has also shrunk in the two decades since Big Tail Elephants were active, and few artists in China dare to be as direct and candid as they once were after President Xi Jinping said in 2014 that art should exert "positive energy" and promote Marxist values.
"We now live in a surveillance society where impromptu performances of the kind that Big Tail Elephants engaged in wouldn't be allowed. Also, they used to perform in public space across the city. Today, those places have been taken over by commercial development," says Nikita Yingqian Cai, co-curator of the exhibition.
Another difference is the media coverage. Back in the 1990s, state-owned Guangdong Television promoted Big Tail Elephants shows. Today, the Guangdong media is discouraged from covering contemporary art exhibitions that have not been thoroughly vetted by the censors.
Still, around 2,000 visitors have travelled to the Guangdong Times Museum, located in a Guangzhou suburb, in the opening weeks of the Big Tail Elephants show.
The six-year-old museum is an apt venue for their work – Big Tail Elephants is a nonsensical name the artists chose to describe their bewilderment and fascination with China's rapid transformation. The panoramic view from the museum's terrace, on the 19th floor of an upmarket apartment block, is a microcosm of the kind of urban sprawl that was growing across China when the collective started exhibiting in 1991.
This part of Guangzhou used to be a rural village on the fringe of the city. Today, only a small green plot remains in front of the museum after warehouses and factories began going up in the 1980s.
Then, in the late 1990s, residential developments popped up in anticipation of the 2010 opening of the Huangbian underground station. Times Museum is located in one such property, courtesy of the building's developer, Guangzhou-based Times Property (the company's chief executive officer, Shum Chiuhong, is the honorary director of the museum, designed by Dutch architect Rem Koolhaas).
The current crisis at the Ullens Centre of Contemporary Art in Beijing has highlighted the precarious nature of China's many private art museums. So far, Shum has been a magnanimous owner who gives free rein to Times Museum to do everything from school outreach to translating and publishing Western academic books on curatorship.
At the same time, the museum has built a reputation for thoughtful exhibitions under the aegis of Hou Hanru, the Guangzhou-born artistic director of MAXXI National Museum of the 21st Century Arts in Rome who played a major role in the founding of the museum and remains an academic consultant.
Hou happened to be the sounding board for Chen Shaoxiong, Lin Yulin, Liang Juhui and Xu Tan when the four friends came up with the idea of Big Tail Elephants in 1990, and his illuminating private correspondence with the artists is included in the exhibition. Hou is also the curator of Chen's biggest solo exhibition yet, at Shanghai's Power Station of Art, which runs until September.
This flurry of activities is prompted by Chen's ill health, his supporters eager to exhibit his work while he remains active. The 54-year-old artist was too weak to attend the opening but Lin and Xu helped in the preparations, which included the recreation of temporary installations the group made for five exhibitions in the decade when they showed together (Liang died in 2006).
Lin reproduced his 1998
X Billion-and-First Person III
at the exhibition entrance. Banknotes are stuffed into the cracks of a wall made with cheap, grey bricks and a gap is left in the shape of Lin's body (which he stood in all day at the opening). It was a prescient comment on art and artists being absorbed into the global art market. Next to it are two photographic installations by Liang which compare factory workers to cockroaches and ants, scrambling towards a bag of sugar suspended inside a burlap bag.
The originals were made for the 1998 Big Tail Elephants exhibition at Kunsthalle Bern in Switzerland.
Most of their art was seen outside formal exhibition space back then, such as Liang's Game of Numbers, a site-specific performance in 1996 where he distributed smuggled Western and Hong Kong music and films in a well-hidden stairwell, a reference to a popular way locals gained access to uncensored materials. In fact, the group named their 1994 exhibition "No Room" to reflect the ephemeral nature of many of their projects in an era when there was no contemporary art space in Guangzhou.
One installation from that show was Xu's
Alterations and Extensions of 14 Sanyu Road, Guangzhou
, which is reproduced at Times Museum.
It is a two-storey model of a house that, in Xu's view, could have been turned into a permanent art space that was financially sustainable and captured the "everything goes" essence of that era. The ground floor would be occupied by the Libreria Borges Institute for Contemporary Art, a real-life bookshop and art space that symbolised China's reconnection with the rest of the world since Deng Xiaoping's economic reforms.
Its operation would be subsidised by the upstairs "hair salon", the 1990s pseudonym for the small-scale sex businesses that flourished in Guangdong to serve Hong Kong and Taiwan factory owners. The exhibition features photographs of a naked Xu posing with a woman and pretending to be a potential client at 14 Sanyu Road.
Other artists across China used experimental media such as videos and performance art to make radical statements in the 1990s, as shown in the current exhibition at Para Site in Hong Kong, called "That Has Been, and May Be Again".
But Big Tail Elephants stood out for their irreverent humour and the way they observed society and asked questions as ordinary people, rather than making pronouncements as many artists were wont to do, according to Cai.
One exhibit also raises the possibility that there was a common je ne sais quoi shared by Pearl River Delta artists. Liang's Emptiness was a 1994 performance in which he sat in a room and blew up 300 coloured balloons.
In 2006, the year Liang died, Hong Kong artist Pak Sheung-chuen sat in a room and blew into hundreds of plastic bags which he tied up like balloons. Pak, who attended the opening of the Times Museum exhibition, said he was not aware of Liang's work before he made Breathing in a House.
"The background to my piece of work was my own living environment. My little flat was so small I could hear my own breathing. It's very interesting to see what Liang did then. There is something that ties artists in the region together. We drink the same water, we are influenced by the same pop culture and we speak Cantonese," Pak says.
Operation PRD - Big Tail Elephants: One hour, No room, Five shows, Times Museum, Times Rose Garden Phase III, Huangbian North Road, Guangzhou. Tue-Sun 10am-6pm, until Oct 7
This article appeared in the South China Morning Post print edition as: the last laugh