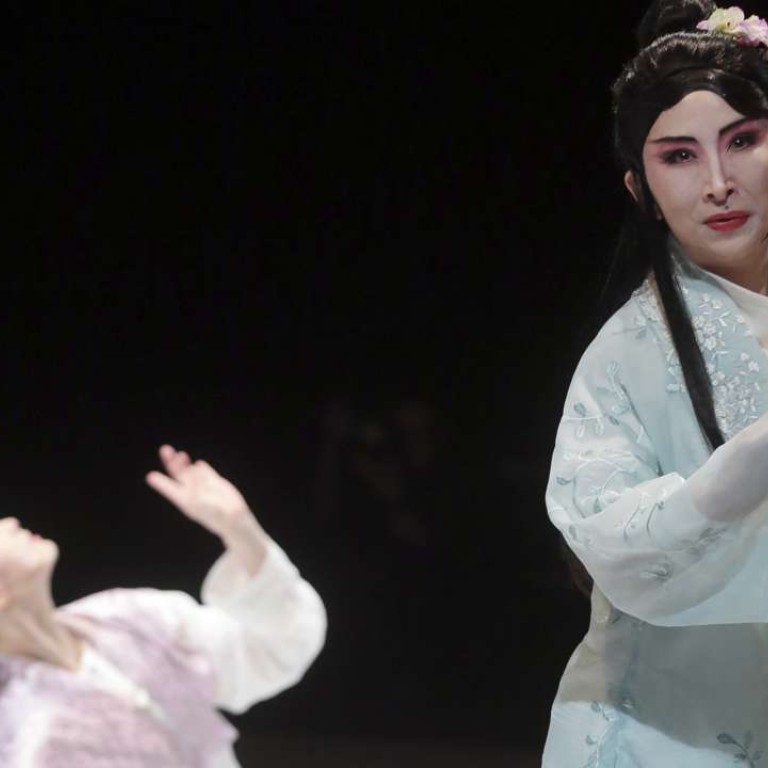 Hong Kong dance triple bill inspired by Dream of the Red Chamber a mixed affair
A heartfelt solo from the remarkable Yang Yuntao, and Helen Lai's fascinating take on characters from the Cao Xueqin drama, both succeeded, but Ho Ying-fung's experimental theatre was incomprehensible
Hong Kong Dance Company continues its ambitious programming policy with Reveries of the Red Chamber. A triple bill described as "experimental dance theatre", two of the pieces were supposedly inspired by Cao Xueqin's Dream of the Red Chamber, hence the title.
Experimentation and the willingness to take risks are essential for any art form. That said, some risks are more worth taking than others – and they should be relevant to the art form in question. Here, while the risk paid off handsomely in While the Dream Unfolds by Helen Lai Hoi-ling, doyenne of Hong Kong contemporary choreographers, the decision by theatre director Ho Ying-fung to stage The Enigma of the Stone was a head scratcher: the piece had little to do with dance and was not so much enigmatic as incomprehensible.
The programme was completed by Blanc, a solo created and performed by the troupe's artistic director, Yang Yuntao. Set to the music of Tibetan nun Ani Choying Drolma, this slow, controlled and heartfelt performance showed that Yang is still a remarkable dancer and it was a pleasure to see him on stage again.
While the Dream Unfolds is an impressionistic view of characters from Dream of the Red Chamber, performed by 12 dancers all dressed in white. This was Lai's first piece for this company and it was fascinating to see how, as with the contemporary dancers she usually works with, she was able to bring out new facets of the performers while making the most of the glorious flexibility and fluidity their Chinese dance training gives them.
The piece was further enhanced by the presence of the great Chinese opera singer Tang Yuen-ha, who not only sang superbly but created an exquisite piece of calligraphy live on stage. Calligraphy and the written word are recurring themes in Lai's work and are cleverly integrated at the climax of the piece as the dancers engage with an endlessly unfurling scroll of white paper on which Chinese characters are projected. They struggle, enmeshed in its folds, but remain trapped in their fate – or in the pages of Cao Xueqin's book.
This effortless incorporation of Chinese opera and calligraphy and the effective use of the setting in the round were a model of what experimental dance can achieve – and all without losing sight of the art form's core identity: movement.
In bleak contrast, The Enigma of the Stone seemed dated as experimental theatre and could certainly not be defined as dance.
A man in a wheelchair (a clever performance by actor Andy Ng) speaks or chants while figures with veils wrapped round their heads wander around carrying shallow basins with black stones in them (inadvertently reminiscent of bedpans) and a half-naked man, also with veiled head, writhes in the middle of the stage or crouches balancing on a larger stone (inadvertently reminiscent of a frog on a rock).
Reveries of the Red Chamber, Hong Kong Dance Company. Hong Kong Cultural Centre Studio Theatre. Reviewed: August 5