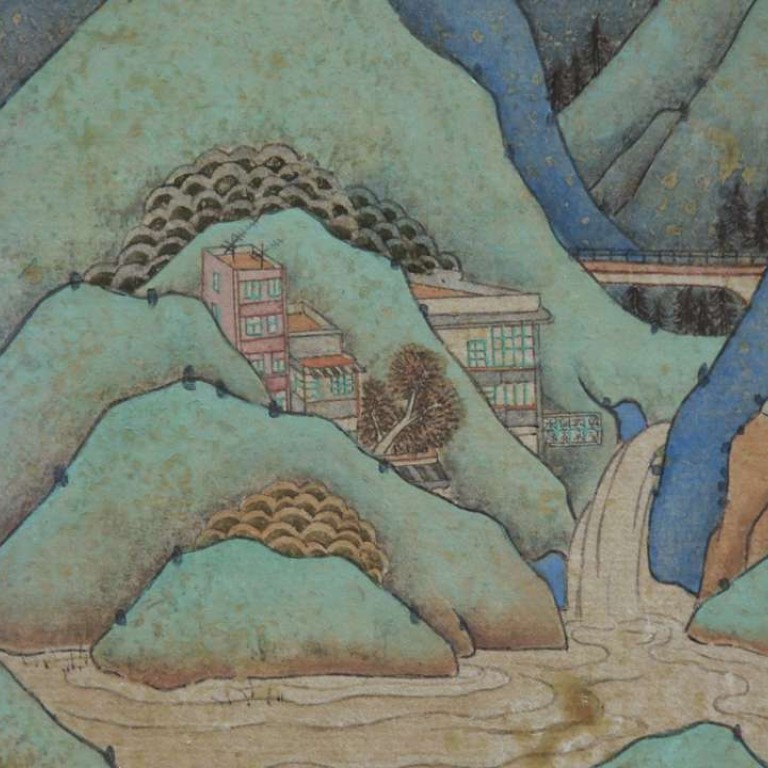 The Hong Kong artists using traditional fine-brush technique to depict modern themes
Barbara Choi intersperses classical imagery with scenes from Hong Kong streets, while a fellow Chinese University graduate puts swimming goggles on kabuki actors
There is one school of Hong Kong painters which enjoys a well-established fan base: contemporary gongbi artists. These followers of the Chinese fine-brush tradition apply classical techniques to modern themes, often with great aesthetic appeal.
Barbara Choi Tak-yee, 30, is one of this new crop of artists to have emerged with a distinctive personal style. Her paintings, on show at Grotto Fine Art in Wyndham Street, Central, until August 23 – a taster for a solo exhibition in October – are colourful Chinese shanshui (brush and ink) landscapes with a twist.
Hidden among traditional elements, such as stylised mountains and ribbons of mist, are Hong Kong landmarks such as the embroidery shops in Shanghai Street, Kowloon, and the Flower Market in Mong Kok.
"I learned my gongbi techniques at the Chinese University of Hong Kong and I loved drawing goldfish. To get better at it, I used to study the goldfish at the Mong Kok goldfish market a lot – which was why I noticed a lot of the goldfish sellers, as well as many old shops around Hong Kong, were fast disappearing," she says.
Her paintings are her way of resisting change, and despite their modern subject matter she is a stickler for tradition when it comes to materials. She gave up a shared studio in Fo Tan because the water quality was poor – an issue when mixing with mineral pigments – and because the place was too dusty for drawing on silk.
Chan Kwan-lok, 24, also picked up gongbi painting at Chinese University and his ink-on-paper drawings usually have something to do with water. They include killer whales coming up for air – a most unusual subject in Chinese paintings – and Japanese kabuki actors with swimming goggles. The latter series, called Take Your Mark, combines Chan's love of Japanese art and swimming. "These eight guys are warming up ahead of a swimming competition. I know how it feels: you're nervous, you're excited, you're feeling a mix of emotions. I wanted to exaggerate the facial expressions, which is why I made them look like characters on stage," he says.
He only graduated in 2015 and is still exploring different styles, he says. This former competitive swimmer wants to keep testing his own limit. For a solo exhibition in September, he plans to experiment with thumb-sized works.
This article appeared in the South China Morning Post print edition as: Young artists offer a fresh take on an old-school technique