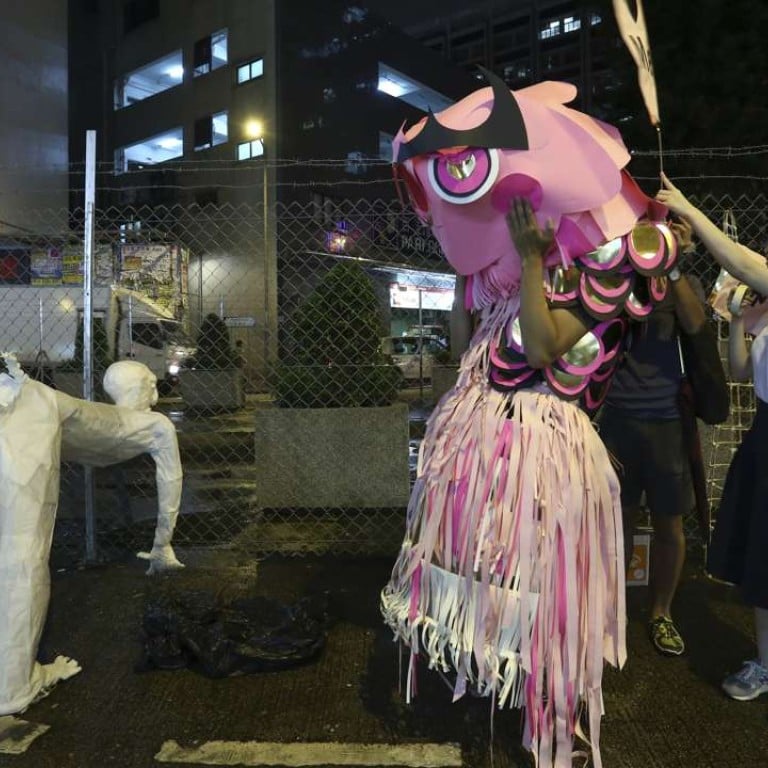 Burning rage: Hong Kong performance artists light up the night
In their own Yu Laan Hungry Ghost Festival, local artists burn paper effigies to vent their frustrations at the government and reflect Hongkongers' anger
It was Tuesday evening outside Prince Edward MTR station. The earlier thunderstorm had eased into light rain and pedestrians had resurfaced, much to the relief of the Fa Yuen Street market stallholders and the determined ice cream van parked in Nullah Road. Most walked purposefully, probably on their way to dinner, stealing quick glances at the cheap bric-a-brac on offer along the way. Others found tolerably dry seats in a small sitting-out area, hoping to spot someone they knew. It was a perfectly ordinary evening in this sleepy corner of Kowloon.
At 7pm, a local artistic duo called C&G Artpartment arrived on the scene and lit a fire in a tin can, and suddenly it wasn't so ordinary any more. As Clara Cheung Ka-lei and Gum Cheng Yee-man explained, Tuesday was Yu Laan, or Chinese ghost festival, and they were staging a special ritual at the junction of Nullah Road and Prince Edward Road West.
This location was the meeting point of three evil fung shui forces (
Saam Saat
), they said, so there ought to be plenty of ghosts floating around as the gates of hell opened, hungry for burnt offerings. Cheung prepared a paper model of a man with, it seemed, a gaping hole in his bottom. Summoned by the blaze, a giant, pink fish appeared, as well as a man in a suit wearing a large woman's hat that Cecil Beaton would have approved of.
These were some of the combustible offerings prepared by C&G's artist friends in a street performance called Burning Your Account Book.The Cantonese title is Siu Nei So Bo, just two consonants shy of a common profanity. The "account" part came from the popular demand for Leung Chun-ying, the Chief Executive, to account for his 2012 election promises.
"We want to pay respect to the ritualistic tradition of Yu Laan. We also see the burning of offerings as a way to vent our frustrations and to make our wishes known. Let's see if we can burn away some of Hong Kong's anger," said Cheung, who with Cheng has produced a number of public performances that are critiques of public policies and society.
Burning Your Account Book is part two of a series of protests against what they call the "West Kowloonisation" of Hong Kong's artistic environment – a reference to the future cultural centre – and also, the gentrification of old neighbourhoods such as Prince Edward.
The first artist to set something alight was Jessica Chan Wai-tung, whose act of burning two life-sized models of babies was more chilling than cathartic. It was a reflection of how Hong Kong failed to provide spiritual or cultural nutrients for babies to grow up whole, she explained.
Next, Scotty So appeared wearing his elegantly slanting black-and-white hat with a brim wide enough to shelter a couple of people from the rain.
"This is called If You Don't Have Such A Big Head, Don't Wear Such A Big Hat," he said. It was a plea to those in government who tried to keep up a facade of competence when they were clearly out of their depth, he added. The hat quickly disappeared into the fire.
The pink fish turned out to represent all those poor goldfish being sold in plastic bags in Prince Edward for luck. Rik Yu Wing-kei, completely covered in the paper and bamboo construct, asked the audience to strip off his pink scales and toss them into the fire for luck. When the scales had disappeared, they moved on to the fish body. Like the remnants of a steamed fish at dinner, Yu was left with just the head, which he coolly shoved into the flames.
Other artists around the bonfire included Eddie Cheung Wai-sum, Karen Cheung Hoi-lam, Lau Hok-shing, Ting Lap-tak, Jaffe Tse, Yu Kei-kei and Shandelier Yu Pui-shan, who threw in paper money, a fake gold nugget hidden inside six boxes, a face cover that represented self-protection, and models of an eyebrow and a fence. The latter two, when preceded by the words "the fire has reached", mean imminent danger in Cantonese.The finale was the burning of that strange man with a hole in his back. Cheung explained that it was
Spineless Man
– closer inspection revealed the snapped spine jutting out of the hole – a common species that walked the streets of Hong Kong, she said.
"We'd like to send him off to the next world," she declared, as the fire slowly engulfed the model. Cheung threw something else in after him – a thick wad of an accounting book with 689 pages, the same number of votes that Leung received to get the top job in 2012.
Did the burning help douse some of the palpable anger behind the performances? It is unlikely in Cheung's case. The following day, she would be notified that one of the artistic groups she chairs had lost its right to vote in the Sports, Performing Arts, Culture and Publication functional constituency of the forthcoming Legislative Council election.
She argued that the move had no legitimacy and that she would challenge the decision. If it had arrived a day earlier, it would probably have ended up in flames.