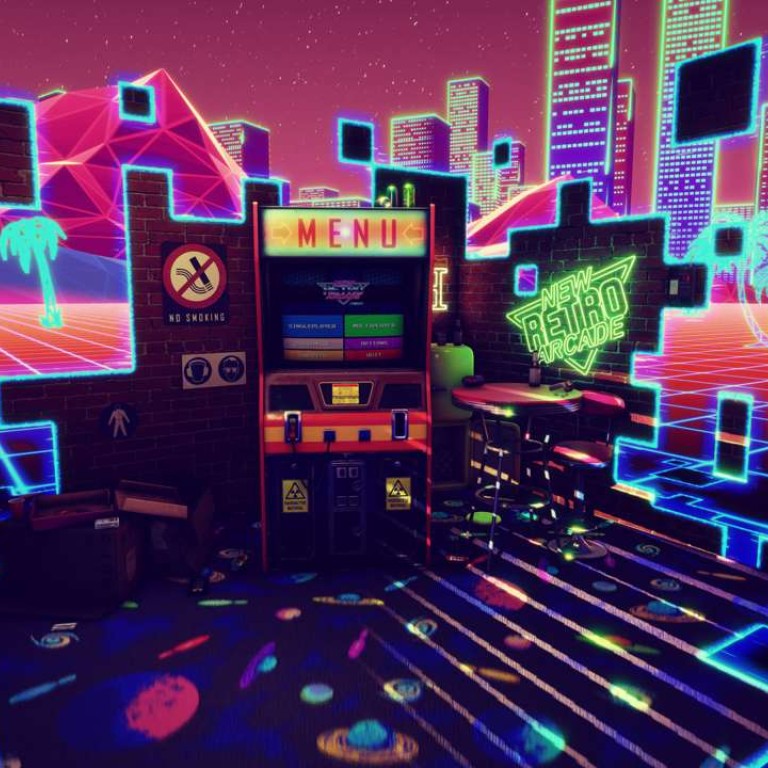 Game review: New Retro Arcade: Neon – relive the good old days of arcade fun
If you're hankering for some old-school ambience, this recreates the charms of the all-but-extinct traditional arcade – beer cans, ashtrays and all. Shame there's no multiplayer, though
New Retro Arcade: Neon
Digital CyberCherries
3/5 stars
If you were born about the turn of the millennium, it's unlikely you've ever truly experienced a real gaming arcade. Sure, there might be one on the corner of your street, but Hong Kong's "game centres" aren't really arcades any more: they're tucked-away gambling establishments, spots for old folks to spend their golden years, rather than places where youngsters drop dollars on vast virtual worlds.
The assault on the senses of walking into an arcade is now all but lost: the dizzying sight of massive gaming machines, the endless sounds of chiptune music, the stifling smell of cigarette smoke. But with virtual reality comes nostalgic recreations, and New Retro Arcade: Neon is sending us back into the classic game arcade.
A paid upgrade of what was initially a free Oculus Rift PC download when the headset was first launched, Neon is the ideal fever-dream of an arcade: as well as the dozens of gaming machines that line its dark and dingy walls, there is family-friendly entertainment like whack-a-mole, air hockey, darts, punching bags, mini basketball, a two-lane bowling alley and a retro console machine.
The only major problem ? While all those standardised forms of entertainment are easily playable, popping a coin into any of these virtual machines results in nothing happening. You need ROMs here to bathe in the nostalgia – tiny files that are easily procured with a quick Google search. And despite the questionable legality of downloading your favourite classic licensed games and loading them up in a virtual arcade, Neon all but encourages the practice.
Then there's the lack of multiplayer, a major drawback considering shoulder-to-shoulder play was a large part of an arcade's appeal. You can swan around the arcade with your online pals, but the emulators on-board here don't support multiple players. We know that isn't the developer's fault, but it's still a little sad.
As well as the Oculus Rift, Neon is also available for the HTC Vive, as well as just a download on your standard computer – the latter is how I tested it, and while it certainly lacked the immersion of virtual reality, there's no denying its sentimental charms. This truly feels like a real arcade, beer cans, ashtrays and all.
Issues might arise with the games themselves and with the lack of multiplayer functionality, and both of those no doubt make it difficult for the casual gamers of the world. But if you're hankering for some retro arcade action, you know what to do.