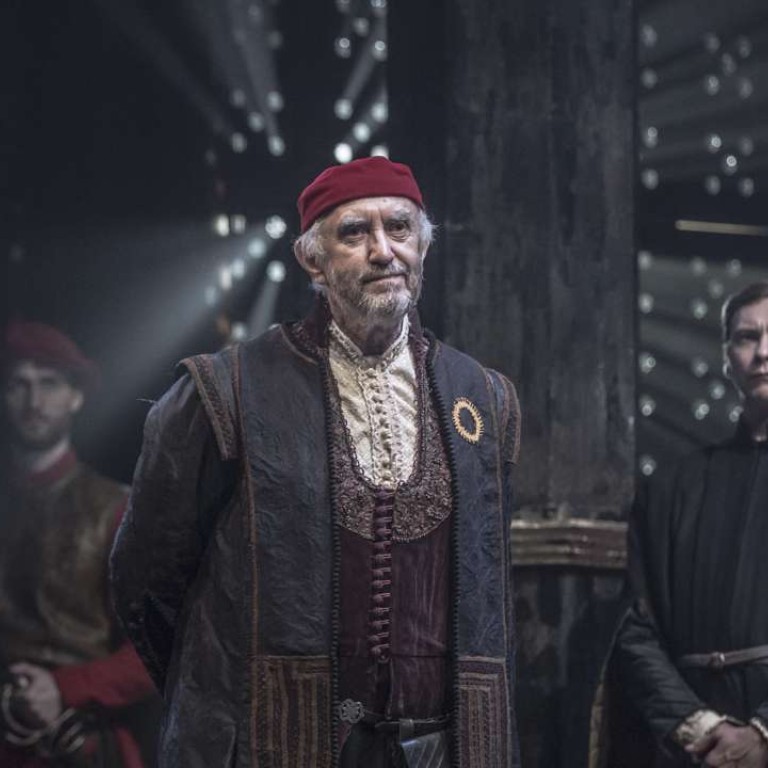 Jonathan Pryce, award-winning everyman actor talks about diversity and success
The Welsh actor has appeared in a multitude of films and dramas: from James Bond to Pirates of the Caribbean, from Miss Saigon to Game of Thrones to his present role of Shylock in The Merchant of Venice
"I've never tried to repeat characters," explains Jonathan Pryce, an actor for whom diversity is something of a watchword. Just a brief glance at this Brit's illustrious career confirms this: a Tony-award winning performance on stage as The Engineer in the original cast for Miss Saigon; a Machiavellian media mogul in James Bond movie Tomorrow Never Dies and, more recently, the High Sparrow in TV phenomenon Game of Thrones.
"It's what I do," he says with a shrug. "It's my job."
His latest role sees a return to the stage – and specifically William Shakespeare. His early years were dominated by performances in the Bard's works – Octavius in
Antony and Cleopatra
, Petruchio in
The Taming of the Shrew
and, famously, the titular Prince of Denmark in
Hamlet
. The 1980 production at London's Royal Court landed him an Olivier Award and a heap of critical acclaim, with some reviewers proclaiming it the Hamlet of his generation.
Since then, he's played Macbeth opposite Sinéad Cusack for the Royal Shakespeare Company and King Lear back in 2012. But his latest – and possibly his last – Shakespeare creation is famed Jewish moneylender Shylock in The Merchant of Venice.
He first played the role at London's Globe Theatre in 2015 opposite his real-life daughter Phoebe (his youngest of three children, with actress-partner Kate Fahy), who played Shylock's daughter Jessica. "It's a lot easier to be in conflict with your family on a stage than off," says Pryce.
Now he's taking the Jonathan Munby-directed production on a world tour. After it began in Liverpool – the city where Pryce kick-started his career, joining the Everyman Theatre, where he later became artistic director – the show includes a five-city tour of China, including Beijing and Shanghai.
When the tour arrives in Hong Kong, Pryce will be at the Lyric Theatre at the Hong Kong Academy for Performing Arts – six performances over five days – before returning to the Globe and aptly concluding in Venice.
Curiously, Pryce admits this story set in 16th-century Venice isn't one of his favourite Shakespeare plays.
"It wasn't. It really wasn't. I didn't want to do it, and I said 'no' when they first asked me. Then I read it again – I said, 'Give me the weekend' after I'd said no and I'm glad I read it again because the political situation of The Merchant of Venice is so relevant to the horrors of what's happening now – last year and even more so this year. The fear of the alien, the fear of the migrant..."
In particular, Shakespeare's references to the Venetian ghetto, where Jews were compelled to live, are not unlike "people who want to build walls to keep people out," he says, making a pointed reference to US Presidential candidate Donald Trump and his promise to construct a barricade along the US-Mexican border. Pryce chuckles to himself. "Somebody has said that the wall Trump wants to build would be to stop Americans leaving, rather than ones coming in!"
When we meet, the white-haired Pryce is perched on a sofa in a London hotel suite, it's shortly before Britain voted to leave the European Union – a referendum that led to pockets of racial hatred in the country.
Could there be a better time to be staging a revival of this 400-year-old play? Pryce believes this production "takes on an entirely new and relevant colour" in this day and age. "I always thought it was a racist play, as did many people, but it's a play about racism and we don't hold back from that in this production."
It's not the 69 year-old Pryce's only political piece right now. He recently completed The White King, an intriguing low-budget British film set in a near dystopian future which has just received its world premiere at the Edinburgh International Film Festival.
The automatic comparison is with Terry Gilliam's 1985 classic Brazil, which saw Pryce star as a pen-pusher enslaved in a totalitarian society. But Pryce, who plays the military-minded Colonel Fitz, sees The White King as relevant to modern-day Britain.
"I'm not saying Britain will end up in cities torn down and we'll become an agrarian society, but it's an example of how a society is sublimated," he argues.
He cites the film's most striking symbol – a giant statue of the quasi-mythological leader of the dictatorship that stands astride the landscape. During a public forum at the Edinburgh screening, Pryce told the audience: "Imagine that statue being replaced by a statue of [former Ukip leader] Nigel Farage holding aloft a pint of beer!"
Passionately in favour of Britain remaining in the European Union, he's not afraid of speaking out on politics in the press. Once asked which living person he most despised, he cited ex-British Prime Minister Tony Blair. Pryce's own background is strictly working class. Born in Wales, his father was a former coal miner who, together with his mother, ran a small grocery store. He studied to be a teacher before he switched to acting – eventually joining Rada (the Royal Academy of Dramatic Art).
He can still remember "everything" about his first screen appearance in 1972 – playing a policeman in BBC show Doomwatch, done so he could get his Equity card and join the Everyman.
"I remember, having just left drama school, that sense of self-importance – this was quite glamorous," he recalls. "Then I had to go home on the tube. They didn't take me in the car! It was such a contrast – half-an-hour ago I was somebody and now I was nobody. And it's been like that for the past 45 years!"
While this is typical of Pryce's self-deprecating humour, he's always been more somebody than nobody.
Within five years of that
Doomwatch
appearance, he'd won his first Tony for the Mike Nichols-directed version of
The Comedians
. Later, at Cannes, he claimed the best actor prize for his role as writer Lytton Strachey in the 1995 Christopher Hampton film
Carrington
, shortly before he worked with Madonna in
Evita
and on 007 film
Tomorrow Never Dies
.
More recently, he's appeared in franchises including Pirates of the Caribbean and G.I. Joe, reaping the benefits of that diversity he so craves. It's why it's almost impossible to tell what fans will stop him for. "It's always been a game I play with myself when I'm approached by someone on the street and I think, 'What's it going to be?' A lot of it is Bond – things that have huge followings – and then you'll get a surprise that someone has liked a low-budget small film that you've done."
Now it's Game of Thrones that's causing obstructions to his everyday life. Joining during the fifth year – having rejected an offer to play a different character when the show began – he lasted two seasons as the leader of a religious sect known as the Sparrows.
"It's ruined my life because everyone wants to take your photograph," he says jokingly. "When you leave the house, you have to think, 'Do I look like an alcoholic tramp?' But it's great...the fans, they're very happy to see you."
He's next up in Taboo, a six-part television drama with Tom Hardy, but he won't be reuniting with Terry Gilliam for the director's long-gestating Don Quixote project.
Attached to the original version that collapsed during the shoot in 2000, Pryce was approached again when the project was resurrected. "I said, 'I'm travelling the world playing Shylock so I can't do it.'" This, you might say, is the Pryce of loyalty.
Lyric Theatre, Academy for Performing Arts, 1 Gloucester Road, Wan Chai. September 7-10, 7.45pm; September 10, 11, 2.30pm, HK$355-HK$795. Inquiries: 2547 7150