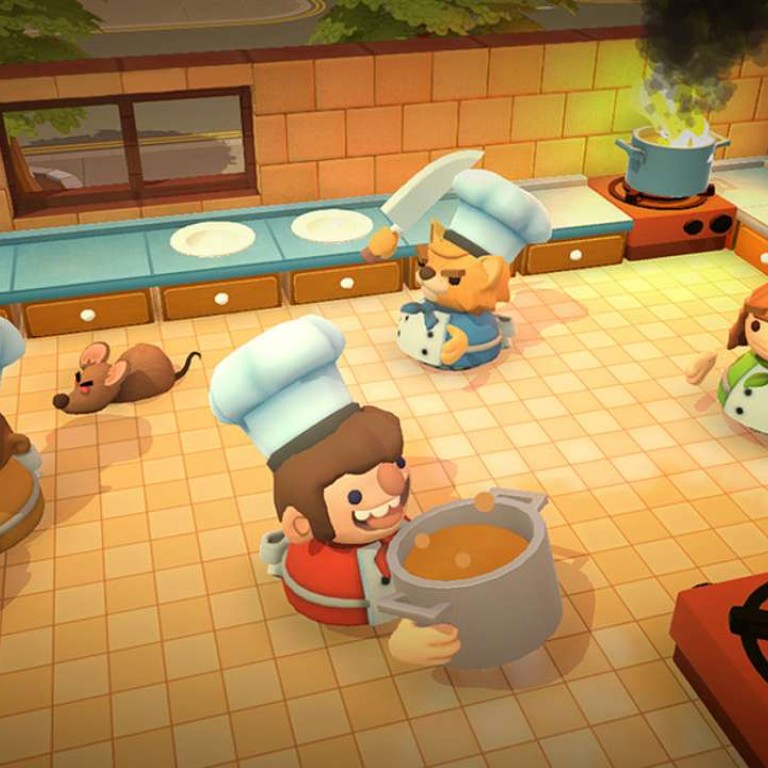 Game review: Overcooked – whip up a storm in a virtual kitchen
Overcooked has the ingredients to make an instant multiplayer classic: cartoonish design, upbeat music, fantastically imaginative levels and brilliant co-op mode
Overcooked
Ghost Town Games
4 stars
Hands up everyone who can't stand Now TV's ridiculous English-language scheduling? Seriously, why are there so many cooking shows? The whole Food Network obsession has been going on for a while now, but who's watching them all? This aversion to everything related to cooking almost put me off Overcooked, but I'm glad I checked it out since it's a great little local multiplayer game for the PC, PS4 and Xbox One.
There's the story to begin with, a ridiculous send-up of convenient gaming plot devices: to appease a spaghetti monster who has taken over your home of Onion Town, you're sent back in time to master the culinary arts and prepare for the inevitable massive feast of the future. It's a tongue-in-cheek excuse to set in motion some fast-paced gameplay, where you're sent through a ridiculous set of top-down levels and, alongside three other chefs, are tasked with chaotically cooking up a storm.
But this is far from your standardised virtual kitchen – the levels are full of creative ideas, including cooking fish and chips on an Arctic glacier, pizza in a haunted house and a three-course meal on three moving trucks. And within that chaotic mix, a thousand things are constantly going wrong: dishes are forever piling up, a feeble racoon has fallen over holding a plate of fries, a fire has broken out over the fryer and the ginger cat is trying to put it out.
Overcooked takes all the now-comfortable cooking clichés and conventions – the chaotic Gordon Ramsay-like kitchen, the stressed-out chef with a hundred plates to prepare – and blows them out of proportion. And the best part of all that? You can't help but keep coming back.
A large part of the game's appeal is the brilliant multiplayer mode, in which you and your buddies have to work together in near-perfect unison to create exceedingly complicated dishes, while managing the non-stop disasters. None of it's online and all of it is right in front of you, which either results in a round of fist-bumps after going through hell and back, or deafening shouting matches when it all falls apart. There's a single-player mode here too, but you'd need mad speed to match it, and we just couldn't.
Overcooked's cartoonish designs, upbeat music, fantastically imaginative levels and simple but brilliant co-op mode all result in an instant multiplayer classic. It probably won't stand the test of time, but it might distract from your girlfriend's obsession with The Great British Bake-Off.