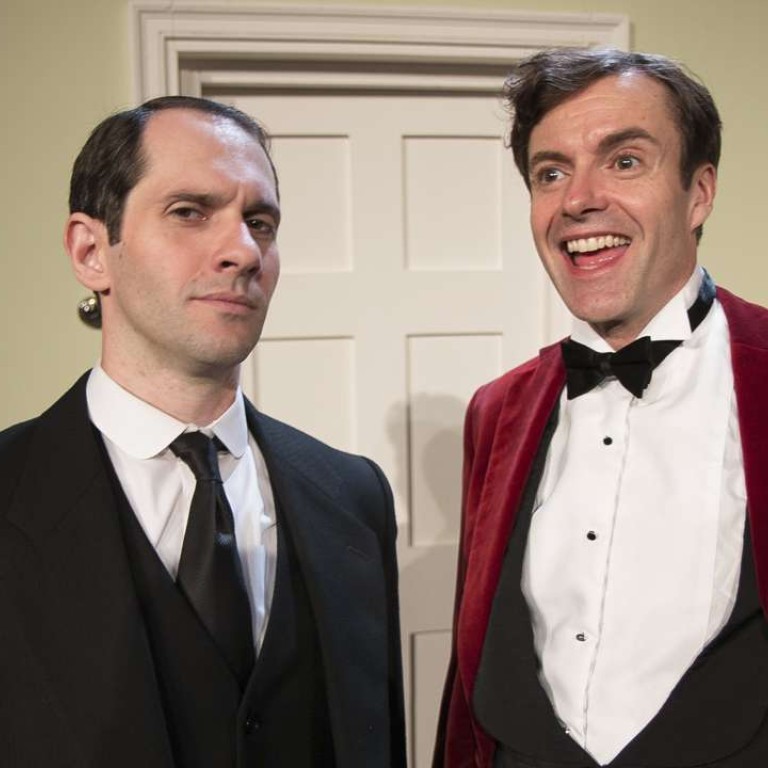 West End favourite Perfect Nonsense heads to Hong Kong
Robert and David Goodale talk about reviving comedy show Perfect Nonsense which begins a 12-day run in Hong Kong next week
When Robert and David Goodale were invited to transform a one-hour one-man comedy show Robert had performed 20 years before at the Edinburgh Festival into a full-length play, their first reaction was: no way.
After all, David was "61-and-a-bit" (it was five years ago: he is now 66-and-three-quarters) and his younger brother was 57, and the show featured PG Wodehouse's narrator Bertie Wooster, whom neither of them were quite of an age to play any more.
But the producer, Mark Goucher, was persuasive. Which is just as well. Because Perfect Nonsense launched straight into the West End, won a prestigious award, has been translated into several languages, has made people laugh all over the world, and looks like it might lead to a TV series spin-off.
The production is coming to town and will be staged at the Drama Theatre, Hong Kong Academy for Performing Arts, for a 12-day run starting on September 14.
All the best comedies have a splinter of sadness in them, and for Perfect Nonsense that is the memory of Robert's twin brother Andy, who died 14 years ago in his late 40s.
"Andy was a complete Wodehouse fanatic who got me and David interested," Robert says. "I'm sure he'd have been a part of it. He got the whole thing going."
"It's our memorial for him in a way," says David.
"He and a mutual friend of ours used to bat Wodehouse-isms back and forth to each other during the early hours of the morning and it was hysterical," Robert recalls. "The whisky helped make it good, but the Wodehouse made it wonderful."
In 1987 Robert got a stand-up comedy booking for Edinburgh and then looked around in panic for something to base it around. Andy suggested Wodehouse, and Robert picked up Right Ho, Jeeves, the second Jeeves and Wooster novel.
"I read the first page, and it was almost like Bertie, who narrates it, was talking to a theatre of people. So I thought that would be a brilliant way to approach it."
Four years later, he and David adapted another book, The Code of the Woosters, using similar principles. Robert cut the text down to the best episodes and made it a one-hour piece. The show went down well and then they forgot about it.
Then two decades later David had dinner with Goucher.
"And he said, you know that one-man PG Wodehouse show Bobby did in Edinburgh? Do you think he'd be interested in reviving it? And I said I think he's a bit long in the tooth now."
But Goucher pushed, and suggested they make it a two-man show.
At first the brothers were horrified: it was either a one-man show or you just did it like an ordinary play and made it for a cast of 12. But then they remembered the book was about Jeeves as well as Wooster, and the whole thing came together.
"That gave uslicence to bring in the lunacy of our youth as we realised it was a show where anything goes."
The conceit was that Wooster is doing a one-man show in the West End and needs Jeeves to stop him from making it a disaster.
There's a sequence in which Jeeves and Wooster head off in Bertie's two-seater car to somebody's country house.
"In the script we just wrote two lines, saying they make the car out of two chairs and a cardboard cut-out and the third character, Jeeves' butler friend Seppings helps animate the journey," David explains.
"And then Sean Foley the director came up with the idea of Seppings bringing on an old 1930s sound effects trolley and getting totally carried away and making them drive during a thunderstorm and it all came alive," says Robert.
Things go wrong on a nightly basis.
"I invited friends to one of the previews, and their main comment was that it was wonderful to see all the things that are supposed to go wrong. And even more wonderful to see the things that aren't supposed to go wrong," David says.
By making it a play of the original story, they have added another layer to the chaos Wodehouse imagined.
It's an incredibly fast-paced show. Although Bertie is always Bertie (and always on stage) Jeeves and his friend Seppings (played by Robert) have to don a whole range of costumes. "If you don't get your arm through the dress on time for instance you've screwed up your next entrance, you've ruined the gag," Robert says.
There was almost another kind of chaos in January when a Mumbai entrepreneur booked them to do a week in India after he saw the show in London and loved it. However, he had overlooked the fact that the set was too big to get on a Boeing 747.
"Shortly before Christmas they realised it was too big to fly and by then there was no time to ship it."
The blueprints of the original set were emailed and the Goodales were assured all was in hand.
"We arrived at the beginning of January," David says, "and we went out to this workshop area in Bollywood and walked past all these open-sided rattan workshops and there on a little raised platform was our set."
"Everything about it is completely perfect and that is the set that is going to Hong Kong," Robert says.
The piece has been a huge success, and it has in a way changed their lives. David, who used to work in TV documentaries, semi-retired when he reached his late 50s and thought he'd "gently fade into obscurity".
"But what's extraordinary is that as I entered my 60s I started a completely new career which is the thing I was striving for when I was in my late teens; it just took a while to get there," he says.
In 2014 they turned up to the Olivier Award ceremony without any expectations, having been nominated for best new comedy.
"We were convinced we hadn't got it because we were sitting so far back in the auditorium and were right in the middle of the row, nowhere near an aisle. If we were to win it was going to take forever to pass everyone's knees and make our way up onto the stage so we just thought that's it. We haven't won," David says.
"But then we did."
Perfect Nonsense, Drama Theatre, Hong Kong Academy for Performing Arts, September 14 to 25 HK450, HK$595 and HK$650. Inquiries: 3759 7617
This article appeared in the South China Morning Post print edition as: wooster source