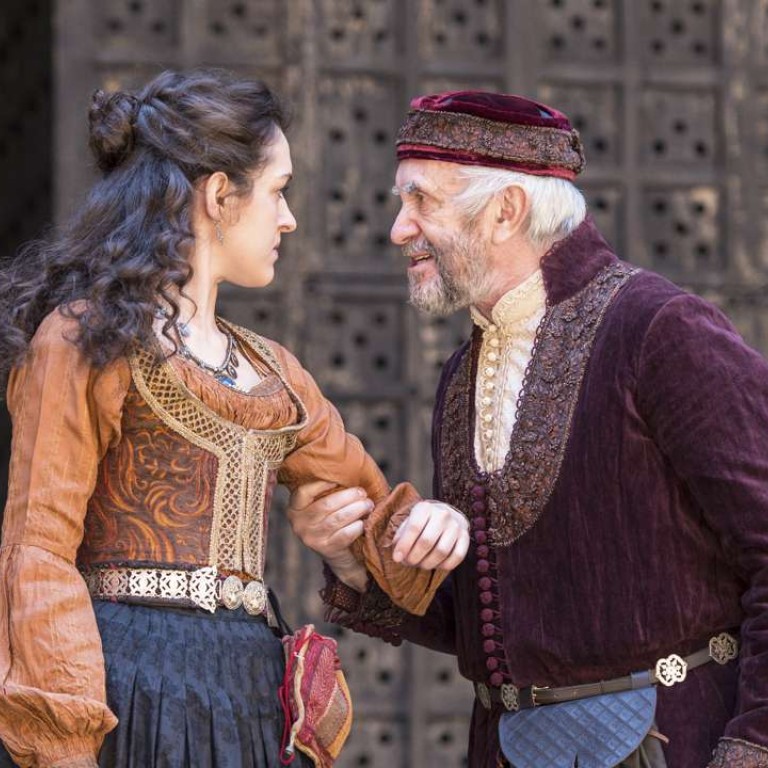 Review

|
Globe Theatre brings Shakespeare's Merchant of Venice up to date brilliantly
Production now on Hong Kong stage deals effectively with dilemmas our modern sensibilities throw up, and its ingenious ending is stunning. Jonathan Pryce is excellent as Shylock and his daughter Phoebe a heart-rending Jessica
London's Globe Theatre returns to Hong Kong with Jonathan Munby's masterly production of The Merchant of Venice.
Among the most ambiguous of Shakespeare's plays for today's audiences, The Merchant of Venice appeals to modern sensibilities yet shocks us with its politically incorrect dénouement and the moral dilemmas it poses.
Our empathy for Shylock, the Jew who has suffered a lifetime of insults, is tempered by our revulsion for his obsession with bloody revenge; our sympathy for the supposedly "likeable" characters (the Venetian Christians) by our dismay at their bigotry – which would not have been felt by audiences in Shakespeare's day.
Is Shylock's suffering, epitomised by the "if you prick us, do we not bleed" speech, intended as the appeal for tolerance we perceive it to be today, or does it simply demonstrate Shakespeare's genius for getting inside the skin of his characters and capturing the complexity of human nature?
The production finds an effective way to deal with such questions. While focusing largely on the play's comic aspects (often very funny), it is punctuated by abrupt dark moments – drunken revelries that end in brutal beatings; Shylock being spat on and manhandled; the casual disdain with which Portia and the other Christians treat Shylock's daughter Jessica despite her having become a Christian to marry her beloved Lorenzo.
The outcome of the trial scene, where the defeated Shylock is spared execution but stripped of his possessions and robbed of his identity by being forced to convert, leaves a bad taste in the mouth and the story's light-hearted conclusion, as Portia and her maid Nerissa test, tease and forgive their husbands, jars.
Then comes the production's master stroke – a coda whose searing emotional power and ingenuity in balancing the play as written in the 16th century with the needs of a 21st century audience are absolutely stunning. It may not be in Shakespeare's text, but it's undoubtedly magnificent theatre.
The acting is excellent. Jonathan Pryce's moving Shylock is an old man reeling at the blows fate deals him and clinging to his vengeance as the last thing he has left.
Rachel Pickup's Portia is delightful in the comic sections but, in accordance with this reading of the play, surprisingly unsympathetic elsewhere – the "quality of mercy" speech is delivered in almost hectoring fashion, as if expecting Shylock to shut up and do as he's told.
Pryce's daughter Phoebe is a heart-rending Jessica and Dominic Mafham a sombre, tormented Antonio. There is splendid comedy from Dorothea Myer-Bennett's shrewd Nerissa, Giles Terera's vaudeville-style Prince of Morocco and Stefan Adegbola's Launcelot Gobbo, a true Shakespearian clown whose ability to improvise saved him from being upstaged by an unexpectedly hilarious straight man plucked from the audience.
The Merchant of Venice, The Globe Theatre, Lyric Theatre, Hong Kong Academy for Performing Arts
Reviewed: September 7. Until September 11