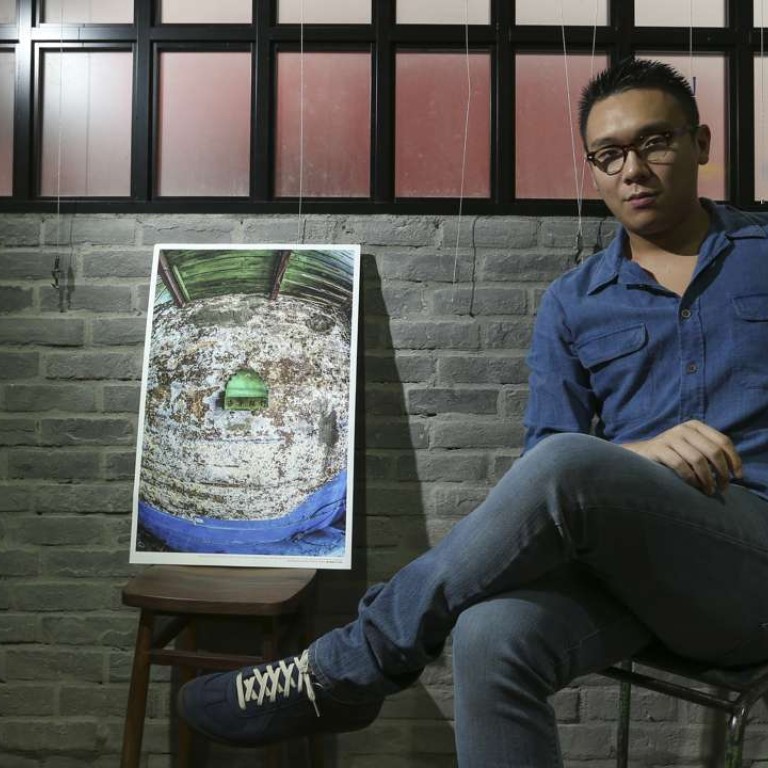 Hong Kong artist holds charity show to thank Blue House community for support
When Ernest Chang left the US, and drug rehab, he found sanctuary in a historic Wan Chai neighbourhood. On Saturday he's exhibiting his work to give something back to its people
Ernest Chang is at ease walking around the Wan Chai neighbourhood where the Blue House heritage building stands. "I love this area," says the Hong Kong-born artist as he passes the area's eclectic mix of car-repair shops, bars, restaurants, and gallery spaces.
"When I was young I would help out over there," he says, pointing to the St James' Settlement building across the road from his gallery, The Stallery, on Stone Nullah Lane. "When I returned from the US, and after some time in rehab, this community was a good sanctuary for me. People here helped me – a recovering drug addict – and I want to give back to this community, to say thanks for the support," Chang says.
He's giving back by hosting a one-day photography show on Saturday at his gallery and at the Tai Lung Fung bar nearby.
The show's focus is the 100-year-old Blue House, a grade-one historic building and the city's oldest example of a tong lau – the commercial and residential buildings, typically no more than four storeys high, that were common in Hong Kong until the 1960s. Chang's works zoom in on small details, such as tiles and textures, providing a new way to look at the old.
The works, in saturated colours and high contrast, also say something more personal about the artist.
"I'm red-green colour blind so my works have heightened colour contrasts and contours. I've always had to heighten certain colours and make it saturated, the contrast more obvious," he says, flicking through a book of Ishihara tests, a colour perception test for red-green colour blindness.
Chang said documenting the building before its renovation, which began in 2014, was vital. "I wanted to photograph and document the feel of the place before the revitalisation …I want to transform people's perspective of lost traditions into a new way of looking at the past."
Proceeds from the show will go to St James' Settlement, a non-governmental organisation helping the city's poor, to fund community programmes such as a "Step Out Blue House" charitable orienteering competition planned for October and monthly Blue House studio workshops to boost Hong Kong children's understanding of local culture.
Plans are also under way for a "good neighbour" scheme that will seek out new tenants for the building. Those chosen to live there must "enrich the human capital of the Blue House Cluster" – a group of buildings that comprises the Blue House, the Yellow House, a grade-three heritage building on Hing Wan Street, and the Orange House on King Sing Street.
Chang heads into a side street leading to a courtyard behind the Blue House, currently covered in bamboo scaffolding. It's a peaceful spot shaded by trees.
This is where we'll have open-air movie screenings," he says. "There's so much going on here and such a strong sense of community, culture and tradition – and that's important to preserve."
Exhibition block party, September 10, 3pm-11pm, The Stallery and adjacent bar Tai Lung Fung, 82A Stone Nullah Lane, Wan Chai