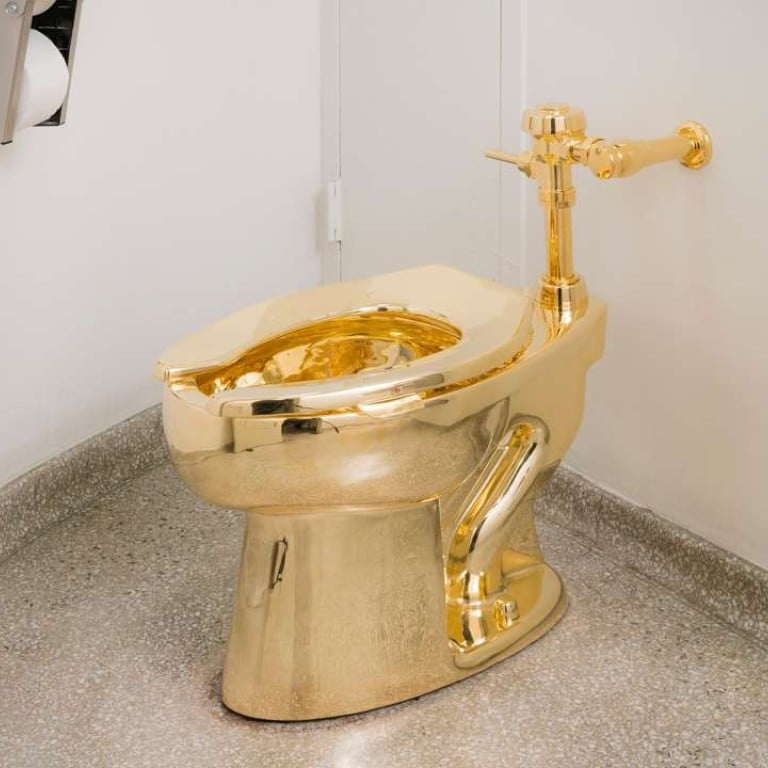 Solid gold toilet opens for business at New York museum, in the name of art
Unisex toilet in washroom for visitors to city's Guggenheim museum is an art installation called America. 'One can see the title as a critique,' curator concedes, 'but also as idealistic'
The streets may be paved with gold in heaven but in New York, it's a gold toilet providing creature comfort – and an eyeful for visitors to the city's Guggenheim museum.
The working toilet, cast in brightly gleaming gold, has been installed in a fourth-floor washroom for the use of the public, taking the notion of an intimate setting for art to a new level.
The installation, America, is the first piece that Italian artist Maurizio Cattelan has exhibited since his 2011 retrospective at the Guggenheim.
From Friday, it can be used as if it were an ordinary unisex toilet by the museum's visitors, Katherine Brinson, curator of contemporary art at the museum, said.
Visitors "will have a remarkably intimate and unusual encounter with this particular artwork", she said.
A guard will be posted outside the bathroom door, said the museum, which has refused to put a dollar value on the piece.
Brinson said the work had "many layers, many possible interpretative lenses that one can bring to it".
"One can see the title as a critique but also as idealistic. After all, this is a work about creating access and opportunity for all for a very wide public, even though it is this lavish luxury item."