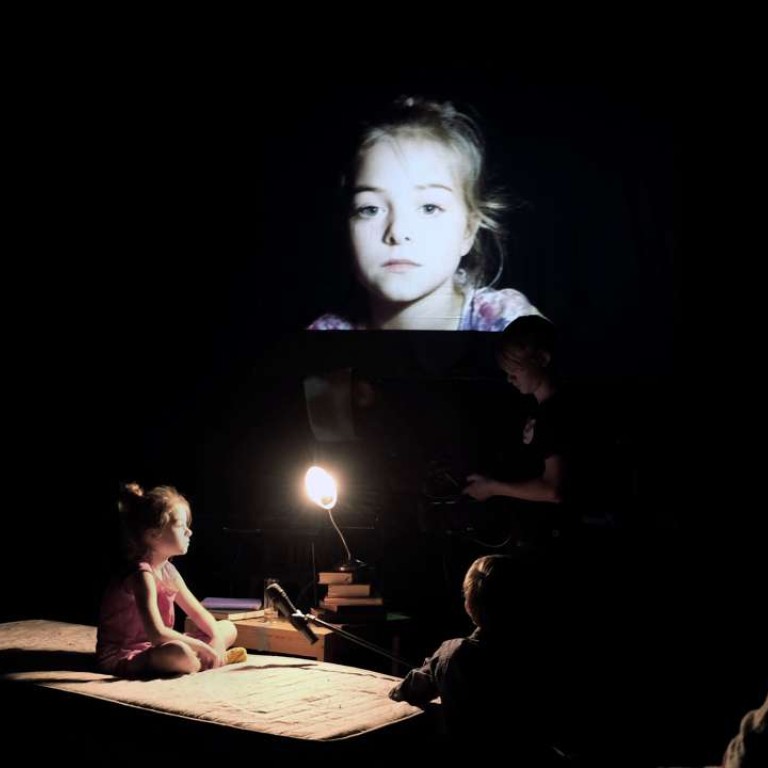 Provocative shows at Singapore arts festival stretch boundaries of censorship
Two plays, one performed by children about a murderous paedophile, and another about local attitudes to homosexuality, challenge perceptions of the city state as it vies to become a regional arts hub
Inside the 19th-century splendour of Singapore's Victoria Theatre, a middle-aged man orders an eight-year-old actress to strip on stage. Sitting in front of a video camera in just her underwear, the pretty girl hugs her knees as if she is cold, her vulnerability magnified onto a screen at the back of the stage.
She explains how it feels to be held captive by a murderous paedophile who repeatedly "entered" her, and looks disturbingly untroubled by the abhorrent scenario she vividly describes. The effect – no doubt intended – is merciless exposure to brutality.
The scene is from Five Easy Pieces, a new play by Swiss director Milo Rau, which made its Asian debut at this year's Singapore International Festival of Arts (SIFA). The piece was inspired by the real-life case of Marc Dutroux, a Belgian psychopath who kidnapped, sexually abused and murdered young girls in the 1990s.
Performed in Dutch with English surtitles, the main cast, from Belgium's Campo art centre, are aged eight to 13. It is that extraordinary combination of childhood, documentary and stagecraft that cleverly implicated the audience in one of humanity's vilest crimes and forced them to question whether treating children with kid gloves does anything to protect them from danger.
The show is theatre at its most provocative and the Singapore crowd loved it when they saw it in August. Several curtain calls later, a few Hongkongers in the audience emerged, their minds boggled at the fact that they could watch the play in a city known for the three Cs: chewing gum ban, caning and censorship.
"The play was amazing and it wrapped up a really stimulating week in Singapore," says Carol Chow Pui-ha, a lecturer at the Chinese University of Hong Kong, who was in the Lion City to present a photography exhibition she curated.
The arts festival, launched in 2014, is largely the vision of artistic director Ong Keng Sen and has consistently challenged the perception that Singapore is "boring". In fact, the festival's bold, thought-provoking programmes can give censorship-free events such as the Hong Kong Arts Festival a run for their money, an example of the complex dynamics at play within an authoritarian state that shrewdly balances its desire for control with its ambition to become a regional arts hub.
The roots of SIFA can be traced back to the Singapore Arts Festival, which was launched in 1977 with a wide-ranging, cross-disciplinary programme. Before its suspension in 2012, it was run by the National Arts Council, a public agency set up in 1991 as part of the government's new strategy of using the arts to raise Singapore's international profile.
The city's oldest festival, it fizzled out because it lacked a clear identity among other such events, Ong says. Since 2002, the Esplanade theatre in Singapore has hosted festivals, and since 2004, Alvin Tan's The Necessary Stage has held the annual M1 Singapore Fringe Festival.
"The old SAF would open with a big circus show. The next day, they would have experimental theatre. So people got confused. Sales averaged 70 per cent," Ong says. Today, live theatre performances at SIFA tend to fill an average of 85 per cent of the seats.
Ong was an interesting choice by the government. He is one of Singapore's most respected playwrights and theatre directors, and since 1998 has been artistic director of TheatreWorks, a troupe known for staging cross-cultural, multilingual, gender-bending adaptations of classical plays. From 1997 to 2002, he reworked Shakespeare's King Lear, Othello and Hamlet. For this year's SIFA, he produced Sandaime Richard by Hideki Noda, which is a new twist on Richard III.
A vocal critic of Singapore's censors, Ong is among the students of the late Kuo Pao Kun, a pioneer of the local theatre scene, who have ensured that Singapore's theatre remains relevant and outspoken in a relatively reticent society. He acknowledges that he is probably a token liberal face and had initially been reluctant to accept the four-year assignment.
"In 2013, I got a call from the National Arts Council asking me to do this. I said no. I wasn't interested in running something that the government would interfere in," he recalls. But Benson Puah and Edmund Cheng Wai-wing (brother of former head of Hong Kong's Central Policy Unit Edgar Cheng Wai-kin), chief executive and chairman of the arts council at the time, convinced Ong the job would probably go to someone without a strong artistic vision if he didn't accept it.
"Benson and Edmund were pretty liberal and they assured me that I would have total artistic control. They said, 'you have complained about Singapore enough. This is a chance to do something about it'," Ong says.
He renamed the festival SIFA to stress the international character of the programmes, which avoid pure entertainment and so-called "cultural presentations" – ethnic dancing from China or Myanmar, for example. Instead, he looks for performances relevant to global current affairs and lines up in-depth presentations of multiple works by the same artist. The main festival, which features around 20 productions, is spread over five weeks in August and September, and accompanied by a pre-festival programme of another 50-odd shows, talks and exhibitions.
"The main goal is to build up the audience, let them have a sustainable dialogue with the arts rather than just doing something cultural per se," he says.
Opening on the same night as Five Easy Pieces was a well received festival commission, I am LGB, a four-hour long experimental piece that is a play on the initials for lesbian, gay and bisexual.
Participants donned lab coats and were guided through an intricate escape game involving group tasks that allude to individuality, nationhood, propaganda and sexuality. Those who emerged found themselves in a room full of exhibits about late leader Lee Kuan Yew's dictatorial approach to running the state and Singapore's de facto ban on performance art in the 1990s, triggered by Josef Ng's 1994 work
Brother Cane
.
I am LGB was another example of the regulatory ambiguity in a city where homosexual acts are still technically illegal and where you can still get arrested for criticising the senior Lee. Teenage vlogger Amos Yee is facing fresh charges for his online criticism of Singapore's founding father after serving time for previous charges. The United Nations Special Rapporteur on the Right to Freedom of Expression said in August that the trials were "a sign of increased criminalisation of expression in the country".
"There was no issue with I am LGB. Singapore is more homophobic than a lot of places, but it doesn't mean the officials are. Also, the play touches on the 1990s attitude towards performance art. That's many years ago so it's safe," he says.
As for
Five Easy Pieces
, Ong didn't just get away with bringing it to Singapore. SIFA was a co-producer, investing what Ong describes as "start-up capital" in the play's preparatory stages as well as paying the performers' regular fees when they came to Singapore.
"The benefit of co-producing shows with people around the world is that they have a commitment to perform in Singapore. This year, we also have Jennifer Wen Ma's Paradise Interrupted, a new musical theatre we co-produced with the Lincoln Centre, the Spoleto Festival USA and the National Kaohsiung Centre for the Arts. If we hadn't been co-producer, we would probably have had to wait at least two years for a new show to come to Singapore."
Ong, in his early 50s, has navigated this complex landscape for decades. He is so adept that his festival's very success can disguise the fact that Singapore's arts scene is still far from free. Indeed, it
has been subject to a new censorship regime since the government started turning museums and festivals into private companies around 2013. Without civil servants in charge, these organisations have to submit detailed descriptions of every exhibition and videos of rehearsals to be vetted at least two months in advance.
Besides the objectionable fundamentals regarding censorship, the system is an enormous burden on presenters as well as the censors themselves, who struggle to get through all the submitted material.
The censors decided, three days before Five Easy Pieces opened, that nobody under the age of 18 was allowed to see a play in which the main cast were aged eight to 13. Ong was furious at the loss of a rare chance to engage children in a discussion about a crime which, after all, concerns them.
"We submitted the application two months ago but they only gave us the rating just before opening. We had to refund some tickets. The censors can't cope with the amount of programmes they need to censor," Ong says.
Sardono W. Kusumo, the Indonesian dancer, choreographer and filmmaker enjoying an extensive retrospective at SIFA, was also surprised to find an 18 rating for an exhibition of his videos.
"The rating is [usually] for nudity. The only nudity is in a 1960s video I filmed in a Balinese village, where children run around playing happily. Of course they were naked. They didn't own any clothes," he says, objecting to what amounted to an indecent sexualisation of the innocent images.
This systemic conservatism is something that could jeopardise the quality of SIFA in the future. "I am trying to protect this after I've stepped down. I would like to see a new director from the artistic community rather than a professional manager take charge," Ong says.
Tomorrow: how the Singapore International Festival of Arts compares with the Hong Kong Arts Festival
This article appeared in the South China Morning Post print edition as: Creative licence