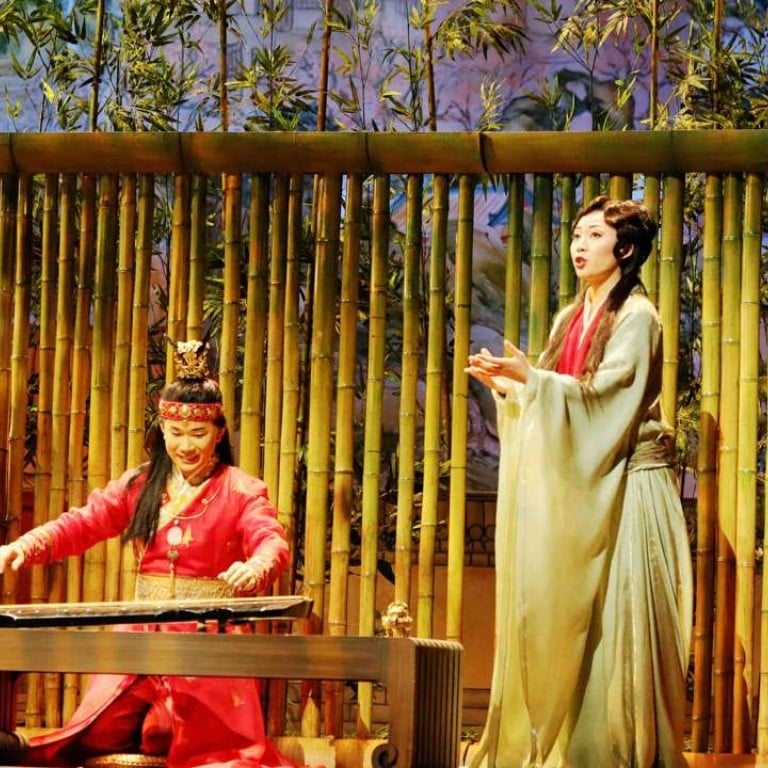 How do Hong Kong and Singapore's arts festivals compare?
Criticism of the Hong Kong event – that its organisers are addicted to spectacle, its tickets can be too expensive, it brings in the same names again and again – come into focus when looking at the Lion City's nimbler and leaner offering
The 2017 Hong Kong Arts Festival, which will reveal its full line-up early next month, has unveiled a few choice morsels to whet appetites. There is Bright Sheng and David Henry Hwang's Dream of the Red Chamber, a new opera commission by the festival and San Francisco Opera. New York's Public Theatre is bringing its very timely The Gabriels: Election Year in the Life of One Family, a set of three plays set around a kitchen table in American suburbia. And as always, there will be a sumptuous selection of ballet, orchestral music and traditional operas.
The Hong Kong festival is one of the world's largest performing arts festivals. Its annual budget is around HK$110 million. A total of 1,400 artists took part in 119 performances in 2016, and 99,000 tickets, or 93 per cent of the seats, were sold. (These figures were lower than previous years but the organisers attribute the drop to normal fluctuations.)
It is a successful festival by most measures, yet there have long been
complaints
about the prohibitively high prices charged for the most popular shows – tickets for soprano Anna Netrebko's concert cost between HK$380 and HK$1,680 this year – and the programmers' relatively conservative approach that favours big, safe names.
These issues come to the fore when comparing the Hong Kong festival with the Singapore International Festival of Arts, which the
South China Morning Post
profiled
here
. Younger, smaller, and with a clear mission to educate, engage and build up a bigger audience, the Lion City event is making waves by presenting a different model for running an arts festival for a sophisticated, wealthy, Asian audience.
The Singapore festival is much smaller than Hong Kong's. Its annual budget is around S$8 million (HK$45.5 million), of which S$6 million comes from the government. After administrative costs and rent, the festival is left with S$5.7 million to spend on programmes. Last year, it sold 62,000 tickets. Box office receipts make up 10 per cent of its revenue. In Hong Kong, they make up 32 per cent.
"Unlike Hong Kong, we don't spend big bucks to get big names over. We try and build up an audience in Singapore by looking for content that generates a dialogue with them," says Ong Keng Sen, the Singapore festival's artistic director. Most of the 20 shows in the main festival are commissioned or co-produced by the festival.
Ong always tries to bring shows that can trigger debate, such as Five Easy Pieces, a new play about paedophilia, and The Last Supper, an independent Egyptian play about society after the Arab Spring. The festival itelf and The Open, a pre-festival offering of smaller performances, films and talks, also like to present a series of works by the same artist so local audiences can get a comprehensive introduction.
In 2016 an extensive retrospective of Indonesian artist Sardono W. Kusumo featured an exhibition of vintage video footage he took in the 1960s and 1970s, a new dance performance called Black Sun, commissioned by the festival, and free, live performances by Kusumo himself.
"I would rather feature fewer artists and get the audience to know them really well," Ong says.
One can argue that the Hong Kong festival's practice of regularly inviting back popular performers has the same effect. The Hong Kong public should be very familiar with the late Pina Bausch, the German dancer and choreographer who created Der Fensterputzer for the festival in 1997 and whose Tanztheater Wuppertal Pina Bausch is returning in 2017 for the fourth time in 11 years.
Tisa Ho, executive director of the Hong Kong festival since 2006, says it has a fundamentally different approach to that of the Singapore festival: it takes into account what the audience wants to see. "Unlike Singapore, we see the audience as our partner. We don't tell them what they should be watching," she says. Ho is well placed to compare the two cities: in the 1980s, she moved from Hong Kong to Singapore to take up senior roles in the Singapore Arts Festival and also became general manager of the Singapore Symphony Orchestra.
"SIFA is very much Keng Sen's festival," she says. Ho and programme director Grace Lang avoid putting a personal mark on the Hong Kong festival. "All I hope to accomplish is not to do the festival any harm. This isn't about me."
To satisfy the Hong Kong public, the festival needs always to present spectacles. It is, after all, the only time of the year when you get a Western opera house to come to Hong Kong with a full production. At the same time, the festival is under new pressure to seek private sponsorship. "The government gives us HK$17.2 million a year, which is half of what it gave before this year. The shortfall will be matched by the government if we get more private sponsorship," Ho says.
In contrast, the Singapore festival doesn't spend resources on big productions, which helps to keep prices low. Paradise Interrupted, a musical with a stellar cast co-produced by the festival and overseas partners such as the Lincoln Centre Festival, could be seen for S$25-S$80 (HK$143-HK$457).
The government is also in no rush to shift the financial burden to the public and the corporate sector, Ong says. "Singapore is such a centralised place, no private sector player would support the arts if government didn't take the lead," he adds.
Not having to worry about money means the Singapore festival can put on shows for which it can't sell tickets. "Kusumo gave live performances at the Malay Heritage Centre, an old sultan's palace beautifully restored. It's a very porous place so it would be wrong to fence off the performance and issue tickets," Ong says.
A flexible attitude towards venues also meant that Cuban artist Reynier Leyva Novo could perform Return to Nature at 11pm on a Saturday night, taking some of his mother's ashes from a gallery to the streets, before he dropped the cloth that contained them into the Singapore River as dozens of spectators looked on.
Outdoor performances like these mean that the whole city is imbued with a festival spirit. By comparison, Hong Kong's venues are staid and exclusive.
Ho has always argued for a need for better venues in Hong Kong. She also points out that the festival spends most of its government funding on renting venues, all of which are owned by the government.
"Out of the HK$17.2 million we get from the government in baseline funding, around HK$10 million goes straight back to the Leisure and Cultural Services Department in venue rent," Ho says. "Our ticket prices are already as low as they can be."
Ho believes Hong Kong's freedoms will continue to make the city better positioned for the arts compared with Singapore.
In Singapore, every cultural presentation is vetted by censors, who this year advised anyone under 18 against seeing Kusumo's vintage videos because they featured naked Balinese children playing. "We don't get censored. Nudity is not an issue for us. We warn the audience about strobe lighting, smoke or strong language but we don't bar anyone from seeing a show," Ho says.
This article appeared in the South China Morning Post print edition as: tales from two cities