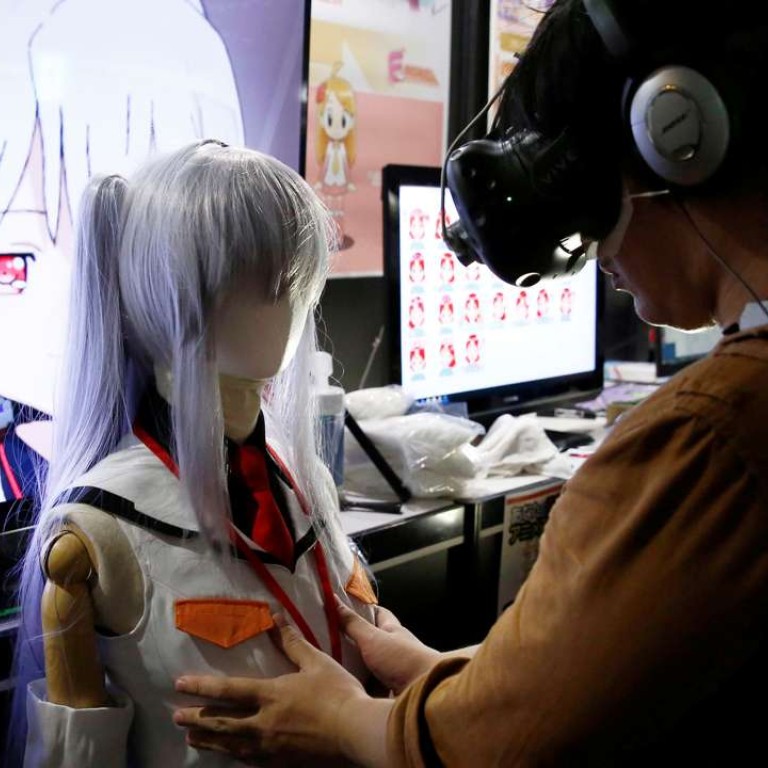 Highlights from the Tokyo Game Show: VR, headsets and more VR
From immersive games to Sony's Playstation VR to putting on a headset and groping a mannequin, this year's show was a virtual feast for all types
This year's Tokyo Game Show was the largest yet, drawing record crowds while spotlighting the latest trend in the video industry: virtual reality.
The show featured 614 companies demonstrating more than 1,500 game titles. The new VR area was the most popular this year, say organisers the Computer Entertainment Suppliers Association.
Players at the booths with headgear covering their eyes and ears were immersed in their own worlds, shooting imaginary monsters or dancing with virtual partners. But virtual reality got a little too real when gamers lined up at one exhibition to get personal with a mannequin that with VR goggles transformed into a female anime character.
The association told software developer M2 to stop visitors fondling the dummy's breasts, which, with built-in sensors, prompted the anime image in the goggles to move. The hands-on display was meant to demonstrate technology that turns flat pictures into 3D images.
"I feel as though I have seen the future," says an excited programmer, Hiroyasu Ando, 24, who tried the VR game before the touching ban was imposed. "It's going to be possible to fall in love with a virtual girl."
Yasuo Takahashi, director at Sony Interactive Entertainment, the game division of Japanese electronics and entertainment giant Sony believes 2016 will mark VR's debut, helping revive an industry that has languished with the advent of smartphones.
"Up to now games have been played on a TV set. With VR, players can enter the worlds portrayed in games. It's a totally new experience," he says.
One reason for Sony's high hopes for VR: the PlayStation VR headgear device, going on sale next month for about US$400, might put VR within reach of many, according to some analysts. Rival VR headsets cost more: Oculus Rift goes for aboutUS$600 and HTC Vive costs US$800.
Although VR's applications vary from job training and real-estate previews to news reporting and education, it's expected to take off in games first.
A recent survey of 653 industry experts including start-up executives and investors, carried out by legal company Perkins Coie and Upload, cited "lack of compelling content" as the biggest challenge for VR.
They also citedthe cost, bulky hardware and technical glitches. But most respondents were planning to invest in VR, if cautiously at first.
Tetsuya Mizuguchi, founder and president of the game maker Enhance, believes VR is exactly the kind of technology his game
Rez Infinite
has been waiting for. The original version in 2001 was made for the Sega Dreamcast. The new VR version, one of the highlights of the Tokyo Game Show, delivers an immersive, dreamlike experience. Once players put on the gear, they find themselves virtually flying through an abyss resembling outer space or the bottom of the ocean. Then colourful geometric designs pop up, bursting in flashes of light with the aim of the cursor or a shift of the player's vision. Electronic music, synchronised to the player's moves, and virtual explosions, add to the thrill.
.
The show, which marked its 20th anniversary this year, drew 271,224 visitors between September 15 and 18, up from last year's 268,446. Next year's edition of the Tokyo Game Show is scheduled to take place between September 21 and 24.
Additional reporting by Reuters
This article appeared in the South China Morning Post print edition as: worlds of their own