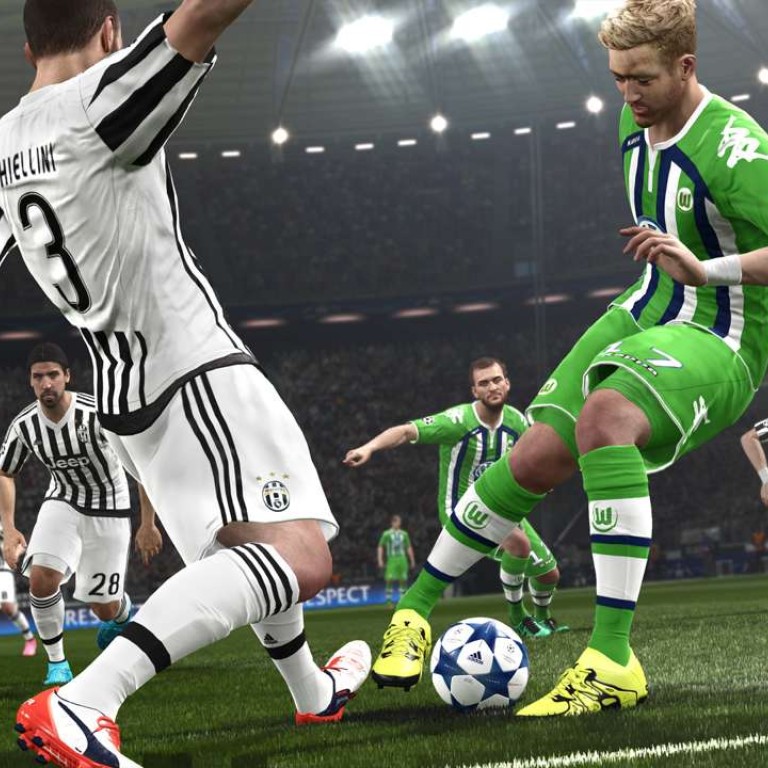 Game review: Pro Evolution Soccer 2017 – great playing experience
After years of lagging behind rival soccer series FIFA, Konami's latest edition has improved menus, graphics and physics and finely tuned controls. The only thing lacking is the licences for realistic teams and players
Pro Evolution Soccer 2017
Konami
4/5 stars
Since the mid-2000s, Pro Evolution Soccer (now formally abbreviated to PES) has resembled one of those once-great footballing names now reduced to scraping an existence in the lower divisions – a Leeds United or Sheffield Wednesday, say.
In the early 2000s, though, PES's annual tussle with EA Sports' FIFA was one of the games industry's great rivalries. PES was the option for the purists, its stimulating fast-paced and highly tactical gameplay providing a thrilling simulation of the beautiful game. But FIFA had the flashy presentation and expensive official licence, and from 2008 onwards a much-improved playing experience, allowing it to build a seemingly unassailable lead. As a result, Fifa became one of the UK's best-selling games, while PES stagnated.
However, last year's PES 2016 represented an impressive comeback, thanks mainly to vastly improved graphics and physics brought by a switch to the Fox game engine, which also powered Metal Gear Solid V. Happily, PES 2017 (for PlayStation 4, Xbox One and PC) builds considerably on that sudden improvement, addressing many (though not all) of the criticisms that still dogged its predecessor. Compared to the commercial might of FIFA 2017, it's still an underdog of Leicester City proportions, but in some fundamental areas it outshines its brash, flashy rival.
PES 2017
's standout attribute – which harks right back to the glory days of the series – is the sheer soccer feel it offers. Passes go exactly where you aim them, at the speed you specify. Loose balls ping around convincingly: you must work hard to get them under control, and your adrenaline levels are just as likely to be spiked by a scrappy period of penalty-box pinball as by an immaculate volley from a perfectly executed cross.
The game's AI is exemplary. Forward players, for example, are wont to point when they embark on runs, rendering the through-ball pass much more useful than in FIFA, and central defenders steadfastly refuse to charge upfield like headless chickens when opposition attackers encroach on your penalty area. There's an incredible amount of fine control over tactics, which can easily be switched according to match situations.
The most notable area which drew criticism in PES 2016 but has been comprehensively fixed in this year's offering is the game's menu system. Previously, it was a scrappy mess, with key screens buried in odd places, but in PES 2017, it is sufficiently logical that it doesn't stick out as a weakness. You still find some rather odd terminology when trawling the menus (as is often the case with titles translated from Japanese), but at least the key elements are easily accessible now.
However, its surface sheen still can't match that of FIFA 2017. Players, at least, have recognisable faces, running styles and body shapes, but they don't look as convincing as in FIFA. And the licensing problem persists: PES 2017 does have a Barcelona licence this time, but the only officially licensed Premier League teams are Arsenal and Liverpool – which means other sides get weird vaguely indicative new monikers (Tottenham Hotspur, for example, become North East London), and the kits and club crests are mere approximations of their real-life counterparts.
The main mode, Master League, offers an impressive approximation of real soccer, with some additions for 2017 that crank up the realism, such as a transfer window that develops hour by hour on the last day and a decent short-term loan system. But its scouting system is a bit hit-and-miss and fiddly.
The management side of Master League naturally, pales in comparison to the likes of Football Manager , but it doesn't noticeably lag behind FIFA 2017's equivalent. There's a feature called Live Updates which brings squads into line with the summer's transfer activity, but if you leave that untouched before creating a Master League, you can start the transfer window with the squad that ended last year's season.
Online, PES 2017 impresses, too – it's fuss-free, and easily lets you play in leagues and cups against your mates or random opponents, without any evidence of matching problems or lag. But the online side of the game is more or less identical to last year's, as is the Become a Legend mode, which lets you pursue a career as a single player and is handy for novices wanting to learn the full intricacies of the control system. However it feels a bit me-tooish – you suspect it's there because FIFA has a similar option.
And there are still a few areas in which FIFA has the upper hand. PES 2017's stadia feel generic and lacking in atmosphere, as does the build-up to any given match – FIFA's bombast in those regards is absent. And the commentary soon grates.
Still, in the areas that really matter – on the pitch – this year's model is by far the best version of PES yet, and easily matches its rival.
The Guardian