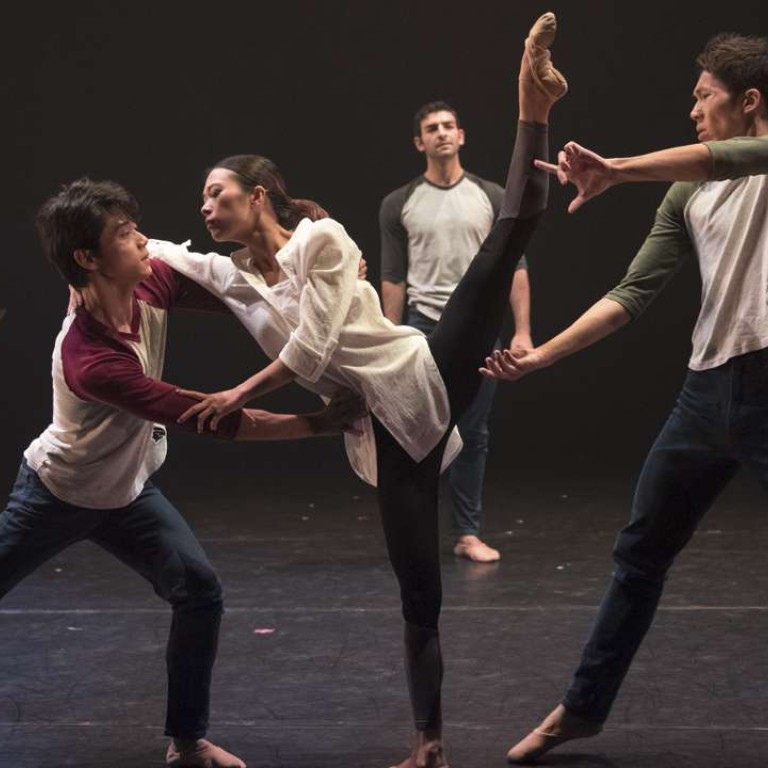 Arts review: Hong Kong Ballet's Choreographers' Showcase
A mixture of debuts and return performances in a fine showcase of Hong Kong's best dance and choreography with few disappointments
This Hong Kong Ballet programme of new choreography saw the return of previous contributors making good progress and a number of promising first works from new ones.
The piece with the most emotional depth was Li Lin's Follow Your Heart. Three women in white and three men in black dance with – or apart from – a dancer dressed in both colours, whose identity is torn between male and female. There are attractive groupings with a touch of (choreographer) George Balanchine, a powerful final image and a stand-out performance from Xia Jun in the androgynous central role. This thoughtful, well-structured piece shows Li taking a huge step forward as a choreographer.
Also impressive was
Night Thoughts
, a collaboration between Hong Kong Ballet's Li Jiabo and Hong Kong Dance Company's He Chaoya.
Elegant and elegiac, the piece had an intriguing sense of mystery and made clever use of a swinging lamp to evoke the night skies into which the dancers gaze. It featured well-crafted groupings and a demanding central duet, beautifully performed by Ye Feifei, a welcome return to the company as principal and Ryo Kato.
After an outstanding debut as Siegfried in last month's
Swan Lake
, Kato makes his choreographic debut with
Shogun
.
Admirably assured, the piece not only succeeded in telling a dramatic story clearly and concisely but included some strong choreography with spectacular lifts and male duets. It was performed with truly samurai élan by a cast led by Li Jiabo and Yuh Egami.
Leung Chun-long's work that plays on the words "she" and "they" examines the plight of a girl with multiple personalities (affectingly portrayed by Peggy Lai Pui-ki) by having a different dancer represent each one – as she dances with each in turn, she takes on a different persona. An intelligent idea, well-imagined, this was a promising first piece from Leung.
Set in a garden complete with deck chairs and a few cold beers, Jonathan Spigner's pleasantly mellow Passion Flower explores the interaction between friends, one female (the excellent Naomi Yuzawa) and three male.
Like the sunny afternoon it portrays, it may not be going anywhere in particular but it's a beguiling way to spend some time. The choreography is musical and the piece extremely well danced, with a lot of complex, skilful partnering.
Kenneth Hui Ka-chun made a promising debut in 2015 with three-hander Panta Rhei. This year's Re… is a much more ambitious affair, with seven dancers and, a truly original touch, a drum kit (played with surprising skill by the multitalented Egami).
The theme is home (departing from, returning to) and the piece ends on a wistful note with the dancers embracing each other in turn before leaving for good.
The concept was interesting but Hui now needs to sharpen his focus and develop more original execution (it was a pity he decided to use chairs, surely the biggest cliché in Hong Kong contemporary dance).
Hui was also in action as the sole performer in the evening's most disappointing piece, Dance Internship I by Justyne Li – ironically, the most experienced of the choreographers.
A former ballet dancer who moved into contemporary work, it would have been interesting to see Li revisit her former genre to create movement combining both classical and contemporary dance. Instead, after a few classroom steps at the barre Hui is suddenly struck by a St Vitus-like fit of contemporary dance that continues for the rest of the piece.
The idea of a ballet dancer finding contemporary dance a revelation (which relates to Li's own story) has good potential but was sabotaged by the banality of the choreography, all flailing arms and portentous runs across the stage.
In contrast another guest choreographer, Hong Kong Dance Company's Chen Jun, did an effective job of bringing together his own Chinese dance expertise with the dancers' classical technique in Dan – Sheng, in which a Chinese opera artist (a fine performance from Jin Yao) reflects on her career and the many identities performers may assume.
Set partly to excerpts from the Beijing opera Farewell My Concubine, partly to lush, romantic music by Joe Hisaishi, this was an accomplished piece and it was a pleasure to watch the grace and fluidity with which the all-Chinese cast responded to a dance form which is part of their own cultural heritage.
Choreographers' Showcase 2016
Hong Kong Ballet
Hong Kong Cultural Centre Studio Theatre, 10 Salisbury Road, Tsim Sha Tsui.
Reviewed: September 24