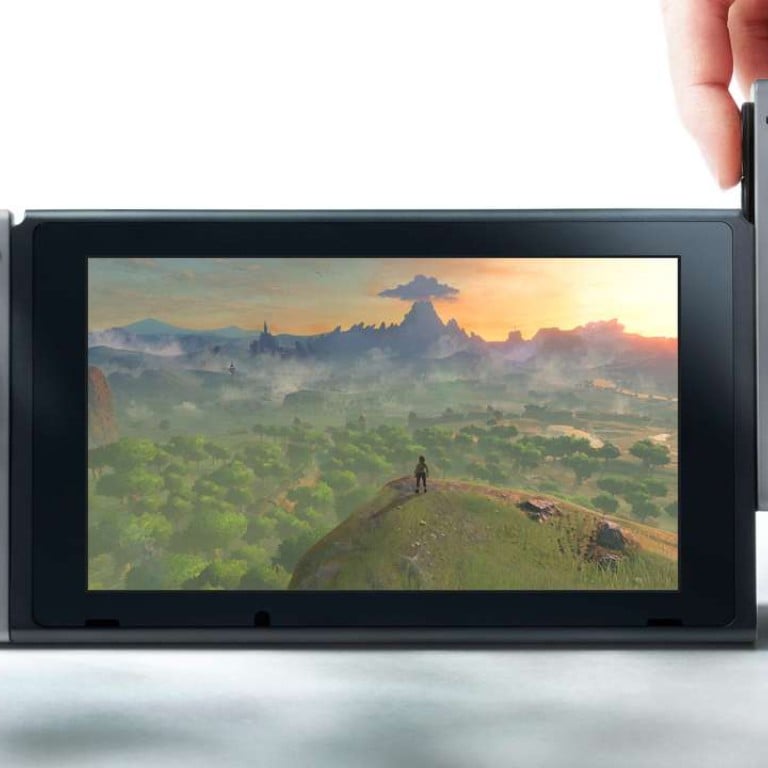 Nintendo's latest concept, the Switch, doesn't impress gamers
Console works as a handheld gadget and a TV console game, but fails to impress after earlier promises of a revolutionary new hardware/software experience
Nintendo's big idea for the next gaming trend is one machine that works equally well as a mobile gadget as it does on a big TV screen. So far, few are impressed.
A highly anticipated trailer released late last week for the device, called Switch, failed to excite investors or gamers after months of speculation that the Kyoto-based company would come up with a fresh twist on video games, like it did with the motion-based Wii in 2006.
"I love the concept of Switch, but that's what it feels like: a concept," says Elliot King, 33, who works in foreign affairs and lives in Tokyo. "I won't be picking one up."
His reaction offers a hint as to why Nintendo's stock dropped 6.6 per cent on Friday, wiping out US$2.4 billion in market value, and falling a further 4.8 per cent on Monday. After teasing investors for more than a year with a promise of "a whole new way to experience hardware and software together," the Switch was a big letdown, says Amir Anvarzadeh, Singapore-based head of Japanese equity sales at BGC Partners.
"In an era of smart devices where you can play games anywhere, I don't think conceptually it is evolutionary enough," Anvarzadeh says. "The fact you can plug it in at home and take it away and play, so what? We were expecting a little bit more of Nintendo magic sprinkled, and I didn't see it. The market is right about selling it off."
The stock fall was even worse than the market's reaction to the Wii U console, which came out after the Wii and was itself an attempt to combine the experience of playing on a big screen and a handheld device. Nintendo shares dropped 5 per cent on June 8, 2011, a day after the company unveiled the Wii U at a gaming conference. So far, Nintendo has sold 13 million Wii U units as of June, less than a third of the 40 million sales of Sony's PlayStation 4s and a fraction of the 101 million the original Wii sold.
Thursday's video focused squarely on the millennial demographic, young adults in their late 20s and early 30s. This suggests a departure from Nintendo's mission of making games for the whole family. The difference is particularly clear when compared with a video introducing the Wii more than a decade ago, which features grandparents playing along with kids. The company is trying to carve out a niche between casual smartphone gamers and more hardcore console users.
The Switch's portable feature also puts it at odds with Nintendo's recent embracing of smartphones.
After years of ignoring pleas from fans and investors to bring its games to mobile phones, the company is planning to release
Super Mario Run
for Apple's devices in December. The release follows this summer's wildly successful Pokemon Go, which was developed by San Francisco-based Niantic with Nintendo's help.
Investors had cheered the shift to mobile, sending Nintendo shares in Tokyo up more than 60 per cent this year before the Switch was announced. Nintendo is also planning to release mobile titles for its Animal Crossing and Fire Emblem franchises by March.
Still, Nintendo's slow embrace of smartphones has already left its fans drifting to mobile games from other game publishers. That includes Rob Glover, a systems engineer from Michigan who loved playing Nintendo's Zelda and Wii Sports, but has since moved on to mobile titles such as Clash of Clans and Tiny Tower. For now, he says he'll withhold judgement about the Switch until he sees more about its content.
"It really depends on the games," said Glover. "Let's see what kind of content Nintendo comes out with, but just the gimmicky crossover system isn't enough to get me excited."
Nintendo says several game developers and publishers will make titles for the Switch, including Activision Blizzard, Capcom, Square Enix, Bandai Namco and Electronic Arts, among others. Chip maker Nvidia Corp says the device will use its graphics chips.
However, Nintendo's Switch console could "revolutionise" the way people play games because of its capabilities and design, Ubisoft Entertainment chief executive officer Yves Guillemot says. The Montreuil, France-based company that has made hits including Assassin's Creed and Far Cry is working on several games for the new platform, including Just Dance 2017, Guillemot says.
Serkan Toto, founder of consultant Kantan Games., says he is impressed by the line-up Nintendo showed on Thursday, which included several titles from its flagship franchise such as Zelda, Super Mario, Mario Kart and Splatoon.
"I am sure that Nintendo will have great games for it, as always," says Toto, who covers the gaming industry. "The company seems to have done a good job of securing third-party support this time around."
How well the new hardware does may depend largely on the price, according to Macquarie Securities analyst David Gibson. In a research report last week, he estimated the device would retail for about US$250 to compete with the PS4's US$299 price tag.
Gibson says the new hardware is likely to disappoint in terms of revolutionary features, but that a strong line-up of gaming titles will help to fuel demand at launch. He estimates Nintendo will sell 2.5 million units in its first month and an additional 10.6 million units by March 2018.