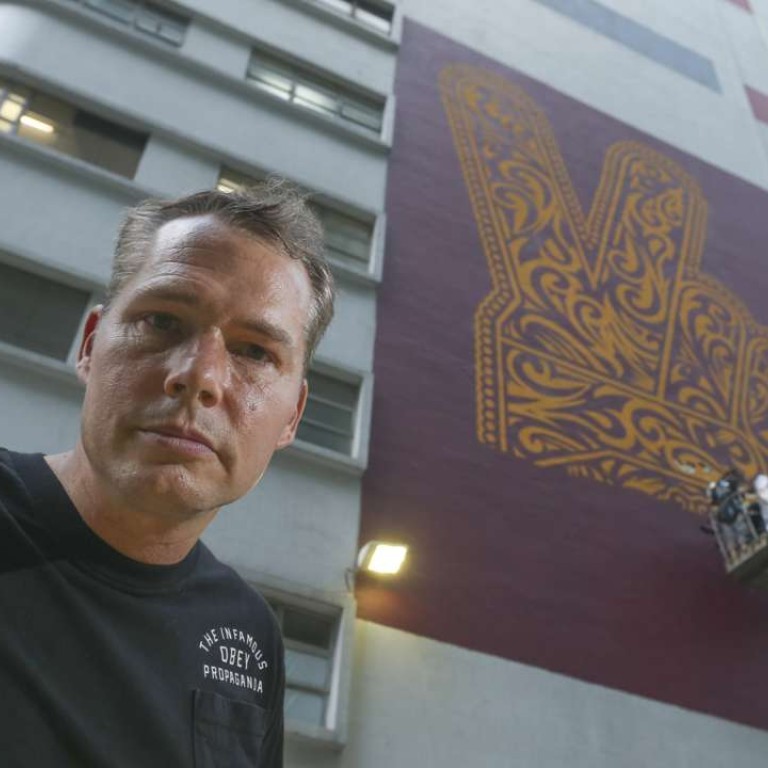 Street artist Shepard Fairey unapologetic as he makes Hong Kong debut
Controversial American famous for his 2008 Hope poster of Barack Obama hopes exhibition at HOCA will promote dialogue on political, social and environmental issues, and defends collaborating with property developers
"Shut the f*** up, idiots" is Shepard Fairey's most direct response to accusations of him selling out.
The 46-year-old street artist, whose Hope poster for Barack Obama's 2008 US presidential campaign won him global recognition, now runs his own profitable clothing line, while collaborative projects with property developers have put him at odds with his anti-corporate stance, his critics say.
But this is what Fairey calls the "inside outside strategy". "If there's no system that supports, I create my own system or work outside the system; but if there's a way to infiltrate to do things on the terms I believe in, in the system, I will do that, too. To me, it's all just a matter of getting it out there," explains Fairey, who is also a graphic designer and activist.
"People ask me, 'why do you start a clothing line, to cash in on your street credit?' Actually I was making T-shirts from the first week I made the first sticker in 1989. I came from skateboarding and punk rock where a T-shirt is the visual currency of the culture."
Fairey was in Hong Kong last week to open his solo exhibition "Visual Disobedience" at the Hong Kong Contemporary Art Foundation, where 300 of his prints are on show. He was in the city also to produce three public murals with his team, the largest of which, at
Cornwall House in Quarry Bay
, is a V sign with Eastern motifs 20 metres by 12 metres in size. While the American intends the work as a symbol of peace, as popularised by protesters against the Vietnam war, its cultural meaning is somewhat lost in Hong Kong, where the gesture is widely regarded as a symbol of victory.
For an artist who has never shied away from controversy, his Hong Kong works are understandably – yet disappointingly – tame; each design was pre-approved by the property owner.
Back in the US, despite his commercial success, Fairey continues to create his art illegally, sometimes at night to evade authorities. To date, he has been arrested 15 times for defacing public property and is the defendant in a lawsuit in Detroit, for which, if convicted, he could face up to 10 years in jail.
None of that has deterred Fairey from pursuing his street art, which he sees as a valuable medium that allows a more inclusive conversation.
"Street art, because it's an active defiance when it's done without permission, is political even if the content isn't political. For me, a lot of times, it's both. The content is political and the act is political.
"The message is you don't have to conform. You can do something without permission, you can say what you want to say, you can find your voice."
And the model he adopts – funding his own artistic endeavours with profits from his clothing line and art print sales – allows him to dictate his own terms. This in Fairey's eyes is a bigger success than reaching and being recognised by a greater audience.
"Being able to survive doing art on your own terms is a tremendous success," he says. "And people find different ways to do that. But what's special about art is it's one of the very rare places where someone gets to fulfil their unique vision without having to adhere to anyone else's rules.
"Popularity, sometimes, is an indication that the work is meaningful and connecting with people. Other times, popularity is a product of people pandering to the lowest common denominator. I try to find my own voice within a language that's inclusive and universal, but in a way that feels very specific to me and also seduces someone to ponder a piece of art that may have a challenging concept."
Given that street art and graffiti is often seen as vandalism, street artists rarely can go beyond the streets and achieve mainstream success. Fairey is one of the few exceptions.
Fairey first rose to fame in the late 1980s with his Obey Giant stickers. Just a skateboarder then, he plastered his home-made stickers all over the place, which quickly caught the eye of the urban art community. But it was his Hope poster that eventually propelled his art onto the cover of Time magazine.
Even that image is not free of controversy. The photo that the artist used to create his stylised stencil portrait of Obama was taken by Mannie Garcia for the Associated Press. According to a report by The New York Times, the artist sued the news agency in 2009 in a civil case after it contended that he had infringed on the copyright of one of its photographs in creating the poster. Fairey originally claimed he had used a different photograph, but later admitted that he had been mistaken and had tried to cover up his mistake, which led to a criminal investigation.
In 2012 Fairey was sentenced to two years of probation and fined US$25,000 for tampering with evidence in the case. The artist later issued a statement on his website, saying his "wrong-headed actions" had "helped to obscure what I was fighting for in the first place – the ability of artists everywhere to be inspired and freely create art without reprisal".
An activist at heart, Fairey frequently supports political, social and environmental causes – creating stylised images of Arab Spring protesters and "make art not war" posters, and most recently, taking aim at Donald Trump.
In Hong Kong, Fairey hopes his three public murals can be a gateway to the rest of his work, especially pieces that are more provocative and which challenge people to think about an issue or look at things from a perspective they wouldn't be considering otherwise.
"It leads people to my more challenging work anyway. Anyone who Googles me will see not just stuff like this, but they will see everything."
Visual Disobedience, Shop B104-305, The Pulse, 28 Beach Road, Repulse Bay
12pm to 8pm. More information: hoca.org/shepard-fairey-visual-disobedience/
Ends November 27
This article appeared in the South China Morning Post print edition as: Rebel yell: street artist brushes off naysayers