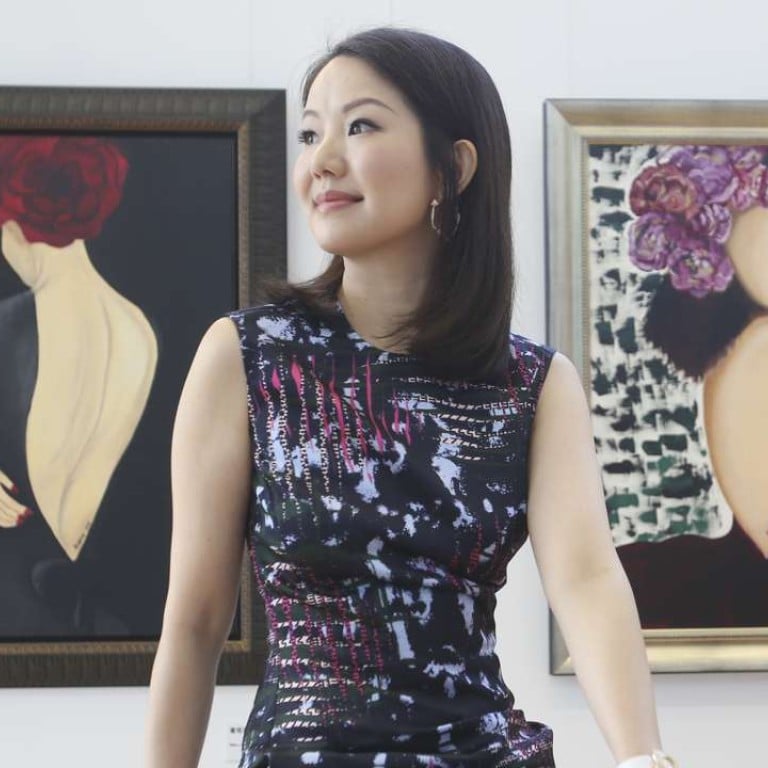 How Hong Kong journalist berated by Jiang Zemin turned to art
Sharon Cheung, whose question to then-Chinese president led him to accuse city press pack of being 'too simple, sometimes naive', took up painting after hitting a low point and is selling works to raise money for Food Angel
Berated by President Jiang Zemin for being "too simple, sometimes naive" in 2000 – after asking if Jiang's endorsement of then Hong Kong chief executive Tung Chee-hwa amounted to an imperial instruction – Sharon Cheung Po-wah, then a Hong Kong journalist, has since had an eight-year stint with an entertainment group and is now running her own media strategy company. Cheung, who is hosting a charity art exhibition this weekend, talks about art and how journalism today is not what it used to be.
What prompted you to start painting?
SHARON CHEUNG: I had learned painting for seven to eight years but stopped after entering university. Last year, I left Media Asia and I had a lot of time on my hands. But I felt really depressed at the same time because there were suddenly a lot of changes in my life.
Changing jobs was not the biggest reason, since it was planned in advance. I lost my dog, which I had had for sixteen years. I also lost some friends, in the sense that we've stopped talking. So all of a sudden, I had an emotional outburst and I plunged to a really low point; it was almost like jumping off a cliff. So I picked up painting again, spending long periods of time each day painting; it was very soothing.
You are selling the paintings on show to raise money for Food Angel. Why did you choose this charity?
I have been in touch with many charities in the past. Before donating to one, I usually contact them first and try to join their activities or visit their organisations to decide if it's worth donating to.
I met their CEO, Gigi Tung, by chance and asked if I could take a look at their kitchen. So I went to their centre in Sham Shui Po. It was very spacious and organised.
There were a lot of volunteers, many of them foreigners, washing and chopping vegetables. The food is donated to elderly people living alone, single-parent households and the severely disabled. I was very impressed. And what's better than feeding people? It's the most direct way of helping those in need.
WATCH Jiang Zemin deliver a tongue-lashing in response to Cheung's question
You are most well known for being the reporter berated by President Jiang Zemin. What do you think of the incident now?
I actually gained a lot from that. After all, it's a once-in-a-lifetime reporting experience. Also, there is this "toad worship" culture now – given how strict Xi Jinping's governance is, a lot of university students are idolising Jiang Zemin [who's thought to look like a toad].
The footage (of Jiang giving Cheung and fellow Hong Kong reporters a tongue-lashing), therefore, suddenly went viral among university students, despite being censored in China. They wanted to find out who was the journalist who asked the question. So the number of followers [of my Weibo account] spiked in the past few years and it now has more than 80,000 followers.
How have you seen the media landscape changes over the years?
I was a reporter for 11 years, during which time I saw and experienced a lot. It was, indeed, the golden age of journalism in Hong Kong. I feel very lucky. We had the most resources and freedom. We flew every time there was a foreign visit.
I've visited not just the United States, but also European countries, Africa, South America and even Kyrgyzstan. I went to Russia three times in a year. Reporters that enter the industry now do not have such opportunities.
Now the atmosphere is very different. The trampling of press freedom is unprecedented. Current news practice has also strayed from journalistic principles. During my time, we would not write about hearsay or quote anonymous sources unless what they said was verified independently.
The industry is facing a bitter winter. But I do believe it's a cycle and I hope we will make it through.
What's your biggest takeaway from your journalism career?
To not be afraid of the unknown. When I was a student, I was very shy. In fact, I would not even dare shout out to the driver on a minibus in order to get off. But reporting has changed me.
To be a reporter, you need to be thick-skinned, as you meet new people every day. You have to be used to new things and environments. In some respects, I find myself really bold and I've come to realise it's a quality not everyone possesses.
"Women in the Nude World", Gallery by the Harbour, Harbour City, Tsim Sha Tsui, 11am - 10pm. Ends November 6