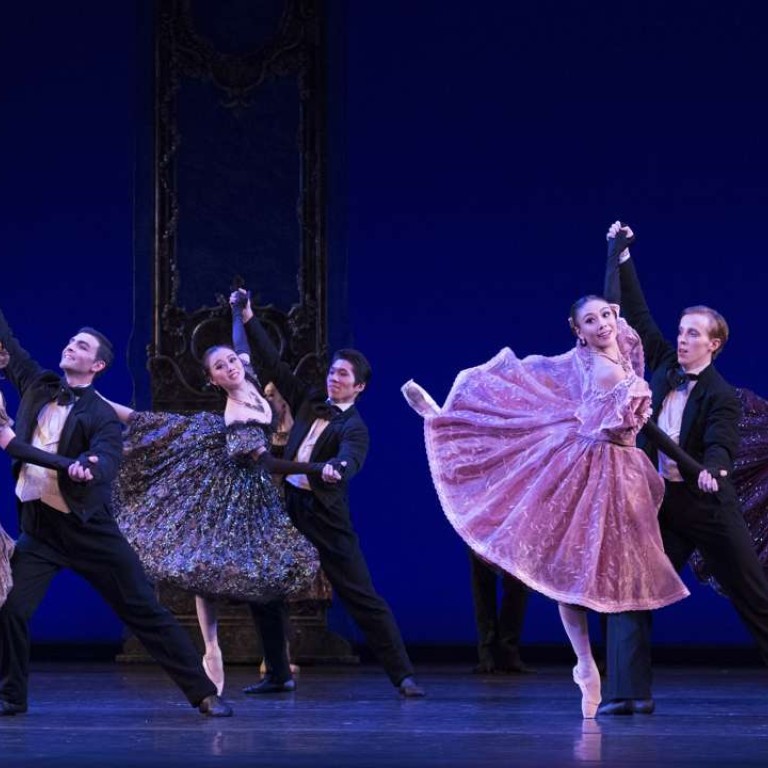 Review

|
Arts review: Lady of the Camellias – sparkling and visually pleasing
Hong Kong Ballet's full-length production of the Dumas story of love and loss is entertaining, but lacks the dramatic power demanded by the subject
Hong Kong Ballet's new full-length production, Lady of the Camellias created in 1994 by American choreographer Val Caniparoli, offers much to enjoy – sparkling dancing (especially by the company's excellent men), attractive costumes by Robert Glay de La Rose and charming Chopin music played superbly by pianist Colleen Lee Ka-ling with the Hong Kong Sinfonietta conducted by Benjamin Pope. However, while the ballet was entertaining and visually pleasing, on the first night it failed to generate the dramatic power the subject demands.
Based on the novel and play by Alexandre Dumas fils, the lady of the title, Marguerite Gautier, a 19th century Parisian courtesan abandons the hectic whirl of the demi-monde and the wealth of her protector, the Baron de Varville, for an idyllic country life when she and the noble young Armand Duval fall in love.
When Duval's father begs her to break with him to save the family from social ruin, Gautier agrees to sacrifice herself – she tells Duval she doesn't love him and goes back to the baron, despite knowing that returning to Paris will hasten her death from consumption. Furious and hurt, Duval humiliates her publicly and leaves the country after fighting a duel with the baron. Heartbroken and abandoned by everyone, Gautier dies in destitution.
Since Dumas' book appeared in 1848, it's been adapted for many genres – from the writer's own play in 1852 and Verdi's glorious opera, La Traviata in 1853 through numerous films, notably Camille in 1936, starring Greta Garbo.
Ballet is no exception and any choreographer who tackles the story has to compete with two modern classics: John Neumeier's 1978 version and Frederick Ashton's one-act masterpiece Marguerite and Armand, created in 1963 for Fonteyn and Nureyev.
If not in that league, Caniparoli's version has established itself in the repertoire of several respected companies and his choreography is smooth and well-crafted, the high points being the love duets. Yet somehow the ballet fails to move as it should.
Ironically the music, lovely in itself, is largely to blame – Chopin's gossamer melodies are too delicate for a story of such extreme emotions. Two sung portions of the score (beautifully performed by baritone Albert Lim and soprano Louise Kwong Lai-ling), work better but even these convey melancholy rather than high drama.
Act 3 is the strongest section and Gautier's death scene is effectively imagined, although it's hard to see why Caniparoli has changed the ending.
In other versions, Duval returns to Gautier and she has one final moment of joy before she dies in his arms. Here she sees him only in her dreams and expires alone, which is far less poignant. Overall, characters and their relationships are underdeveloped – there's a lot of focus on virtuoso dancing and too little on narrative depth, although this may develop more later in the run, which continues until 13 November with a total of three casts.
First cast for Gautier was senior ballerina
Jin Yao
, who celebrates 20 years on stage next year and has been a pillar of the company since 2004. The ballet was selected in part as a star vehicle for Jin, who looked stunningly beautiful and danced with her customary technical excellence.
That said, it's not the ideal role to showcase her talents – in particular, the duets require a lyricism which isn't one of her strengths (in contrast Liu Miaomiao, who danced Gautier in a dream sequence, had just the right melting quality of movement).
Lucas Jerkander was a fine Duval, with vivid acting and heroic partnering. The troupe's wonderful ensemble of male soloists shone in Acts 1 and 2, led by Li Lin, Shen Jie, Xia Jun, Shunsuke Arimizu and Leung Chun-long. Gao Ge had fun as Gautier's bitchy rival Olympe, and Dong Ruixue was a delightful Nichette.
It was a pleasure to see Lindzay Chan, a legend of local ballet, back on stage as a splendidly over-the-top Prudence – if only the company had invited a similarly experienced artist to perform Duval's father, instead of casting a very young dancer in a very unconvincing grey wig.
Until November 13
Lady of the Camellias
Hong Kong Ballet
Reviewed: November 4