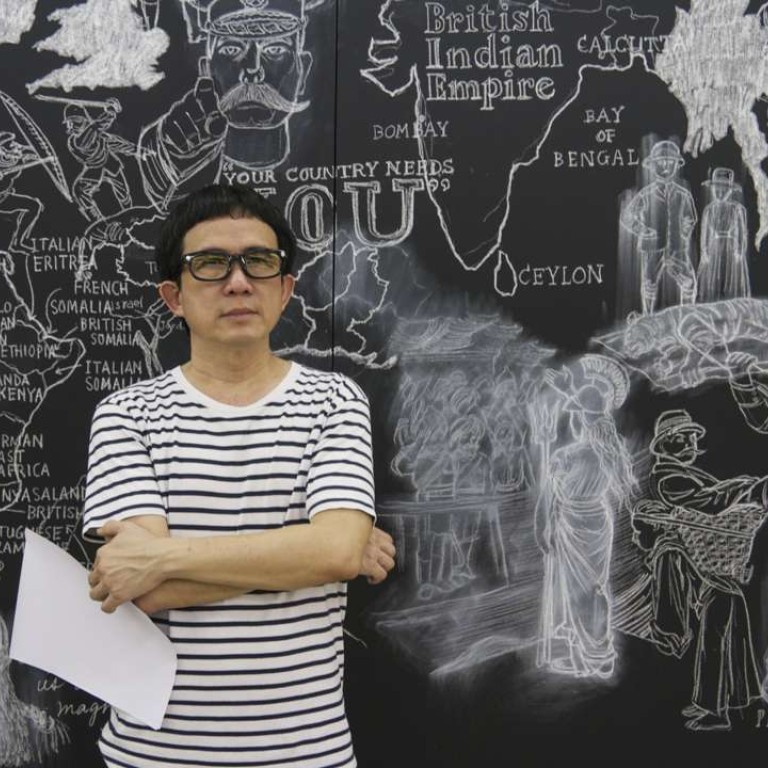 Thai artist examines imperialism in Hong Kong exhibition
Sutee Kunavichayanont's anti-imperialism artworks reflect the loss of sovereignty in the shaping of a country's own historical narratives
The palette of Sutee Kunavichayanont's new works at 10 Chancery Lane gallery matches the sombre dress codes for mourning King Bhumibol Adulyadej.
Black canvases are covered in white, chalk-like drawings depicting major events such as the Opium War and the Americans' intervention in the Boxer Rebellion. The main piece in the exhibition is In the Name of Civilisation, with images of Western colonisers and texts such as "the White Man's Burden" superimposed on a large world map.
Reading them in isolation today, it is hard to believe US President William McKinley could have claimed with a straight face that "the American flag has not been planted in foreign soil to acquire more territory but for humanity's sake". Or that Belgium's King Leopold II really said, "Capturing the Congo is the first step in helping them".
The chalk-on-blackboard effect of the larger works is a style that the artist has revisited since the 1990s and it chimes with the school theme of his best-known installation series from 2000 called "History Class".
Speaking in Hong Kong, Kunavichayanont says imperialist propaganda remains as entrenched as capitalism and consumerism because children are still being fed the mainstream world views propagated by major powers. The black-and-white theme is not to do with the death of the Thai sovereign but the loss of sovereignty in the shaping of a country's own historical narratives, he says.
He adds an extra dose of bitter satire to the display with his own quotes: "The Orient is something discovered"; "You think I am, therefore I am" and so on. There are also small wooden engravings that, when placed in front of a mirror, suggest that concepts such as hero, civilisation, and democracy are flip sides of fascism, imperialism and tyranny.
Western imperialism remains a touchy subject in many former colonies. Witness the outrage over National Gallery Singapore's fundraising "Empire Ball" in September. Local artists threatened to pull out of the joint "Art and Empire" exhibition organised by Tate Britain and the NGS because they said the ball would simply glorify imperialism – and the NGS backed down by dropping the E word.
Kunavichayanont hails from the one country in Southeast Asia that escaped being colonised. But he says Thailand is the same as other small nations that must always play off the competing demands of larger nations and hence, subjected to the same invasion of ideas as directly colonised countries.
The growing rivalry between America and China, regardless of who wins the US presidency, will no doubt influence the future of Thailand's riven politics, he predicts.
The death of a king who had such a strong hold over the country brings Thailand great uncertainties, while those who want to see a more democratic government continue to wait for promised reforms two years after the military junta took power in a coup d'etat. In such tense times, art that touches on politics becomes particularly controversial, as Kunavichayanont discovered earlier this year.
A number of Thai artists and filmmakers condemned the decision by South Korea's Gwangju Museum of Art to select Kunavichayanont for an exhibition that paid tribute to the Gwangju Uprising in 1980, when pro-democracy protestors were killed by government troops.
The reason they cited was because Kunavichayanont had taken part in protests in 2013 against then Prime Minister Yingluck Shinawatra's decision to grant amnesty to her exiled brother, Thaksin Shinawatra, and therefore responsible for the military coup that toppled a democratically elected government.
"They say that makes me anti-democracy. But I have always been on the side of democracy. What I object to is a democratic system that is corrupt and manipulated by politicians and foreign powers," he argues.
Reversed Reality: Sutee Kunavichayanont,10 Chancery Lane Gallery, 10 Chancery Lane, Central.
Tue-Sat, 10am-6pm. Ends November 25
This article appeared in the South China Morning Post print edition as: Stark reminders of imperialism